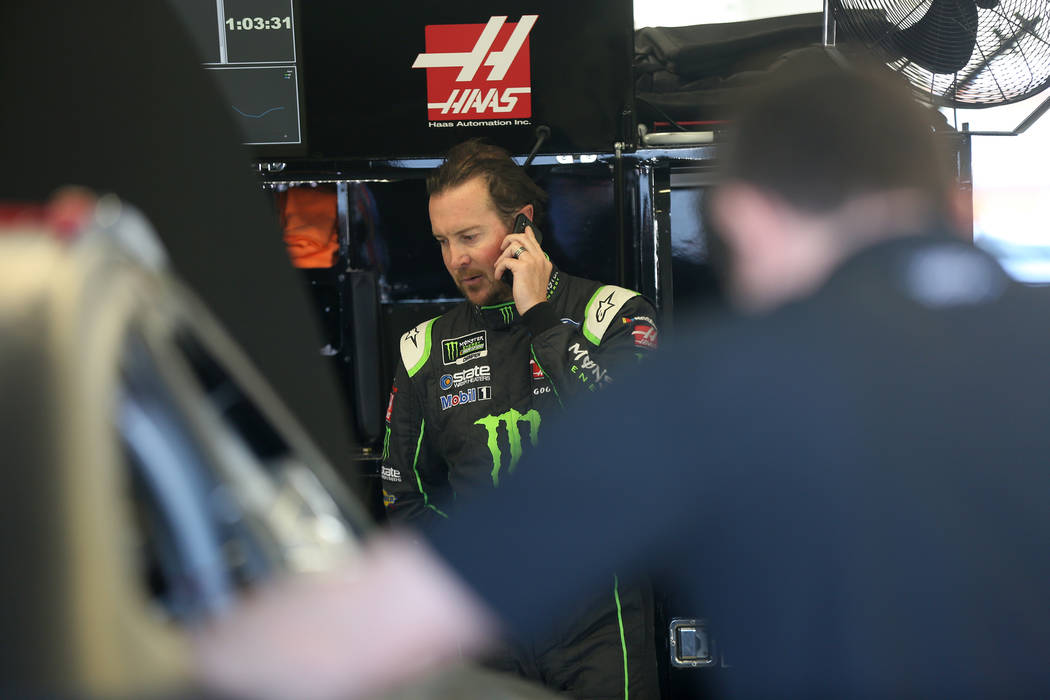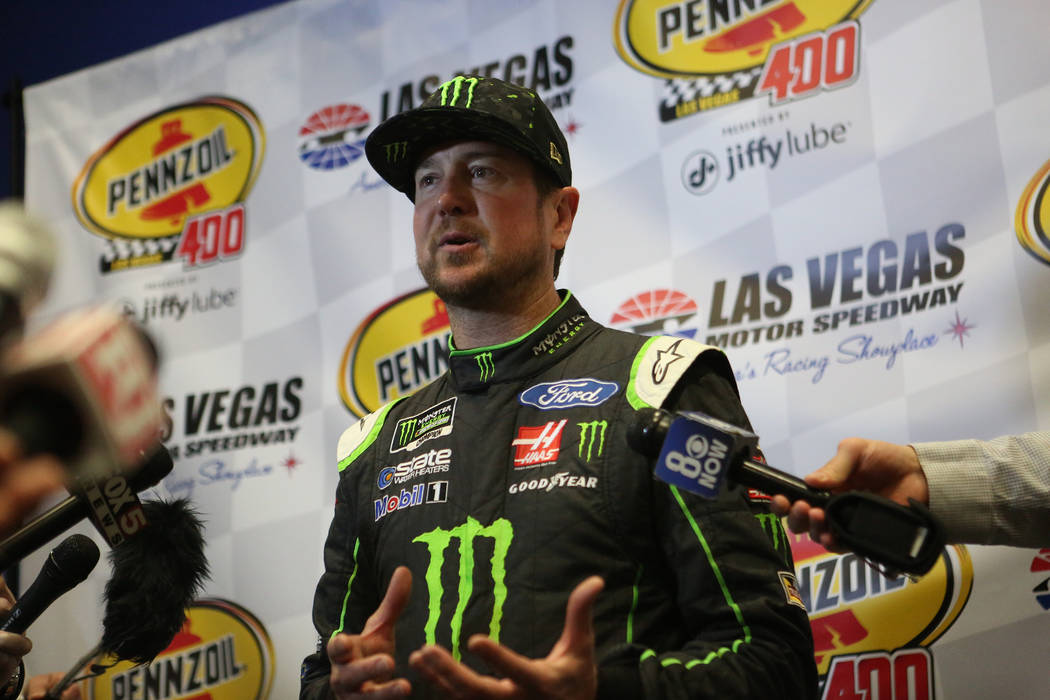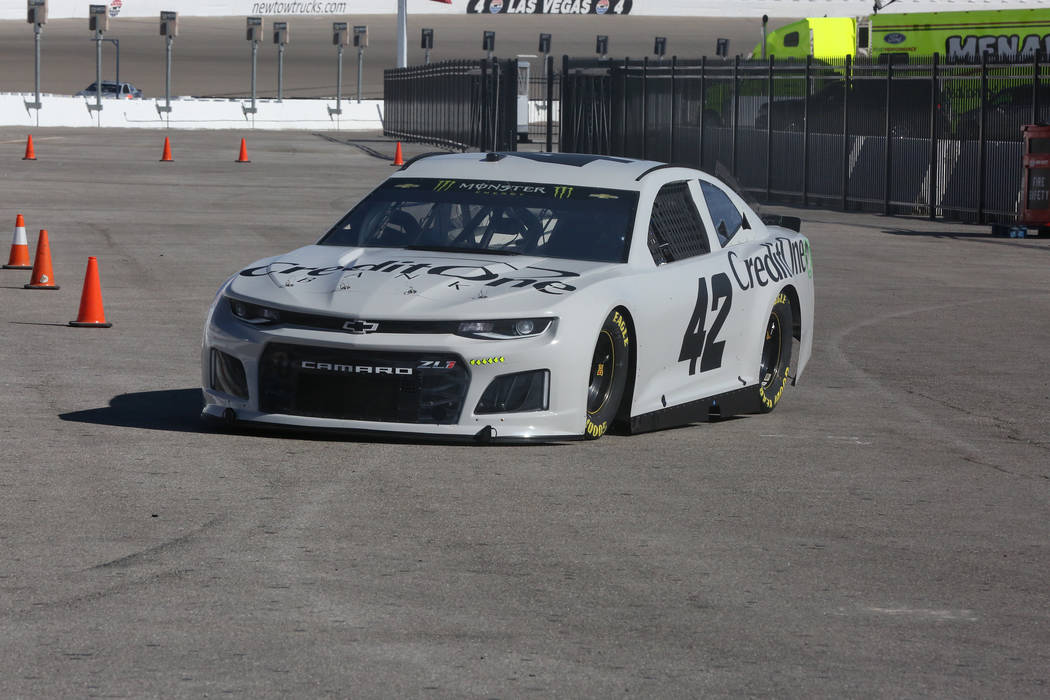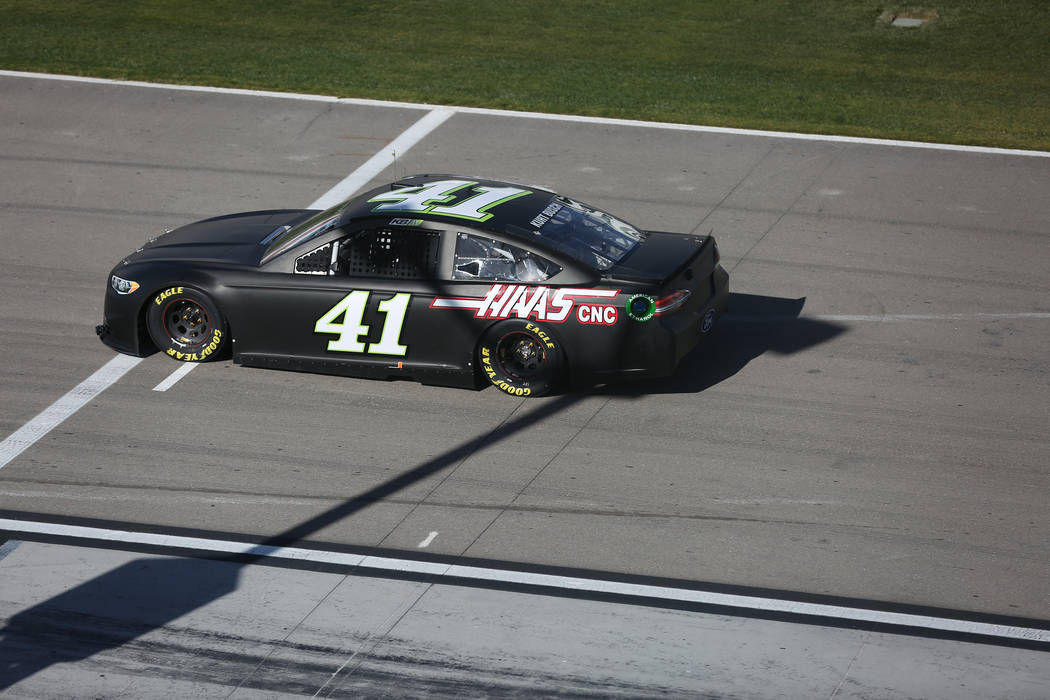 It got loud again at Las Vegas Motor Speedway on Wednesday.
Louder than usual, that is.
The bulldozers that are converting unsold seats into premium viewing areas were silent, their steady rumble temporarily having submitted to the raucous roar of racing engines. Toyotas, Chevrolets, Fords. Round and round and round. You could feel the thunder.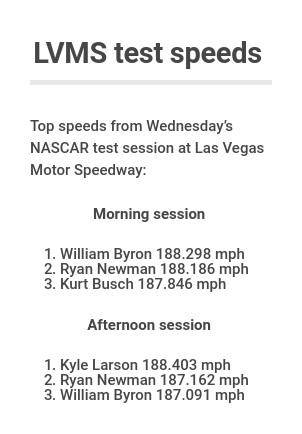 One of the chief noisemakers on hand for the first of two days of NASCAR preseason testing at the 1.5-mile speed plant was Kurt Busch of Las Vegas. Busch said there is an analogy to be made about the first practice laps of the season and the first day of school.
After taking the No. 41 Stewart-Haas Ford for a shakedown cruise, the 2004 Cup Series champion was ready to present new crew chief Billy Scott with a shiny red apple. The first session went well. But as they say at the Emergency Broadcast System, it was only a test.
"The track has no rubber built up. So the setups that we use race weekend, you have to alter them because of how grippy the track is and how much speed there is in a morning session," Busch said anticipating the March 4 Pennzoil 400 at LVMS. "At 9 a.m. (track conditions) are nowhere near what they would be at 1 p.m., similar to when the race would start."
So enough about testing. Test speeds are pretty much irrelevant anyway.
What wasn't irrelevant was Kurt Busch winning last year's Daytona 500.
Chasing Sterling
It was his first victory in 16 tries at the NASCAR Super Bowl, and nobody has won Daytona back to back since a guy from Tennessee named Sterling Marlin did it 23 years ago.
When they line up the cars down there two weeks from Sunday, they will be brightly colored again instead of primer gray. Only one car and driver will have the chance to reprise what Sterling Marlin and the Morgan McClure Motorsports team pulled off in 1994 and '95.
Kurt Busch was 16 then. He wasn't even a young lion yet, or whatever they call these kids that are threatening to take over stock car racing with a big push from NASCAR, if you believe what Kurt's brother Kyle said during NASCAR media day last week.
Kurt is 39 now. He's an older lion. No cowardice. All courage. He believes he can win Daytona again.
"Definitely feeling the pressure for Daytona," said Busch, who led Kyle Larson into the media room at lunchtime. On the last lap at Daytona a year ago it was just the opposite. Larson led Busch as their cars took the white flag, only to run out of gas in Turn 2.
"Family and friends have been asking me 'You've won Daytona, do you feel less pressure?' I feel more," Busch said. "I want to go back there and repeat because it hasn't been done since the early '90s with Sterling Marlin. That gives us that extra motivation to go there and win."
Monster deal
Busch was bedecked in black and neon green from head to toe, those being the Monster Energy colors. He became a quasi free agent last season when Monster was deciding whether it wanted to write another check in addition to the one it endorses to NASCAR as title sponsor of the Cup Series.
He didn't lose much sleep over it. It wasn't as if Stewart-Haas was considering replacing him with a young lion, the fate that befell 45-year-old former Cup Series champion Matt Kenseth when Joe Gibbs Racing installed a car seat for 21-year-old Erik Jones.
"It was more about all the balls in the air: Sponsorship, manufacturer, my agenda, the team's agenda," said Busch, who was eliminated in the first round of the 2017 NASCAR playoffs and finished 14th in points. "So it's great to have that behind us."
As for what lies ahead, Busch is pushing 40 but seems to have lost little of the drive he showed during his time as a stock car racing whippersnapper. The drama that seemed to be waiting for him around every corner no longer waits.
"I think there's mistakes made or lessons learned, and there's no real need to get excited over some of the nuances that were well-hyped and overdocumented and overexposed," Busch said when asked if he's in a happy place.
Kurt Busch answered one more question about his setup before returning to the garage area. Recess was over. The first day of school was about to get loud again.
Contact Ron Kantowski at rkantowski@reviewjournal.com or 702-383-0352. Follow @ronkantowski on Twitter.