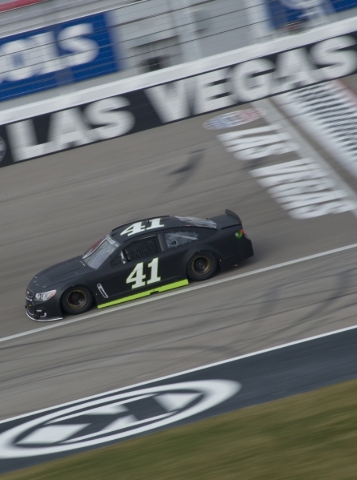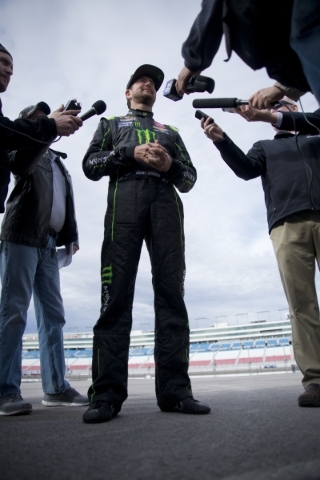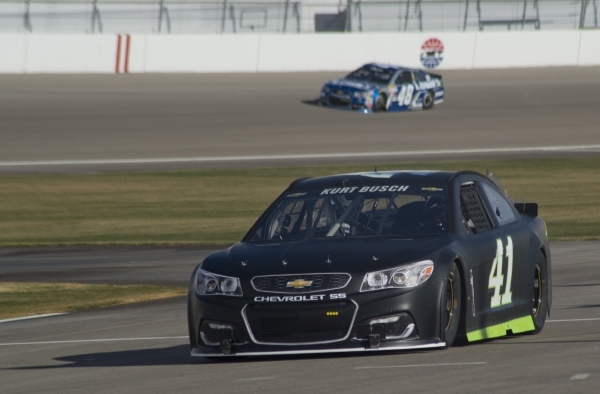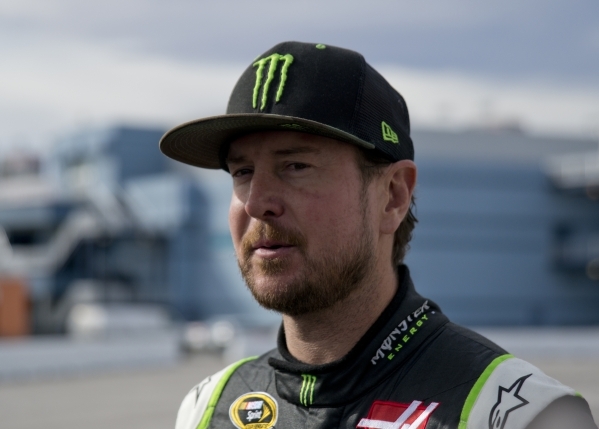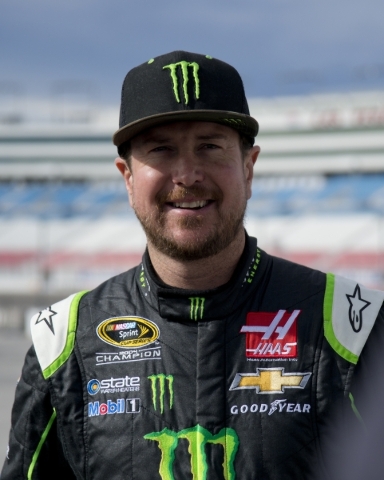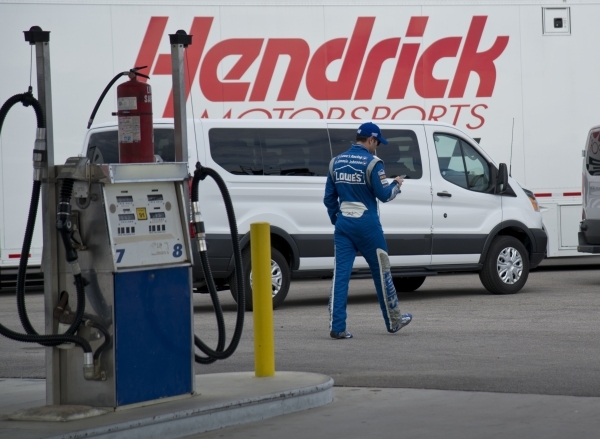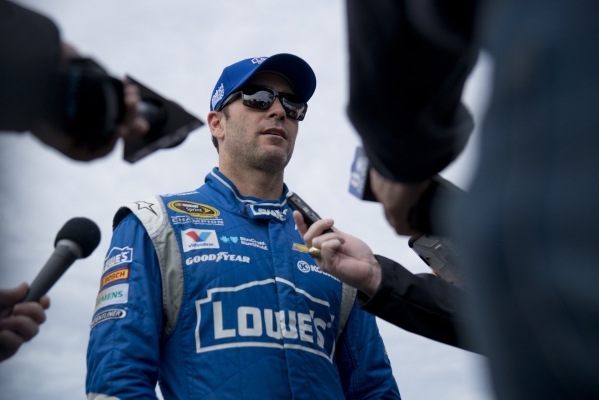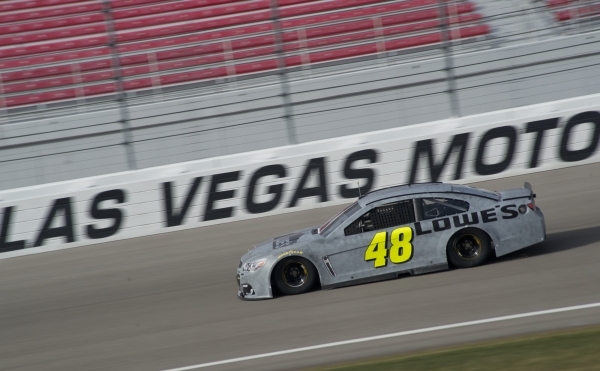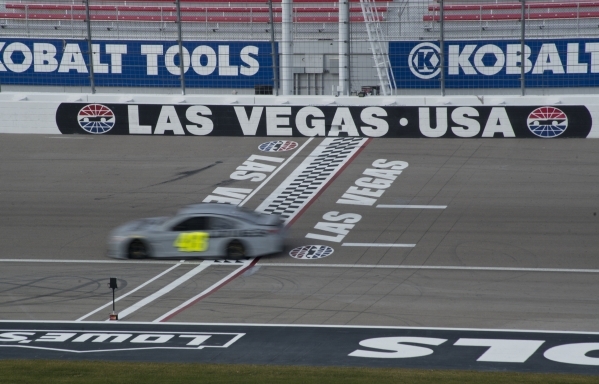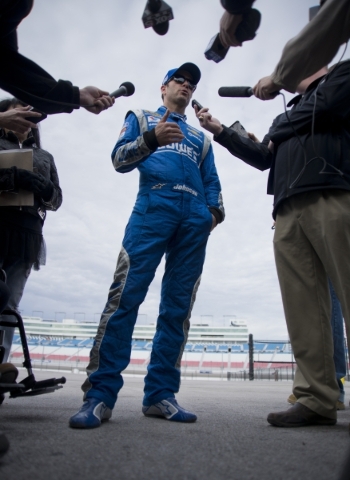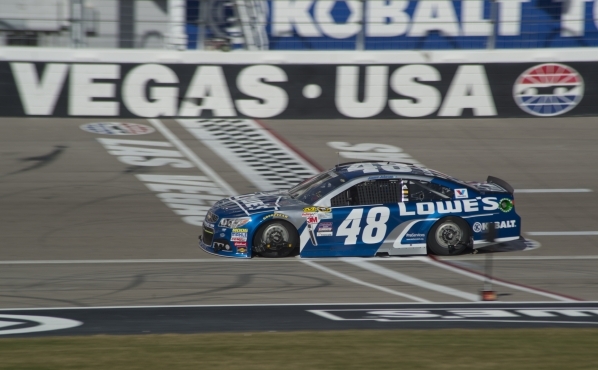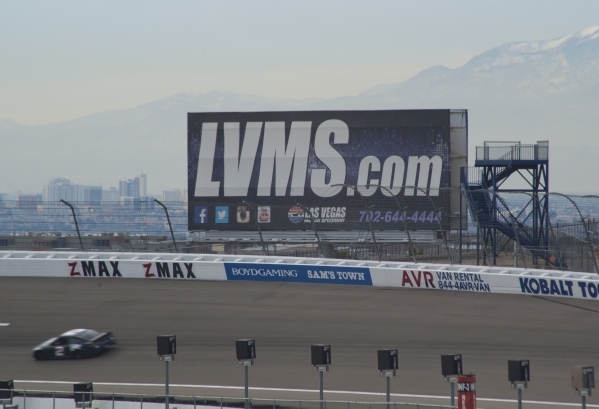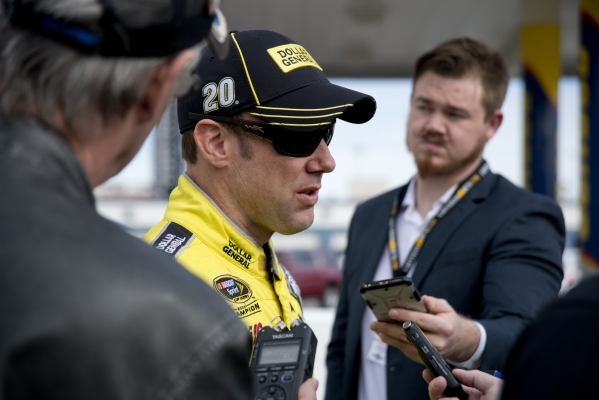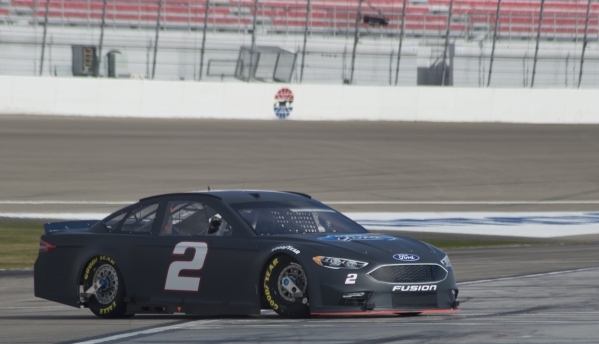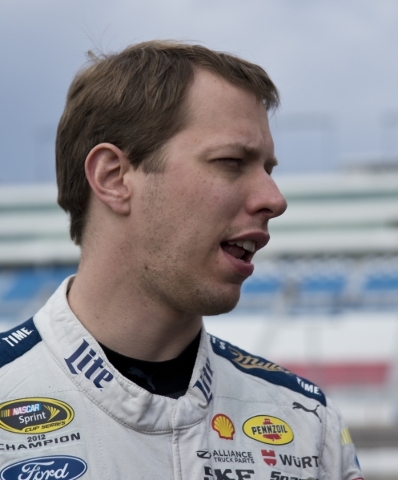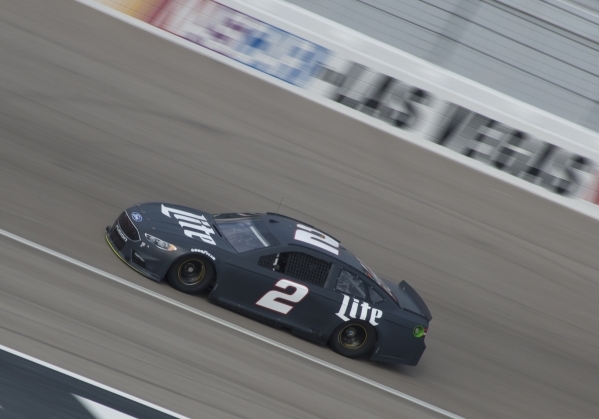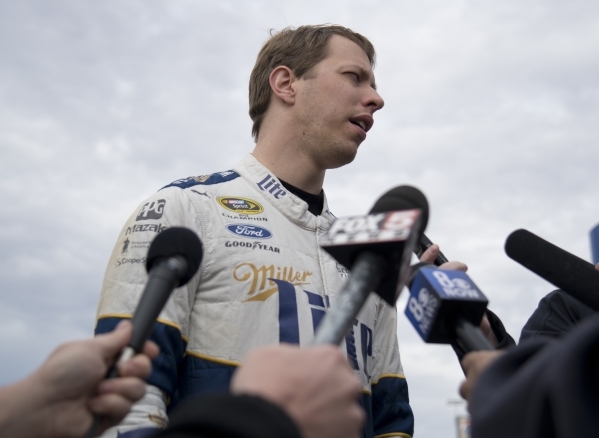 At a little past 11 a.m. Wednesday, a red pickup truck pulled out from the shadow of the Richard Petty Terrace and made a left-hand turn through the infield tunnel at Las Vegas Motor Speedway.
The bed of the red truck was piled high with fat racing tires with raised yellow letters that said "GOODYEAR EAGLE."
It was a chilly morning. A few cars and SUVs emblazoned with Las Vegas Motor Speedway decals were rolling toward the infield media center fronting the Neon Garage with their windows rolled up tight.
You still could hear the roar of the engines.
Out on the track was a solitary racecar, painted flat primer gray.
One lap, two laps, three laps. Pull into the garage area. Insert a tire pressure gauge. Make an adjustment. Back on the track. One lap, two laps, three laps.
A second racecar roared to life. Then a third. And about 15 minutes later, a fourth. Each was painted flat primer gray, or flat primer black.
One lap, two laps, three laps. Garage. Tire gauge. Adjustment.
If you've seen one Goodyear tire test, you've seen them all.
There is tedium, then you break for lunch, then the clouds roll in, then the breeze gets brisker. Then the cars go back on the track and there is more tedium.
But when Kurt Busch sidled up to chat, he looked happy to be there.
On Monday, Busch had posted a picture of himself on his Twitter account. He was taking a nap. "Offseason has been a snoozefest," he wrote in the caption. "Ready for @LVMotorspeedway test the next few days!"
A short while later, the Las Vegas lead foot posted another Twitter message. "Commencing countdown, engines on … Check ignition and may God's love be with you. These lyrics always resonated with me. RIP #DavidBowie."
Ground Control to Major Tom. It was on again.
Naturally, the first thing Busch did after bidding the media a cheerful hello was to thank his sponsor. He appeared svelte in his new black firesuit with fluorescent green accents — those are the colors of Monster Energy drink, which has signed on to become co-primary sponsor of the No. 41 Chevy that Busch will drive for the Stewart-Haas race team.
After that, he started talking about the new cars and their lack of downforce. Trimming the spoilers, stuff like that. The 2016 base package is similar to the one used at Kentucky Speedway and Darlington Raceway last season. Those were good races, with lots of passes.
"We're here to help Goodyear and NASCAR develop a tire, along with developing a car that has less downforce, so a couple of changes," Busch said after jamming his hands into the pockets of his firesuit to ward off the chill.
"Nothing too dramatic. We're trying to find the best combination of speed and handling, putting together a good product on track so the cars can race side by side more easily."
One lap, two laps, three laps. Tire gauge. Adjustment.
Jimmie Johnson, the six-time Sprint Cup Series champion, said if these new cars are supposed to be more slippery and harder to drive, he was not seeing it so far.
"I think we're faster than we were at the race here last year," said the four-time Las Vegas Sprint Cup race winner.
"There was speculation with the softer tire that maybe we'd go faster for a lap or two, but we all felt the tires would wear and there would be a lot of fall off. But we can't get that to happen right now.
"We feel like the (cool) temperature is a big factor in that."
One lap, two laps, three laps. Tire gauge. Adjustment.
Brad Keselowski and then Matt Kenseth — all four drivers who tested tires are former Sprint Cup champions — stopped by the Sunoco gas pumps. They more or less repeated what Busch and Johnson had said.
Somebody asked Kenseth if he'd like more test sessions to get a better handle on the cars.
"More testing?" he asked, his voice rising like a Dale Earnhardt Jr. flag on an infield camper.
"No, I would like testing banned."
OK, so three of the four champion drivers seemed happy to be here. And even Kenseth said it was good to get behind the wheel and dust off the cobwebs.
After sandwiches, the track went green again. The routine started anew.
One lap, two laps, three laps. Tire gauge. Adjustment.
The media were told to leave. A couple of security vehicles were parked near the exit to the media center with their doors open. There was a big crease in the fence. One of the TV cameramen had gone in a little too hot.
It was the first yellow flag of 2016. Racing season was back.
Las Vegas Review-Journal sports columnist Ron Kantowski can be reached at rkantowski@reviewjournal.com or 702-383-0352. Follow him on Twitter: @ronkantowski