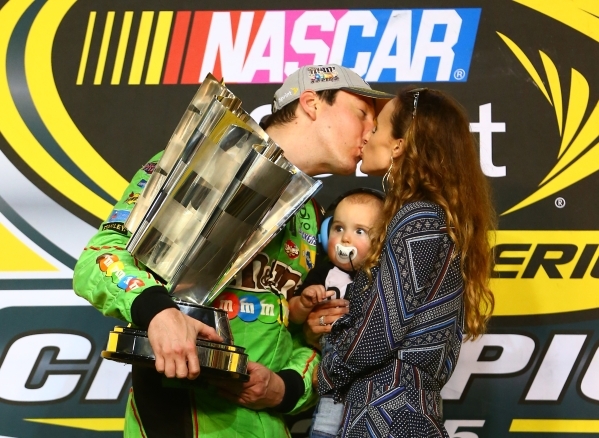 There's an image I have of Kyle Busch, the lead foot from Las Vegas who won his first NASCAR Sprint Cup Series championship Sunday in Florida. It was before he built a reputation for being a more excellent driver than "Rain Man." He might have still been driving in the truck series full-time.
I don't recall the year, only that it wasn't at a NASCAR race. It was at a World of Outlaws race at the Las Vegas Motor Speedway dirt track.
I was in the press box, looking through the glass into an auxiliary press box, or at least some sort of cubicle for big shots bearing pit passes. The little room was packed, like on a late-race restart. Tony Stewart was in front, telling racing stories with Ken Schrader. Busch was sitting on the floor, listening with wide eyes, sort of in the way a little boy listens to his father read a bedtime story.
He seemed so innocent then.
Maybe if you looked closely, you could see fire burning in those wide eyes. This was probably right around the time Busch's big brother, Kurt, won the then-Nextel Cup title, and people around LVMS and other racing people said Kyle was going to be faster than Kurt. And Kurt was pretty darn fast.
Now the siblings each have a giant Cup to shine, and to drink stuff out of you're probably not supposed to, and a bedtime story to tell.
"The Tortoise and the Hare?" Not exactly. More like "The Hare … and Another Hare." But when Kyle broke his leg on the eve of the season-opening Daytona 500, he wasn't moving like a hare anymore, or even a tortoise. Laid up in the hospital with a badly broken right leg and left foot, he was NASCAR's version of a snail that had flipped onto its back.
Busch missed 11 races. You can't win the NASCAR championship by missing 11 races. But he came back strong when they removed those casts. Remember when Russ Wheeler took injured Cole Trickle's place in "Days of Thunder?" Well, it wasn't like that with Busch's surrogates.
It was remarkable that he came back from those devastating injuries so soon. What a story. Ballplayers who sit out a weekend series with minor groin pulls hid their eyes in shame.
NASCAR, being NASCAR, gave Busch a special dispensation. Win a race, crack the top 30 in points and you're in, the sanctioning body said in regard to its whimsical rounds of playoff races, called the Chase for the Sprint Cup.
Letting a Busch slip into the auto racing playoffs is like letting a fox slip into the henhouse.
Kyle had to beat three other drivers to win the Cup in Florida. One was Jeff Gordon, who was running his last race, and one was Kevin Harvick, the defending series champion who was the fox in last year's henhouse.
Busch led 41 laps. He didn't have to win, just finish ahead of Gordon and Harvick and another guy named Martin Truex Jr.
Busch won the race.
Harvick finished second, but at the end, he was a distant object in Busch's rear-view mirror. He wasn't as close as it may have appeared.
The NBC announcers said all postrace interviews and the awarding of the Cup would be shown on CNBC, because the Bengals and Cardinals were getting ready to play pro football in the Phoenix suburbs, and Bob Costas was getting anxious.
So Busch got the short shrift, because a lot of people who follow NASCAR couldn't find CNBC with a road map and a Saint Bernard. Not that Busch cared.
He still was spinning his wheels during the obligatory/celebratory doughnuts when my cellphone lit up.
It was Al La Rocque, the former dean of Las Vegas high school basketball coaches. La Rocque had taught business to both Busch brothers at Durango High School.
"It all started in Room 325," wrote La Rocque in a text message. "Our Vegas kids have had a pretty good year in professional sports. Woo-hoo!"
What a week it was for locals. First Kris Bryant (National League Rookie of the Year) on Monday; then Bryce Harper (NL Most Valuable Player) on Thursday. Now 30-year-old Kyle Busch, doing doughnuts and thanking his sponsors.
The first thing Busch did upon pulling his No. 18 Toyota into Victory Lane was rip open some M&M's in the green package. The crispy ones. Busch took a long draw from a can of Monster Energy.
"Pretty unbelievable, I guess," he said on CNBC, where 16 people in Kannapolis, N.C., might have heard him.
"A dream of a lifetime, a dream come true. I just can't believe it with all the things that happened this year, with all the turmoil I went through, with what my wife went through (Samantha Busch gave birth to a boy in May), with what my family went through. What the people around me went through.
"Awesome, awesome, awesome," Kyle Busch said with wide eyes, and I'll bet the next time the new NASCAR champ is hanging out at an Outlaws race, he won't have to sit on the floor.
— Las Vegas Review-Journal sports columnist Ron Kantowski can be reached at rkantowski@reviewjournal.com or 702-383-0352. Follow him: @ronkantowski