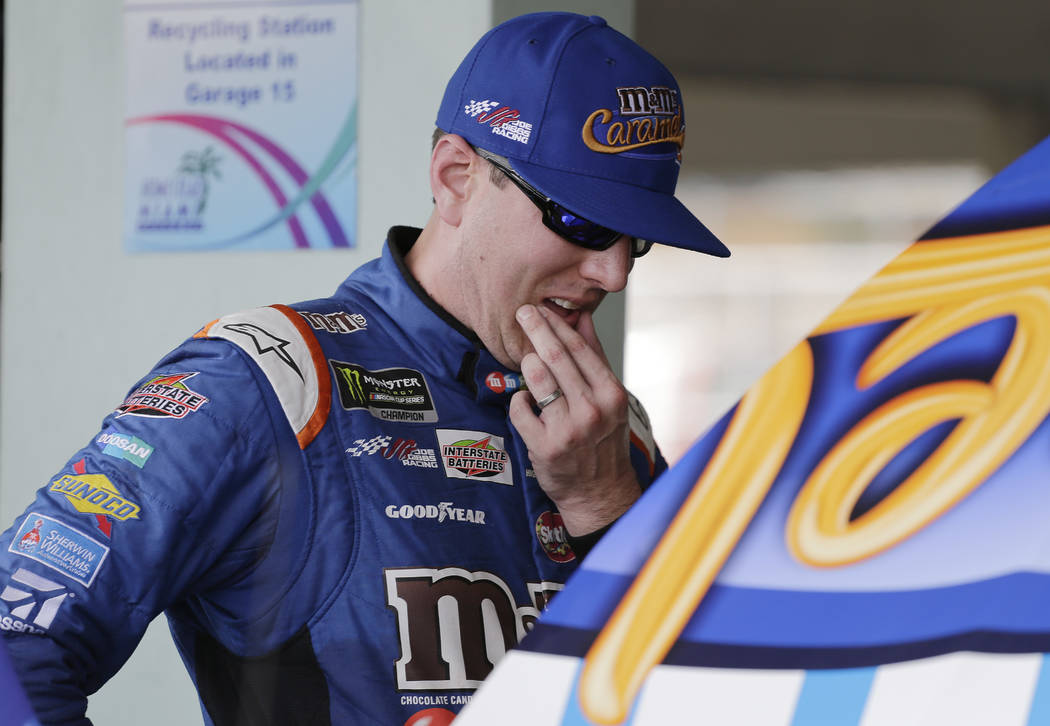 The margin of defeat was 0.681 seconds. A couple of car lengths. To hear Kyle Busch tell it, it might as well have been a country mile.
Martin Truex Jr., who is from New Jersey, has a crew chief from Canada and drives for a team based in Colorado — yes, stock car racing is evolving — led the final 51 laps at Homestead-Miami Speedway Sunday to win the NASCAR championship. Truex, his girlfriend and his team have been through a lot. It was a popular victory.
It did not sit well with Kyle Busch. He was not happy with second place.
While the other Championship 4 contenders were gracious in praising Truex, Busch forced a smile for TV. He congratulated Truex not by name, but by car number. He blamed another car number — this would be the No. 22 of Joey Logano — for getting in his way and costing him his second Cup Series title in three seasons.
"We gave it everything we had, we gave it our all, so congratulations to the 78. They deserved it probably on every other race except for today. I thought we were better," Busch said wiping at beads of perspiration which reflected how doggedly he had pursued the 78 at the end. "Doesn't matter though. They were out front when it mattered most."
Busch tried everything. He even tried different strategy at the end. He stayed on the track when the other championship contenders pitted. If the track had stayed green to the finish, he probably would have won easily. But the track rarely stays green to the finish in a NASCAR race.
It didn't this time, either.
But Busch's car was faster than the 78 on long fuel runs. It was like that old Eagles song: "When it all comes down, we will still come through, in the long run." That's what he and crew chief Adam Stevens were thinking.
Then he came upon the 22. He would come through, but not before he used up his tires.
Logano's roadblock
The 22 was not racing for the championship. You wouldn't have known it by the way he resisted Busch's thrusts and parries.
"That caution came out and that kind of ruined our race strategy and then we weren't able to get back where we needed to be. I had to fight too hard to get back up through there," Busch said, forcing another smile.
He had to fight hardest to get around the 22. He's 0 for 2 this year against the 22. The two had gotten together toward the end of this year's race at Las Vegas Motor Speedway, too. Busch went storming into Joey Logano's pit area afterward, and stormed out with a big trickle of blood streaming down his face. Cooler heads did not prevail.
"Battling with the 22 there," Busch said about where his race and championship were lost. "Just wastin' too much time with him. He held me up, he was blockin' every chance he got. Got a real buddy, there. But, again, that's racing. That's what happens," Busch said.
When the NBC reporter said it still had been a successful season, Busch smirked like the gymnast McKayla Maroney when she received a silver medal instead of gold at the Olympics.
Not impressed.
"I guess," he said with a telltale shrug, forcing one last smile.
He did not force smiles during his postrace briefing with other media.
Second place: first loser
He moved water bottles to the side. Kyle Busch put his head down and stretched his neck as if to release tension. Didn't work. He gave an opening statement. He complained about the 22 again. He said he had the best car and came up short. He thanked his team and his sponsors.
He answered only two questions.
The moderator, sensing his mood, congratulated him on a great season. See you in Daytona in springtime.
"If I don't retire first," Busch sniffed after he spun out of his chair to leave.
He did the best he could, on the track, and off. He sort of congratulated the guy who won. He gave honest answers. He forced smiles.
People still called him a sore loser.
I guess they expected Kyle Busch to be happy with second place.
Contact Ron Kantowski at rkantowski@reviewjournal.com or 702-383-0352. Follow @ronkantowski on Twitter.
Kyle Busch … so far
A look at the NASCAR Cup Series record of Las Vegan Kyle Busch, who lost the NASCAR championship to Martin Truex Jr. by 0.681 seconds at Homestead-Miami Speedway Sunday:
• Wins: 43
• Top 10s: 241
• Poles: 27
• Championships: 1