Kyle Dake hopes to continue last wrestling hurrah at South Point
Updated April 27, 2017 - 6:11 pm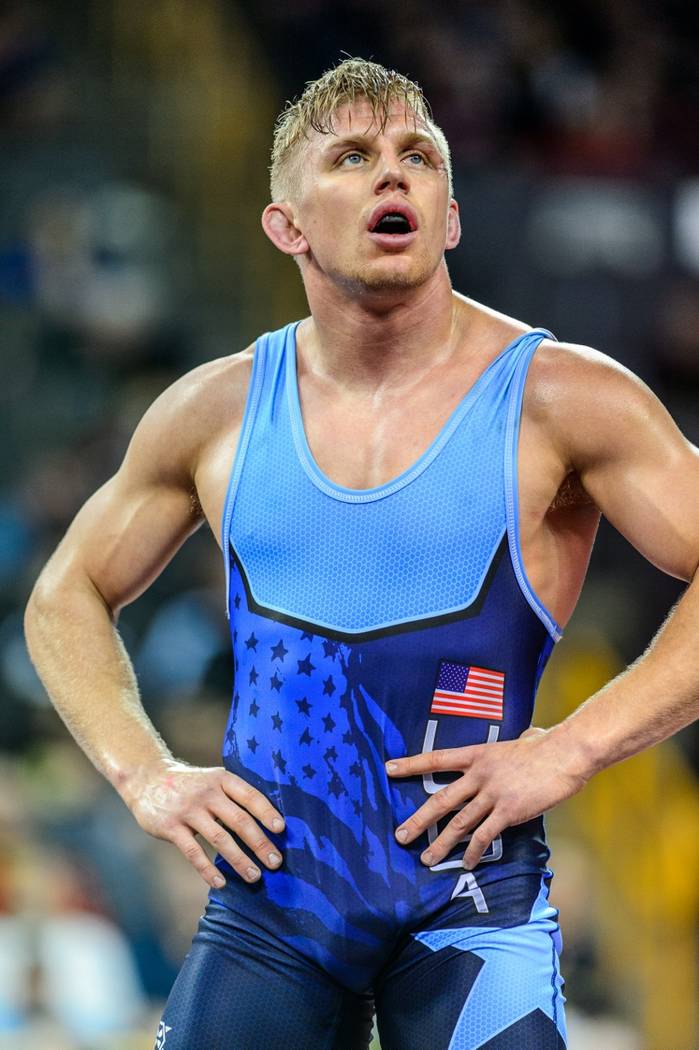 On the West Campus at hallowed Cornell University in Ithaca, New York, is a majestic stone tower upon which ivy grows.
It's the meeting place of Quill and Dagger, Cornell's secret honor society that has produced 13 Rhodes Scholars, eight U.S. Congressmen, seven Pulitzer Prize winners, two U.S. National Security Advisors, two World Bank presidents, one Supreme Court Justice and Ken Dryden, Hall of Fame goaltender for the Montreal Canadiens.
There is no college honor society held in higher regard, unless it's Skull and Bones at Yale.
Kyle Dake is a member of Quill and Dagger.
Dake won four NCAA wrestling championships at Cornell, one of four men to do so. He is the only man to win them in four weight classes.
He's not the braggadocios type, not even close. But he thought he had accomplished something special by winning those four NCAA titles in four classes — until he was admitted to Quill and Dagger, and saw the other names on the tower wall.
"What can you tell me about Quill and Dagger?" he was asked after a workout Wednesday.
"Not very much," Dake said in a pleasant voice.
Then, silence.
"Is it one of those deals where a bunch of smart guys sit around smoking cigars and sipping cognac and talk about solving the world's problems?"
More silence.
"Do you wear robes and light candles and sing Gregorian chants?"
I was reaching.
"Maybe I watch too much TV," I said to Kyle Dake.
"Yeah, maybe," the wrestler said, his voice still pleasant.
Grappling hook
Kyle Dake, 26, will be competing in the U.S. Wrestling Open Championships at South Point Arena this weekend. There's a good chance that if all goes to form, Dake will meet career nemesis Jordan Burroughs in the finals.
Dake is 0-4 against Burroughs, 28, a gold-medal winner in London and one of the most decorated wrestlers in U.S. history.
Burroughs is the primary reason Dake has never wrestled in the Olympics and the World Championships, but theirs is a friendly rivalry.
"I'm just happy to be competing again," said Dake, who is coming off shoulder surgery and a victory in the 74 kg (163 pounds) class in the Paris International, where he won all of his matches by technical fall. "If I wind up wrestling Jordan and wrestle to my ability, the results will take of themselves."
Domestically speaking, the 74 kg class is not unlike the heavyweight division in boxing when Ali, Frazier and Foreman were in their primes, or quarterback in the NFL when Montano, Marino and Elway were in theirs. It is rife with world champions and NCAA champions and tough guys from Oklahoma State, any two of whom could square off in Saturday night's finals.
But the match most amateur wrestling fans want to see is Burroughs vs. Dake V.
"Burroughs. Dake. Need I say more?" wrote USA Wrestling's Richard Immel about the matches he was most looking forward to watching at South Point.
Another piece of Dake
You can add Bill Zadick, the U.S. freestyle coach, to the list of those anticipating another Burroughs-Dake showdown, should it come to pass.
"If they do meet up, each will have fought a very hard-fought road, (but) it will be a huge win for wrestling," Zadick said. "If it does happen, I'll be happy to sit back and watch."
While Zadick would be a neutral observer, he agreed that a lot of wrestling people will be pulling for Dake, if for no other reason than Burroughs has been to the top of the mountain and back, and Dake is running out of time to make the difficult climb.
"I've got a wife and a dog and a house," Dake said, adding that he's committed to wrestling through the next Olympic cycle in 2020, but that the time is fast approaching where he'll put his Ivy League and wrestling education to work in the public sector, or perhaps as a coach.
Maybe he'll even try to solve world problems while smoking a cigar and sipping cognac. But if that is his plan, Kyle Dake isn't telling.
Contact Ron Kantowski at rkantowski@reviewjournal.com or 702-383-0352. Follow @ronkantowski on Twitter.