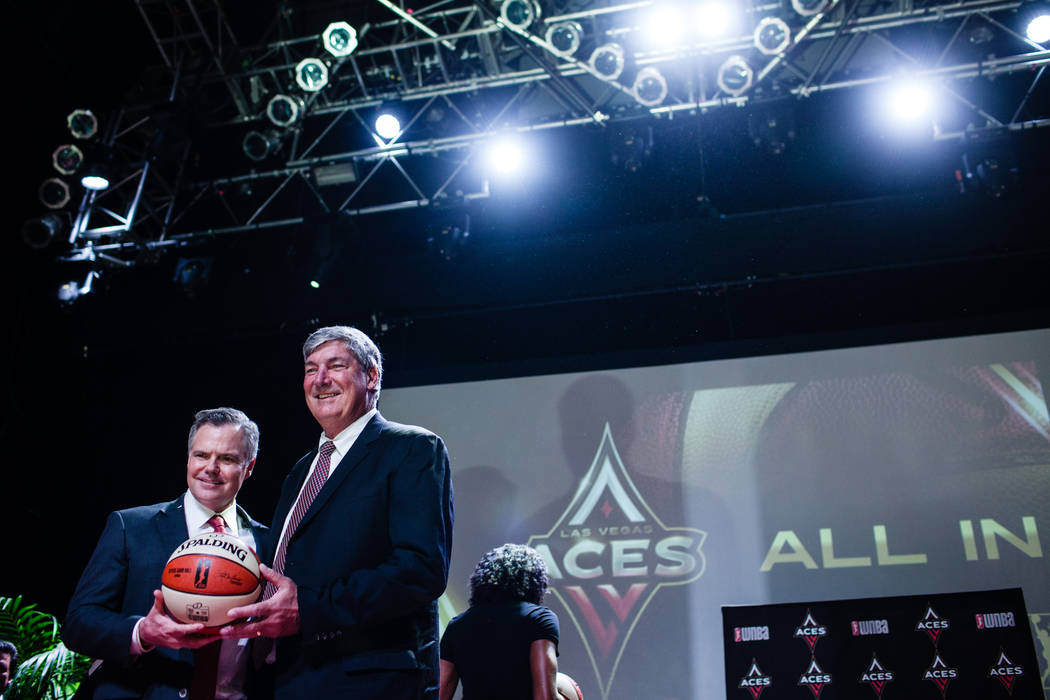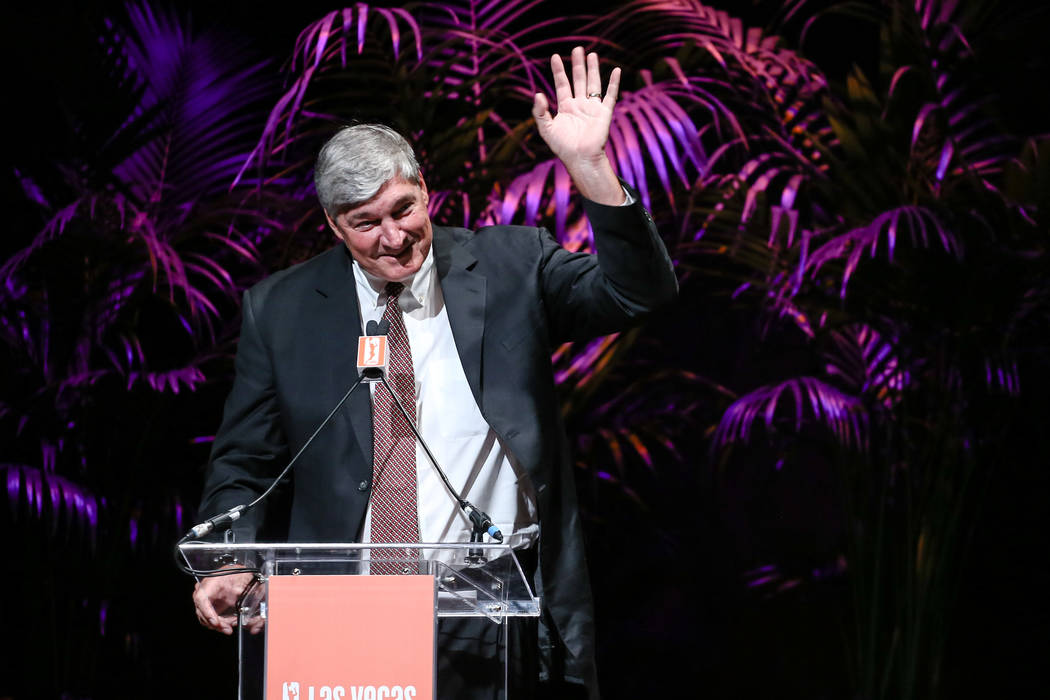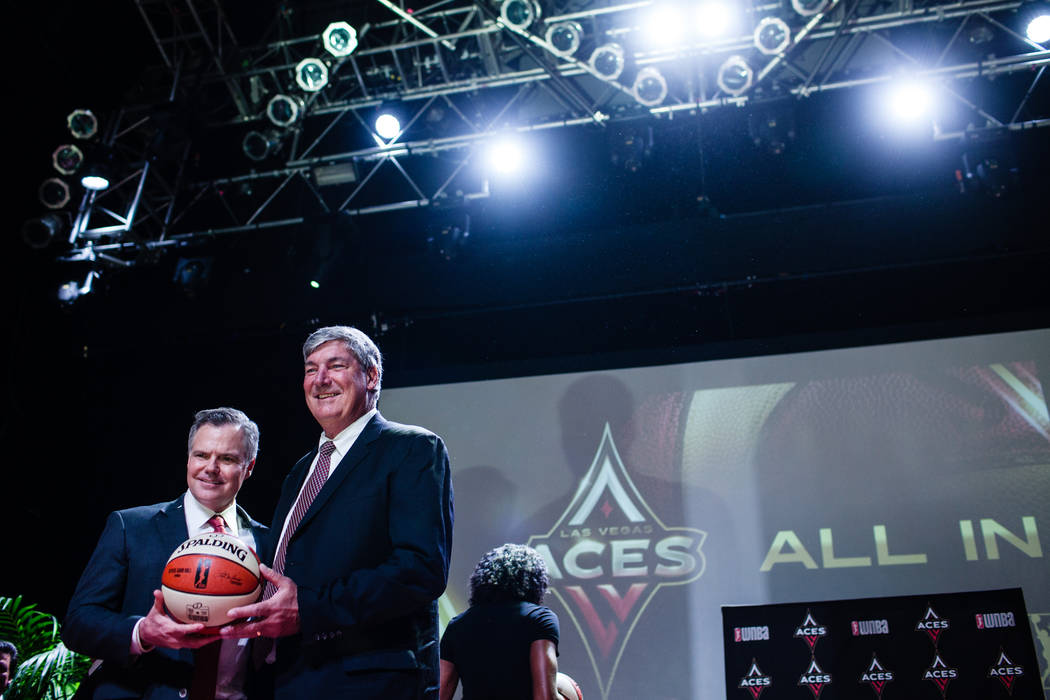 It's the elephant in high tops in the room, the no-hitter in the eighth inning that nobody wants to mention for fear that might spoil it.
What role, if any, will the WNBA's Aces play in bringing an NBA franchise to Las Vegas?
Nobody is saying much.
The San Antonio Stars have become the Las Vegas Aces, who will begin play in May at Mandalay Bay The Aces are owned by MGM Resorts, a corporate monolith that doesn't answer speculative questions.
Which is why it took the MGM so long to admit the Stars were even coming, or that they would be known as Aces.
The Aces have a coach and general manager who seems more accommodating when it comes to addressing speculative inquiries.
"People keep saying the NBA will probably come to Las Vegas," said Bill Laimbeer, the former Detroit Pistons Bad Boy who has gone from knocking Michael Jordan and Larry Bird on their keisters to becoming a three-time champion as a WNBA coach.
"We're showing how you build the business from scratch. It's tough. A lot of people put a lot of time in. All the logistics that go with it. It's been very trying, but at the same time it has been a great experiment. So whether the NBA comes here or not, I think the group here at the MGM has a great background on what to expect."
Laimbeer said the MGM is such a respected commodity that all it took was one phone call from CEO Jim Murren for him to pack his things into a giant suitcase and begin laying pro basketball groundwork in Las Vegas.
T-Mobile Arena is co-owned by the MGM, and that is why so many believe the MGM is willing to paint a small picture (WNBA) before tackling the ceiling of the Sistine Chapel (NBA).
So if the NBA thanks Las Vegas for turning its Summer League into a must-see extravaganza by awarding it a franchise, would Laimbeer be interested in coaching in the league in which he won two titles?
"No, I'm past that one right now," accommodating Big Bill Laimbeer said with a smile that appeared just a bit mischievous. "I'm 60 years old, so that's kind of passed me by. This sport, this WNBA, works for me from a lifestyle perspective. The men's league is a big, long grind. It's really tough."
In honor of #NBAAllStar Weekend, here's a #flashbackfriday to our very own 4-time All-Star, Coach Bill Laimbeer. pic.twitter.com/TJxTjiEaGO

— Las Vegas Aces (@LVAces) February 16, 2018
0:03
■ When Laimbeer was asked if he recalled teaming with Swin Cash of the WNBA's Detroit Shock and Chauncey Billups of the Detroit Pistons to win the Shooting Stars competition during 2007 NBA All-Star Weekend in Las Vegas, he said I had a good memory.
But I did not recall him winning the same shootout in 2009, teaming with Arron Afflalo, then of the Pistons, and Katie Smith, then of the Shock, who has replaced Laimbeer as coach of the WNBA's New York Liberty.
"I won a couple of times, actually," Laimbeer said with a bashful chuckle. "That was a fun event when you played with a NBA guy, a WNBA player and an old guy like myself."
■ Last week's item about Lights FC holding separate news conferences to unveil its soccer pants and jerseys brought back memories for Jerry Kissel, former publicist for the short-lived Las Vegas Quicksilvers of the North American Soccer League.
"I remember that we had one press conference to announce that we signed a deal with the National Guard, and they were bringing a tank to our games and shooting off fake bullets when we scored a goal," he wrote in an email.
"We had two Yugoslavian players who came from a war-torn country, and they were scared out of their minds when the tank rolled into the stadium. We (later) found out the two players came from rival parts of Yugoslavia and hated each other.
"Dumb us. We roomed the two together all year."
Pele of New York Cosmos, Trevor Hockey of Las Vegas Quicksilvers pic.twitter.com/yiznx5uHng

— The League Magazine (@Theleaguemag) July 24, 2017
■ A few weeks before the Winter Olympics, I received an email on behalf of Pita Taufatofua, the oiled-up topless flag-bearer from Tonga. It listed six reasons he was starting a GoFundMe account to help finance his trip to Pyeongchang, South Korea.
No. 5: "$2k for ass-hugging spandex race suit and training clothes."
He's back! Tonga's flag bearer returns for another #OpeningCeremony, this time in freezing temperatures. https://t.co/GA2DjIevWL #Olympics pic.twitter.com/qqhr36YHt1

— USA TODAY (@USATODAY) February 10, 2018
Contact Ron Kantowski at rkantowski@reviewjournal.com or 702-383-0352. Follow @ronkantowski on Twitter.
NBA-WNBA connection
Six WNBA teams have direct NBA counterparts and play in the same arena:
— Indiana Fever (Pacers)
— Los Angeles Sparks (Lakers)
— Minnesota Lynx (Timberwolves)
— Phoenix Mercury (Suns)
— Washington Mystics (Wizards)
— Atlanta Dream (Hawks) *
* Because of renovations to Philips Arena, the Dream will play their 2018 home games at McCamish Pavilion on the Georgia Tech campus, where they also played in 2017.