Las Vegan Malcolm Allen to play at Northern Arizona as fifth-year senior
August 26, 2017 - 4:21 pm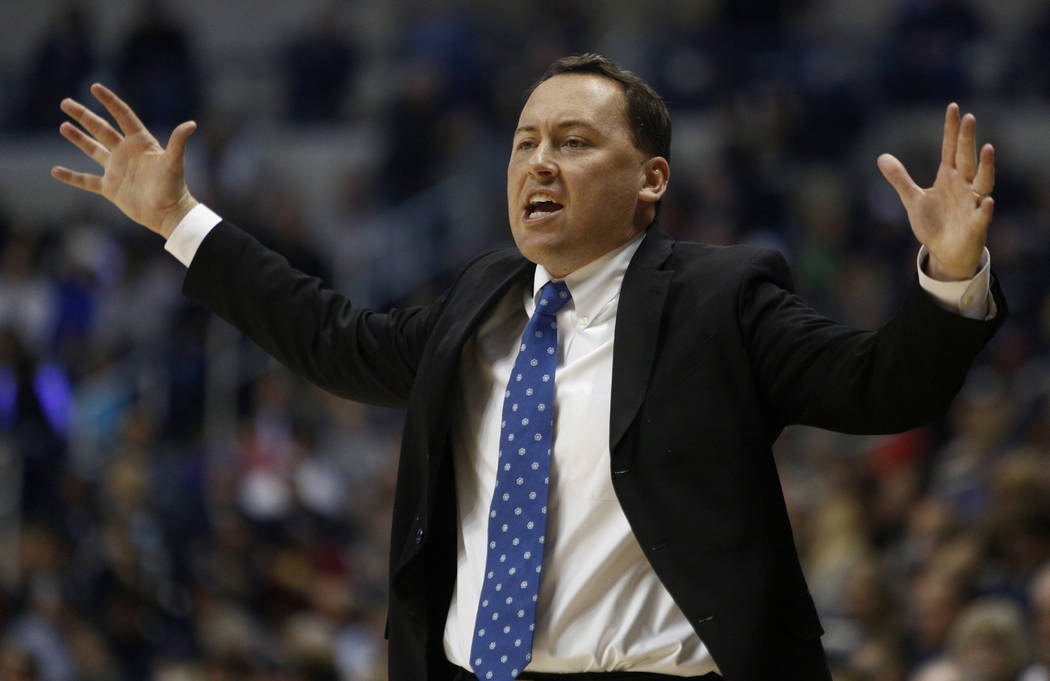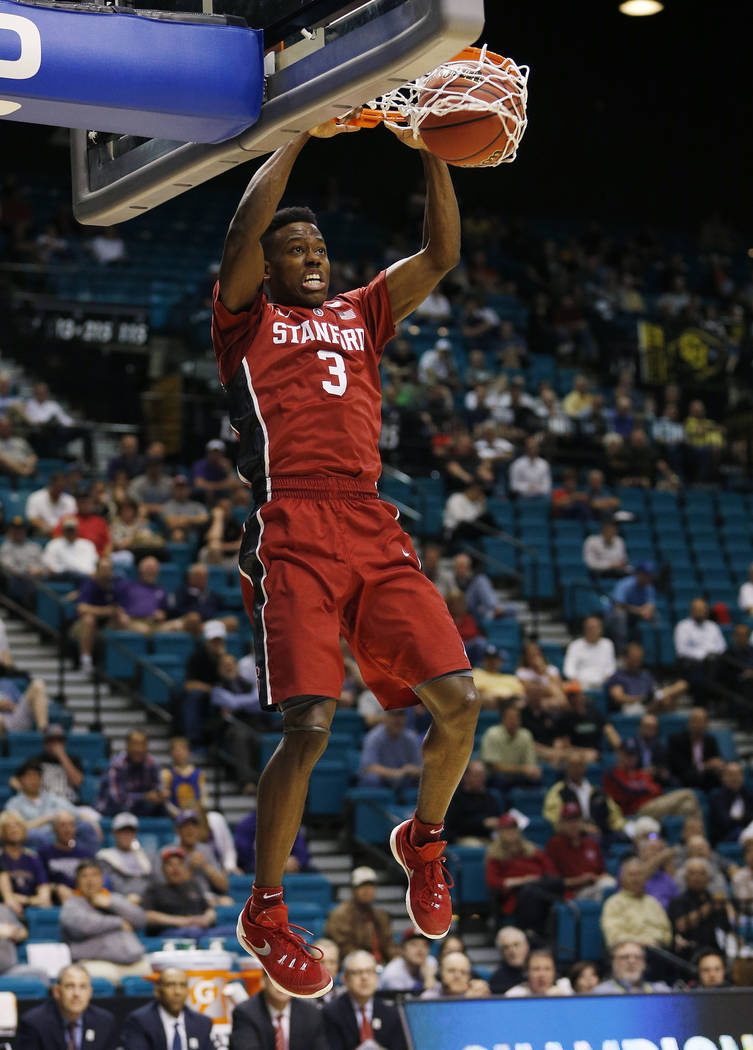 With an elevation of 6,910 feet and an abundance of cool pine trees, Flagstaff, Arizona, is a place a lot of Las Vegans go for respite from the summer sun.
Two city slickers I know of have gone to Flagstaff to coach college basketball at Northern Arizona. They have achieved mixed results.
Mike Adras, who coached Bishop Gorman to multiple state high school championships, led the Lumberjacks to two Big Sky titles and into the NCAA Tournament against second-seeded St. John's (NAU lost 61-56), and was Big Sky Coach of the Year in 2006. He's out of coaching now.
Jack Murphy, a Durango High product and former Lute Olson protege at Arizona, led the 'Jacks to the championship game of the CollegeInsiders.com Tournament in 2015. Walkup Skydome in Flagstaff was rocking and serious logs were sawed when NAU beat NJIT — New Jersey Institute of Technology — in the semifinals. NAU has slipped to 5-25 and 9-23 in the two seasons since.
Basketball prospects aren't as impressed by Flagstaff's cool pines as sweltering Las Vegans are.
But when Murphy, the son-in-law of former UNLV athletic director Jim Livengood, was back in town last week, he said a native Las Vegan might help him turn it around.
Malcolm Allen, who starred at Centennial High with twin brother Marcus before both signed with Stanford, will be NAU's first graduate transfer. Allen sat out his sophomore season at Stanford after breaking his wrist, and unlike his twin, did not become part of the Cardinal rotation. But he's the sort of player who could be a difference maker in the Big Sky, Murphy said.
"He definitely can be with his leadership, his experience — you're talking about a guy who played in the Pac-12 and competed at that level every day," Murphy said of the 6-foot-1-inch guard.
Malcolm and Marcus Allen were Centennial's co-valedictorians. Both were on Murphy's radar before Stanford came calling with bigger radar.
"Harvard in the Pines," Murphy said about NAU's academic reputation.
Murphy Adds Malcolm Allen and Gino Littles #NAUStrong… https://t.co/8ZDDjVsIch

— NAU Men's Basketball (@NAUBasketball) July 3, 2017
Brotherly respect
The starting quarterback for the Howard University football team that will accompany the school's marching band to Las Vegas for Saturday night's season opener against UNLV is Caylin Newton, a 5-foot-11-inch freshman who threw for 3,322 yards and 33 touchdowns at Grady High School in Atlanta and ran for 1,036 yards and 13 TDs.
Caylin Newton is the kid brother of 2015 NFL MVP Cam Newton of the Carolina Panthers.
"He doesn't have his brother's height, but he can scoot," Howard coach Mike London said Friday. "There's some talent there."
In another development, London will be handling halftime speech duties against the Rebels, Howard having hired former FBI director James Comey as a lecturer and keynote speaker notwithstanding.
Fans of @HUBisonSports got their first look at @NewtonCaylin on Sat. More to come from @nikkih0227 for HBCU Gameday. pic.twitter.com/NyDV4tC96e

— HBCU Gameday (@HBCUGameday) April 23, 2017
Diggin' fence posts
The Mountain West arms race regarding on-campus football facilities is heating up.
As Colorado State christened its new $240 million stadium with a 58-27 blowout of the Pac-12's Oregon State on Saturday, it was learned UNLV has broken ground (sort of) on its new football training center.
Actually, UNLV has only dug fence posts for a big sign saying its new football training center still is coming soon. Once the rest of the pledge money is collected or whatever.
But the big sign at Rebel Park has been up for a few weeks, and it's a fine sign indeed. The artist's rendering of the new football training center looks spectacular, though not as spectacular as Colorado State's new three-dimensional stadium.
#UNLV Athletics announces three additional major gift pledges toward Fertitta Football Complex: https://t.co/YLhydoNEnb pic.twitter.com/mtZHy2YcPA

— UNLV Athletics (@UNLVathletics) January 26, 2017
Busch visits the Pyramid
NASCAR champion Kyle Busch will visit the great Pyramid on Sunday — not the one in Egypt, the oldest of the world's Seven Wonders, but the one hosted by former NFL star Michael Strahan on ABC that pays $100,000 to win.
The Las Vegas lead-foot will be matched against Lara Spencer of ABC's "Good Morning America" as celebrity guests at 1o p.m. on KTNV-13.
Don't miss @KyleBusch on the #100KPyramid this Sunday at 10/9c on ABC! pic.twitter.com/UIZOvKYeb8

— Joe Gibbs Racing (@JoeGibbsRacing) August 25, 2017
Contact Ron Kantowski at rkantowski@reviewjournal.com or 702-383-0352. Follow @ronkantowski on Twitter.
Bright lights, Big Sky
A look at the pipeline connecting Las Vegas to the Northern Arizona basketball program:
— Mike Adras, NAU coach, 1999-2011. Guided Lumberjacks to 61-56 loss against second-seeded St. John's during 2000 NCAA Tournament.
— Jack Murphy, NAU coach, 2012-present. Took Lumberjacks to 2015 CollegeInsider.com championship game against Evansville.
— Jordyn Martin (Palo Verde High), 2012-17. Finished career as Lumberjacks' career leader in games played.
— Aaseem Dixon (Centennial), 2013-15. Averaged 12.9 points as senior, 11.2 as junior.
— Malcolm Allen (Centennial), 2017-18. Became NAU's first graduate transfer after completing Stanford education.