Las Vegan Tyrell Crosby has appetite for NFL, other interests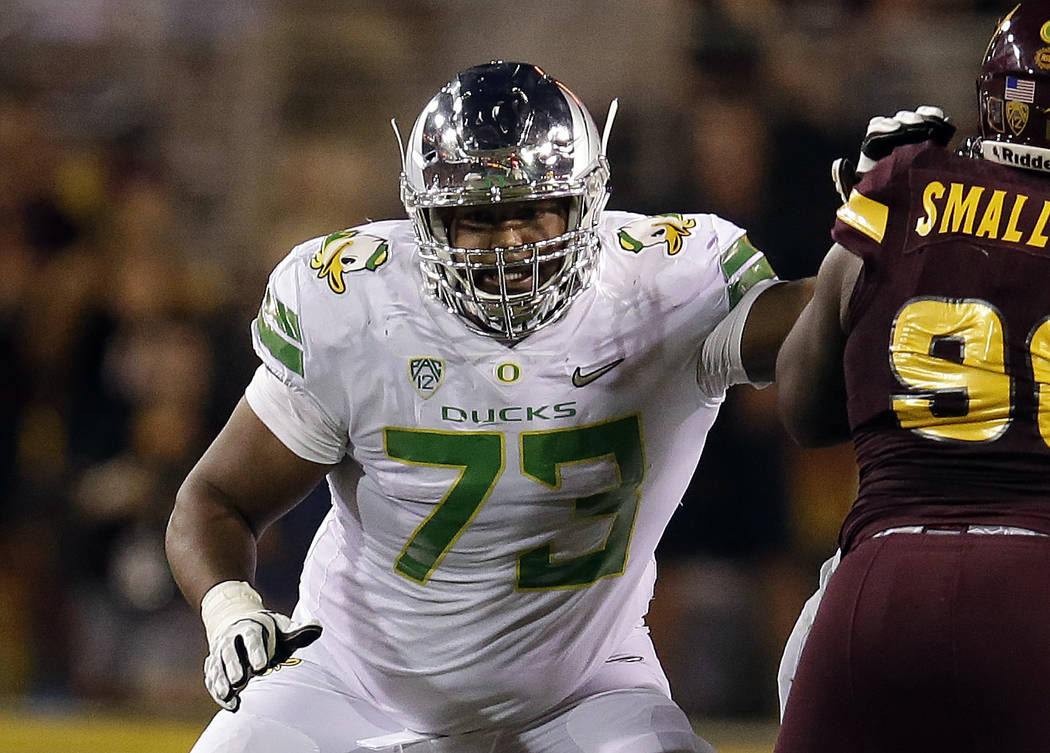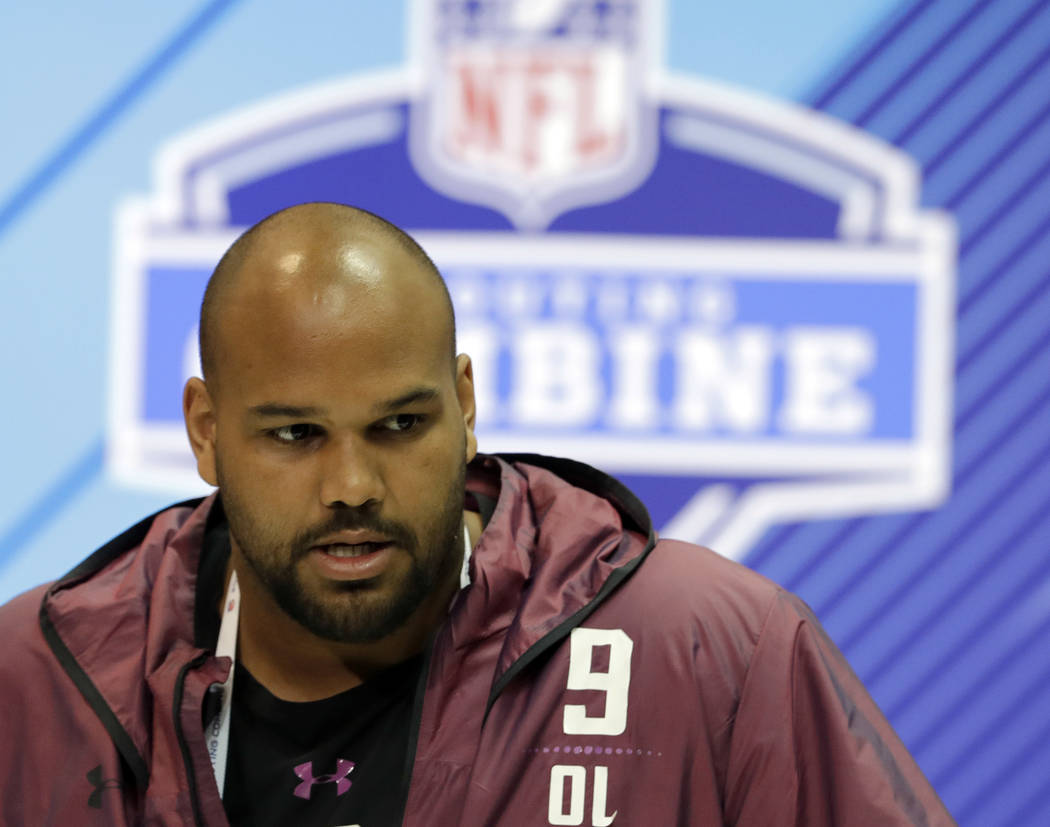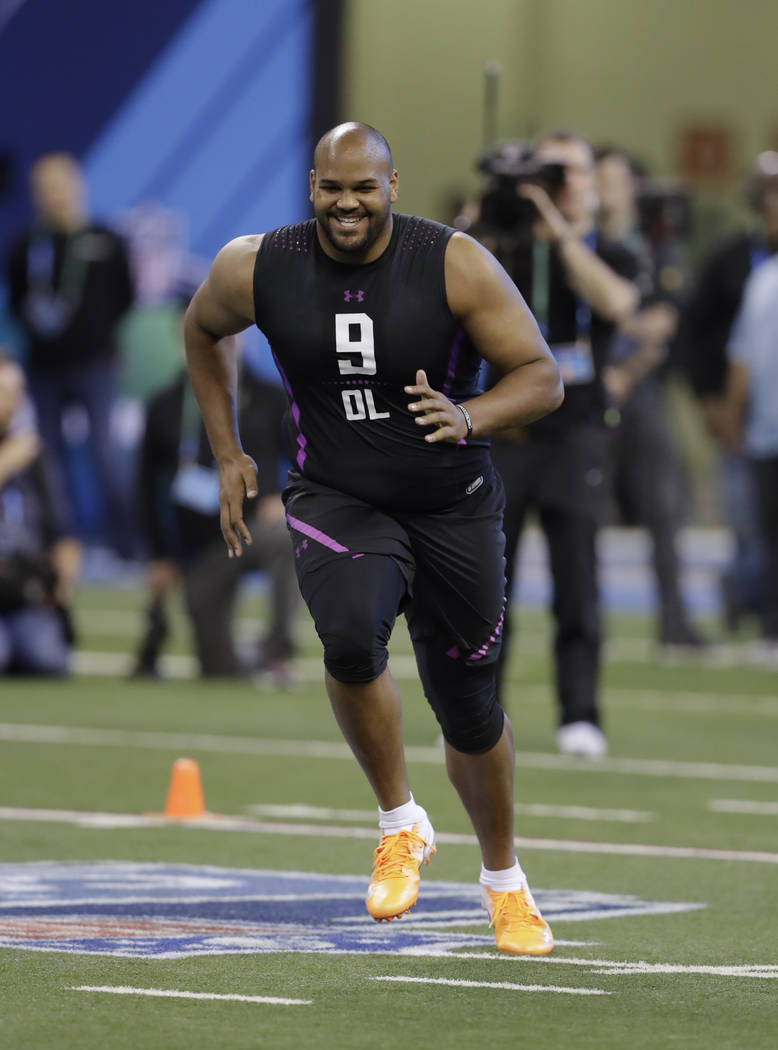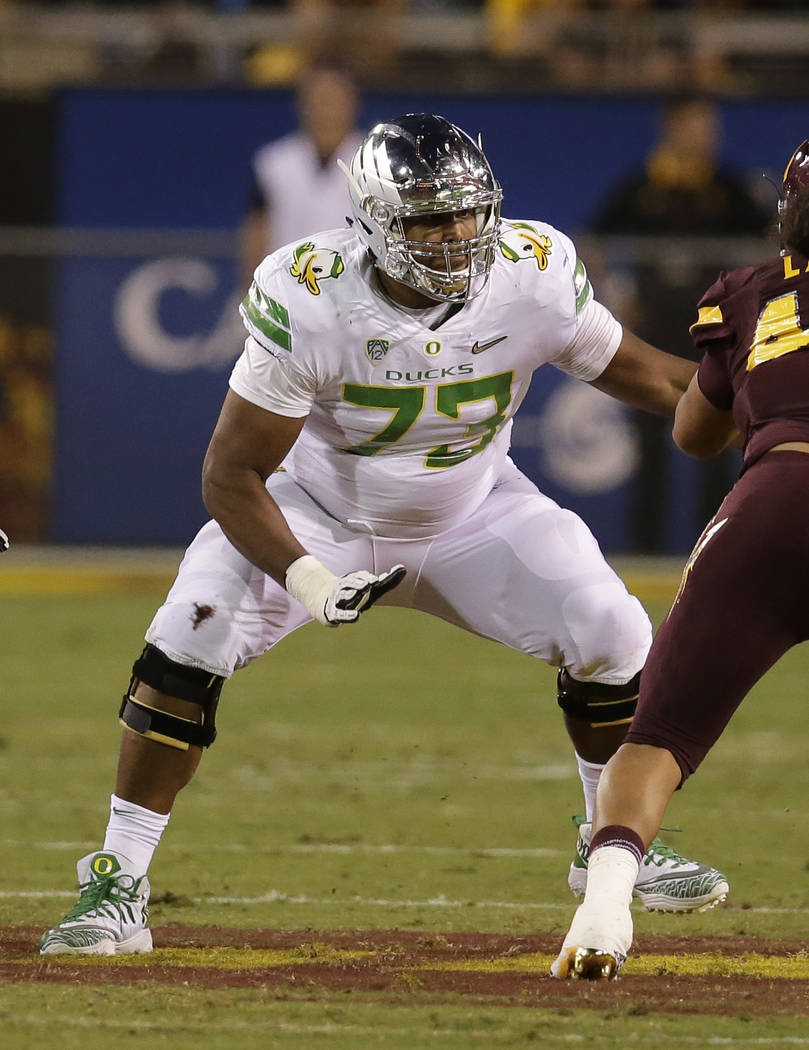 It was about 1 p.m. Tuesday when Tyrell Crosby — 6 feet, 5 inches tall, 315 pounds, give or take a biscuit with the delectable apple butter spread — strolled into Lucille's Smokehouse at Green Valley Ranch.
Crosby played high school football and basketball at Green Valley and college football at Oregon, where he was voted the winner of the 2017 Morris Trophy as the best offensive lineman in the Pac-12 by the conference's defensive linemen. His pro football career starts this week: Crosby probably will be selected early in the second round of the NFL draft.
People finishing lunch looked up from their plates in gleeful anticipation. It called to mind John Candy marching to the principal's office in "Uncle Buck."
Often compared to heavy road machinery or farm equipment by people who cover the pro football draft — "Crosby is a road grader when run blocking," wrote one blogger — the gentle giant ordered the two meat combo (ribs and hot links), mac and cheese, watermelon slices and Lucille's lemonade.
He ate only one biscuit with the apple butter spread. No big chocolate cake or old-fashioned banana pudding, he told the waitress.
He asked for a takeout box for one of the hot links.
I was disappointed by his (relative) lack of appetite, which, if you spend even a short amount of time with him, is a word seldom used in conjunction with Tyrell Crosby.
All for one
Because of his size, the offensive line probably chose Crosby before he could choose it. He has many interests outside of football, most consistent with his utilitarian leanings.
He enjoys working for the good of the group, but prefers to do it behind the scenes. Sometimes literally. When he joined the drama club in high school, he had little interest in play acting. He was more intrigued by building sets and learning about production.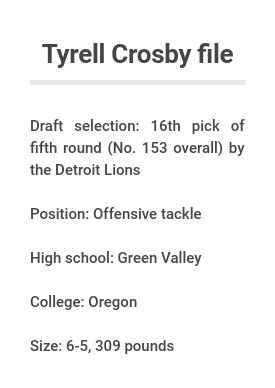 Crosby's major at Oregon was preplanning, public policy and management. His goal after football is to become a city manager. Work hard behind the scenes, he says. Let the mayor and city councilmen take the bows.
"I've always enjoyed that part of things, but not taking credit so much," he said of his self-effacing ethos.
During his senior season at Oregon, Crosby was on the field for 844 plays, none of which resulted in a Ducks quarterback being sacked or having his feathers ruffled. He was named first team All-Pac-12. He was the starting left tackle for the North team in the Senior Bowl.
During practice, when an Ohio State defensive end of some renown named Jalyn Holmes tried to make a quick move and halt Crosby's string of protecting the passer, Crosby almost knocked the Buckeye leaves right off his helmet before planting Holmes like a petunia.
"Holy (expletive)," one of coaches can be heard calling out to Holmes on the video. "Are you all right?"
Crosby didn't tell me any of this. His Las Vegas-based agent, Steve Caric, was the source.
But when asked if he had ever run with a football, Crosby lit up like Oregon's home uniforms about a tackle-eligible pass he caught during a spring game.
"It gained 1 yard," he said.
"Do you remember the brave soul who made the tackle?" I asked.
"It was pretty much the entire defense."
Priorities in order
For the final game of his freshman season, he was the starting left tackle in the national championship matchup against Ohio State. For the final game of his senior season, he switched from jersey No. 73 to No. 58 for the Las Vegas Bowl against Boise State to honor the Route 91 Harvest festival victims.
Looking forward to PLAYING my last game wearing a number so significant to the City of Las Vegas. #VegasStrong pic.twitter.com/JCspIFLbzy

— Tyrell Crosby (@Tyrellcrosby) December 15, 2017
"Even though I wasn't there, I felt like I was there — all my friends were affected by it," Crosby said.
It probably should come as no surprise, then, that the big man with the modest appetite and diverse interests said he will forsake being the guest of honor at a draft party to hear his name called and taken off the big board.
"Football is a great hobby. If you can go play pro, it's a great job to have. But at the end of the day, it's football," said Crosby, still wearing a #VegasStrong wristband given to him by the mother of a friend who was there when the shooting started.
"You've got to realize that life is about a lot more important things."
Tyrell Crosby didn't allow a sack in the 2017 season pic.twitter.com/h2msv3Bv5o

— Maliik (@Obee1ne) April 16, 2018
Contact Ron Kantowski at rkantowski@reviewjournal.com or 702-383-0352. Follow @ronkantowski on Twitter.