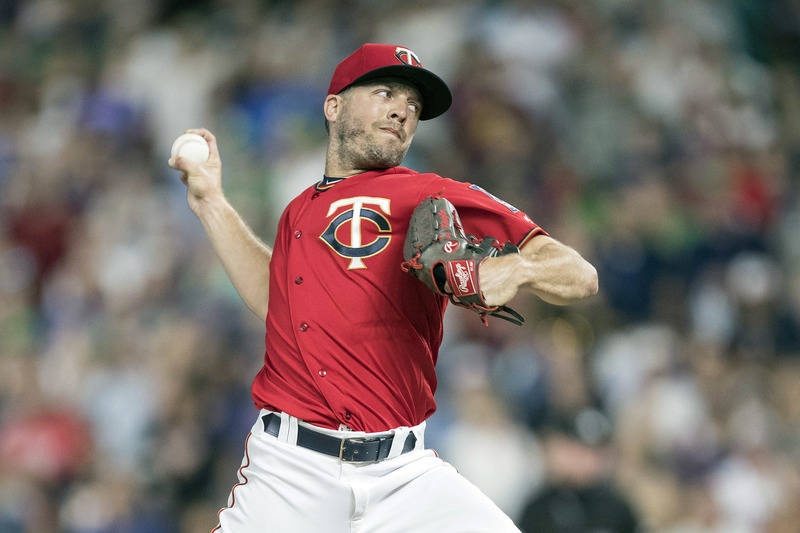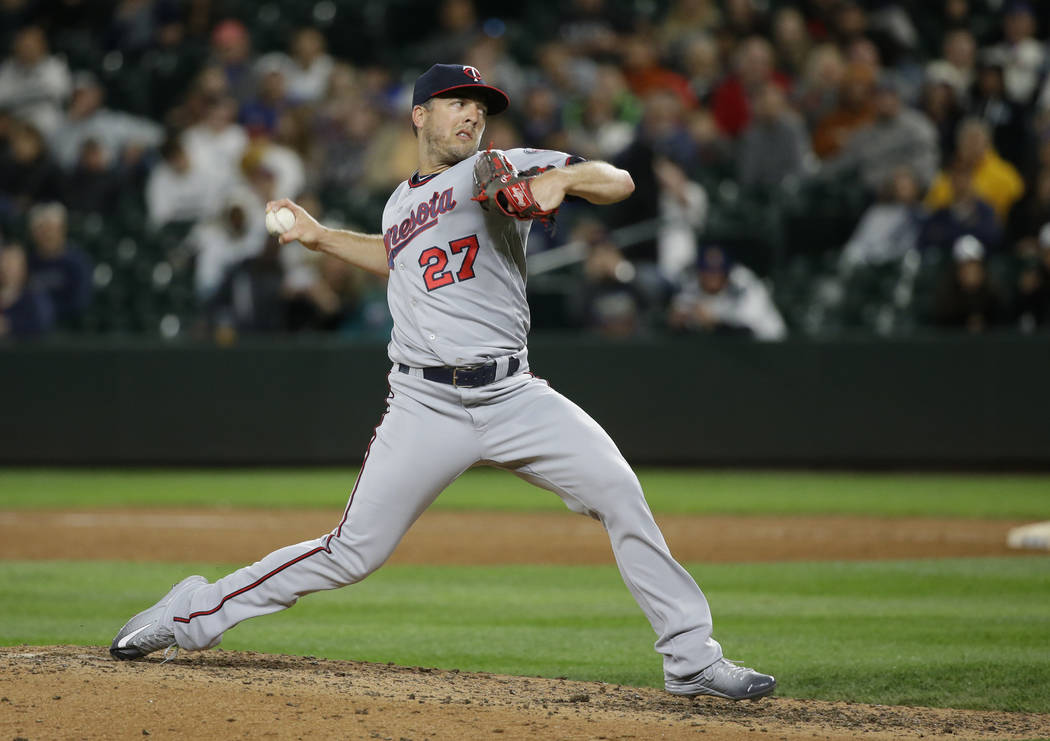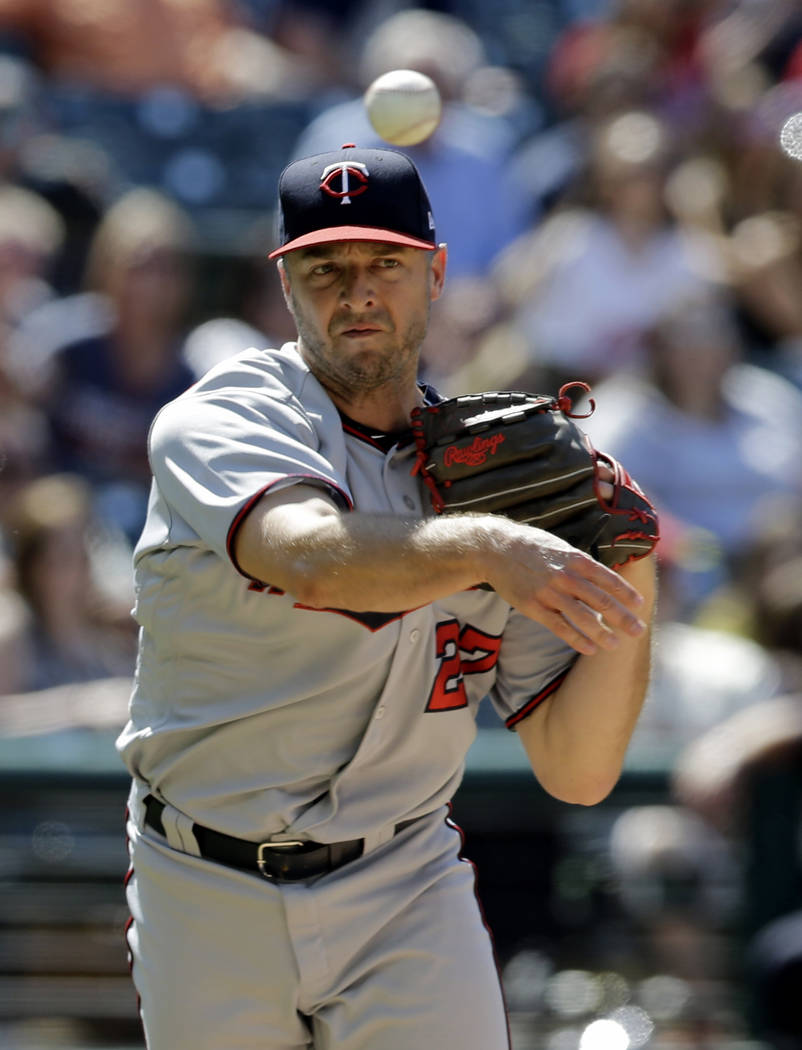 Rick Kintzler was installing a security system at his son Brandon's Las Vegas home Friday morning when the call came.
Brandon Kintzler — Minnesota Twins closer, twice a 40th-round draft pick, once so far removed from his dream of pitching in the big leagues that he joined the independent league Winnipeg Goldeyes to keep it flickering — had been added to the American League All-Star roster.
There was a brief bit of chitchat and then, "Hey — I made the All-Star team."
"We were really excited," Rick Kintzler said, putting it more mildly than a Miami breeze.
That is where Brandon now will be heading for Tuesday's Midsummer Classic instead of a lodge in Gull Lake, Minnesota, where he and wife Melissa — whom he married in Las Vegas at a drive-thru chapel — had planned to spend the All-Star respite.
Rick Kintzler said Friday's phone call was the polar opposite of one he received in 2009 from his baseball-playing son, who graduated from Palo Verde High. Not even the Winnipeg Goldeyes would let him pitch. And those bus rides to the American Heartland to play the Joliet Jackhammers seemed never to end.
"I told him to come home, that he was my best worker anyway," said his straight-shooting father, who owns a mobile oil change business.
Brandon Kintzler kept riding the bus, and later landed a small part in the movie "Moneyball," where he was to portray A's pitcher Tim Hudson. He was pitching better then, keeping the ball down for another independent club, the St. Paul Saints.
Rather than appear in the movie, Kintzler opted to pitch in the American Association All-Star Game. He struck out five of six batters; the next day he signed a minor league contract with the Brewers. About 14 months later, he was pitching for them.
At an undersized 5 feet 10 inches and soon-to-be 33 years old, he leads the American League in saves after notching No. 24 against the Orioles on Friday.
It now can be assumed the Winnipeg Goldeyes might have underestimated Brandon Kintzler's ability to get guys out.
.@Twins closer Brandon Kintzler booked a cabin "literally 10 minutes before (Paul) Molitor called" to tell him he'd made the All-Star Game pic.twitter.com/cjdCPmydlq

— FOX Sports North (@fsnorth) July 7, 2017
Hey now, they're All-Stars! Got the threads to prove it. #MNTwins @ErvinSantana_54 @SanoMiguel
Brandon Kintzler pic.twitter.com/2eqxIEXarf

— Minnesota Twins (@Twins) July 8, 2017
Maybe this year
While Las Vegas has something of a youth soccer reputation, a team from Southern Nevada has never won a US Youth Soccer national club championship.
Two local squads — Boys 13-under Heat FC 04 ET and Girls 14-under Las Vegas Sports Academy 03 Red — have qualified for their national championship tournaments. Another LVSA side, Boys 16-under LVSA Red, will play in the US Club Soccer National Premier League Finals from July 13 to 17 in Westfield, Indiana.
The Heat team is seeking sponsors to offset the $33,500 it will cost for players and coaches to travel to Frisco, Texas, from July 24 to 30. Those interested are asked to contact Nancy Ayala at 626-644-4755, email her at nayala3b@cox.net or visit the team's GoFundMe page at gofundme.com/heatfc04boysnationals. Those interested in supporting the LVSA NPL team can email wimbo@buffalo.agency.
0:03
— About 12 hours after he came in second to Dodgers third baseman Justin Turner in the final vote for the National League All-Star Game, Kris Bryant went single, triple, homer, homer against the Pirates. The mild-mannered Cubs slugger via Bonanza High isn't into making statements and whatnot, but the same apparently cannot be said for his maple baseball bat.
.@KrisBryant_23 was a double shy of the cycle.

He'll be OK with this instead. pic.twitter.com/IwQlom87G1

— MLB (@MLB) July 7, 2017
— Spring Mountain High School's 68-46 victory over Pahranagat Valley in last year's Class 1A state championship football game will go down as one of the most star-crossed in Nevada history. The Golden Eagles' victory halted the Panthers' national record 104-game winning streak on a day Pahranagat was without coach Ken Higbee, suspended amid an investigation that produced a 225-count criminal complaint for forgery and misconduct. Only to be followed by even more stunning news: The youth who was shot and killed at a Las Vegas park on June 30 was Eric Brooks — the quarterback who had led Spring Mountain's upset.
— I've heard of gap-toothed guys on the checking line drinking mass quantities of Canadian beer out of Lord Stanley's Cup, but rarely do you read about one slurping noodles from it. But that's exactly what Las Vegas resident Danielle Kang did after she and gal pal Michelle Wie absconded with the KPMG Women's PGA championship cup after the former won it. Put Kang down for a pho — a type of Vietnamese noodle soup. "I had my caddies drink beer out of it, I ate noodles out of that thing, and then we had to return it," the TPC Summerlin member said on Bar Stool Sports' Fore Play podcast.
when you ASIAN and EXCELLENT.
WHY KISS YOUR PGA TROPHY WHEN YOU CAN EAT PHO FROM IT?
DANIELLE KANG. what a G.https://t.co/MBYTYhFAnd pic.twitter.com/CpLkhlnAT8

— Jenny Yang (@jennyyangtv) July 5, 2017
Contact Ron Kantowski at rkantowski@reviewjournal.com or 702-383-0352. Follow @ronkantowski on Twitter.
All-Star bound
The 2017 pitching statistics for Minnesota Twins closer Brandon Kintzler of Las Vegas, who was added to the American League All-Star roster Friday:
— Games: 39
— Games finished: 36*
— Innings: 39.1
— Hits allowed: 34
— Walks: 8
— Strikeouts: 24
— ERA: 2.29
— Saves: 24*
* Leads American League