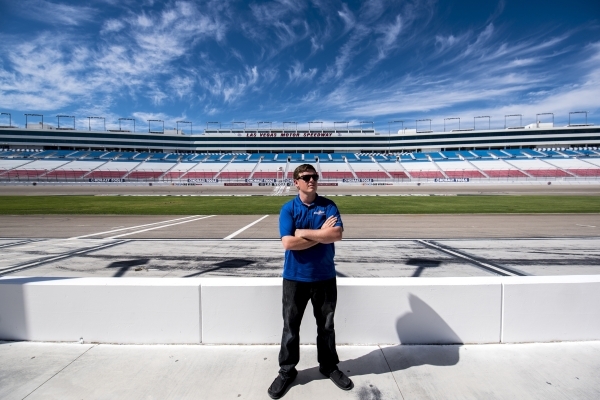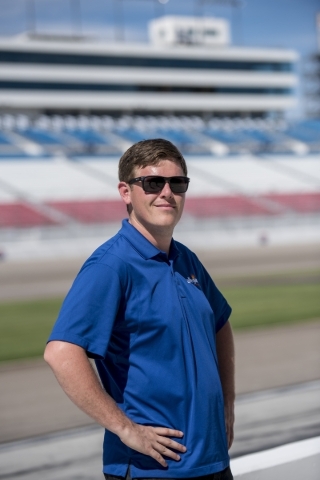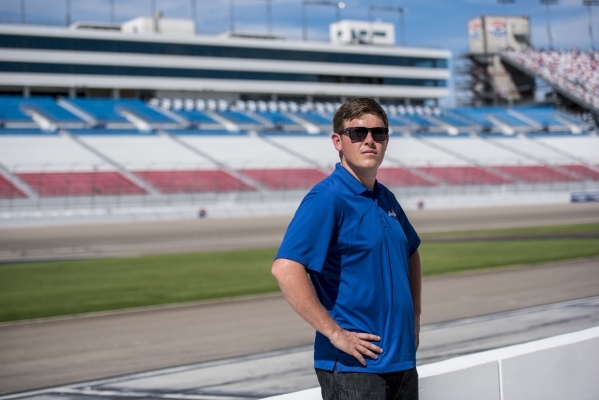 He's the only local driver in Saturday night's NASCAR Camping World Truck Series race at Las Vegas Motor Speedway. So if Spencer Gallagher can keep his nose clean, as the auto racing announcers like to say, and he is running near the front toward the end, the Fox Sports 1 and Motor Racing Network broadcast crews will be inclined to mention his home track advantage.
And people watching at home, and 18-wheel truck drivers listening on the radio, will nod in agreement. As if there's something to it.
There's really nothing to it. At least not in Spencer Gallagher's case.
Auto racing — and NASCAR truck series racing — isn't like basketball, where you know the custodian, and he gives you the keys to the gym, and late at night after the other gym rats have gone home you count down 3 … 2 … 1 … and you keep trying until you sink the buzzer-beating basket. And then you make that little roar-of-the-crowd noise under your breath.
It's not like Spencer Gallagher, or even the Busch brothers, Kurt and Kyle, can ask Bruton Smith for the keys to LVMS and work on their last-lap passes out of Turn 4 until they get it right on the high side, or even on the low side, because passing on the low side on the last lap would really be outrageous.
"They would frown on that," Gallagher said about taking his race truck out on the big oval when nobody was around. "But that wouldn't be half-bad."
On Tuesday when we chatted in the LVMS media center foyer, Gallagher was asked how many times he had driven on the big oval that was glistening in sunlight on the other side of the glass expanse.
"Once — just the race last year," he said.
Gallagher, who is 25 years old, looks about 15. He has has a cherub-like face and an easy smile and a nice vocabulary. He attended Palo Verde High School before moving to North Carolina to pursue stock car dreams; he now resides on Lake Norman outside of Charlotte where a lot of the Sprint Cup drivers live.
Does he bump into them a lot riding jet skis or at the bait-and-tackle shop? Not really, Gallagher said. Lake Norman is really huge. It has lots of bays and inlets. There are a million places you could live on Lake Norman and not bump into a stock car driver.
Last year, before the truck race at LVMS, people living on those bays and inlets probably wouldn't have known him. Gallagher ran only a part-time schedule in the truck series to test the NASCAR waters. He qualified sixth-fastest at LVMS, pretty good for a rookie.
After engines were started, he ran up front during the race. That's when the racing announcers starting talking about his home track advantage.
"We were running about fourth or fifth; then they packed these little bits of rubber in the right rear spring to help the compliance of it — and then it started shooting these little bits of rubber out, going over the bumps," Gallagher said. "So the spring kept getting softer and softer, and the truck stopped turning. So that sucked."
He finished 13th.
Those darn rubber bits. Forget what Chevy Chase said in "Fletch." It's not all ball bearings these days. Sometimes it's rubber bits.
Gallagher is running a full truck series schedule this year. He's a solid ninth in points heading into Saturday. He has finished second once; two weeks ago in Chicago, he led some laps and finished eighth.
"Chaining together consistent good finishes in the top 5, top 10, that's always a confidence builder for a driver," he said.
As for the obligatory quote about what it would mean to acquire his first victory on his hometown track — even if he doesn't get to race on it a lot — here it is:
"It would mean everything, especially here — are you kidding? — in front of the hometown crowd. This is a place I love racing at; this is a place I think I'm pretty darn good racing at. That would definitely be the new highlight of my career."
Gallagher was wearing a royal blue polo shirt with an Allegiant Air patch above his heart. Allegiant is his primary sponsor. It's also the family business. His father, Maurice, is CEO of Allegiant Air and has restructured the low-cost airline into a no-frills success story. Nice things have been written about Maurice Gallagher and his airplanes in Forbes magazine.
Spencer Gallagher said his father taught him about building a successful organization, and how people are the most valuable resource a company can have, and how success is a process.
Spencer's organization is called GMS Racing. If success is a process to be creeped up on, GMS is closing in fast. Gallagher has mostly been running well in the No. 23 truck, and Sprint Cup driver Austin Dillon won in New Hampshire last weekend in a second GMS entry — in the truck series' milestone 500th race.
Gallagher said that was a pretty big deal. Then he put his sunglasses back on — I think it's a rule that all NASCAR drivers must wear sunglasses or be sent to the NASCAR hauler — and posed for photos on pit road in front of sprawling, empty grandstands and cloud swirls.
Spencer Gallagher said he was looking forward to Saturday night and the possibility of running up front, in which case the racing announcers almost certainly will mention his home track advantage.
Las Vegas Review-Journal sports columnist Ron Kantowski can be reached at rkantowski@reviewjournal.com or 702-383-0352. Follow him on Twitter: @ronkantowski
NASCAR TRUCKS IF YOU GO
WHAT: Rhino Linings 350, NASCAR Camping World Truck Series race
WHERE: Las Vegas Motor Speedway
WHEN: Saturday, 7 p.m.
DISTANCE: 219 miles, 146 laps.
PURSE: $597,802
TV: FOX Sports 1
RADIO: Motor Racing Network
DEFENDING CHAMPION: Erik Jones
TICKETS: LVMS.com or 644-4444