Las Vegas hosts World Professional Billiard League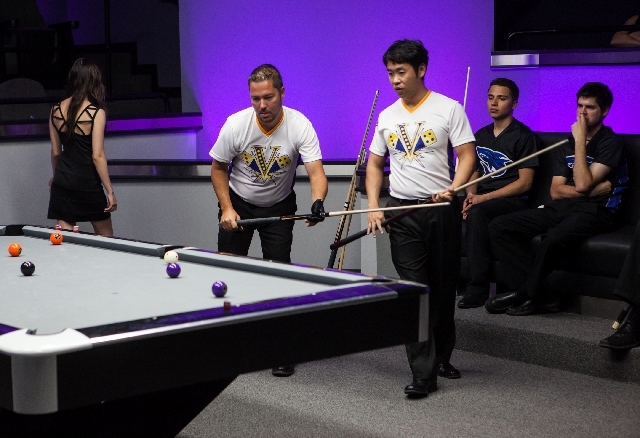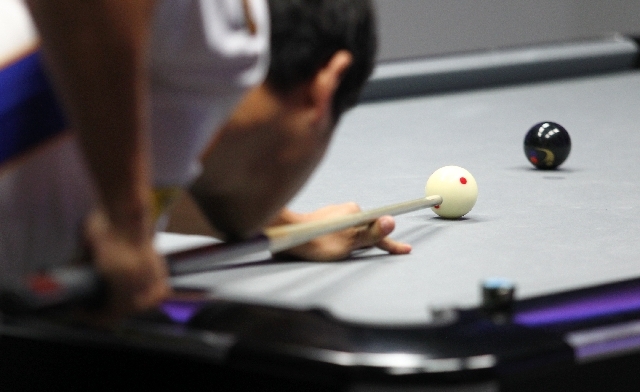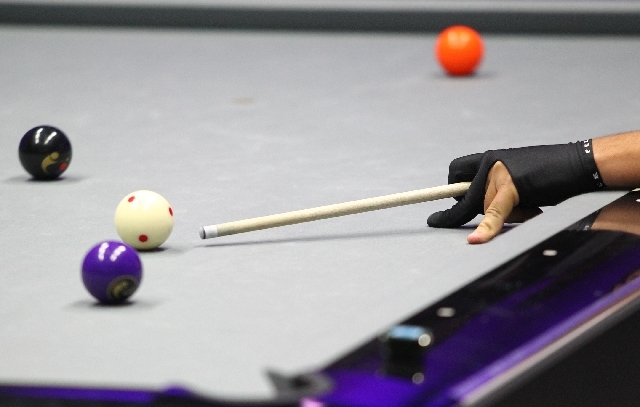 This place is pretty cool.
That's the first thing you notice after walking up the steps into the WPBL Arena — WPBL stands for World Professional Billiard League — that is inconspicuously nestled among warehouses and industrial parks at 6745 S. Surrey St., just off Sunset Road near McCarran International Airport.
(It's always a good idea to build a pool hall — though this is no ordinary billiards joint — near an airport or a train station, because you never know when somebody named Fats or Shark might have to leave town in a hurry.)
The second thing you notice is the long legs of the Bonus Girls. Especially the blonde one.
So many people talk about building sports stadiums around here that I have taken to telling them to call me when they put a shovel in the ground. And good luck on getting that rent-a-car tax passed.
But they put shovel in ground to erect a state-of-the-art pool hall — or at least spent $1.4 million private dollars on transforming an existing warehouse into one — and hardly anybody knew it, because 6745 S. Surrey St. is sort of hard to find without one of those navigation devices or the official Willie Mosconi smartphone app.
Yes, there were setbacks: The WPBL was supposed to rack 'em in January, but that was before the building contractor lost his license. A new one managed to finished the job; I was told that all permits have been signed and notarized. I don't think I was being hustled.
The WPBL president is a man named Larry Chiborak, whose name conjures images of checking line forwards for the Winnipeg Jets. Chiborak never played pro hockey but he is from Winnipeg; he said when he played hockey as a young man, it was mostly on the checking line.
The WPBL, WPBL Arena and Bonus Ball, a faster-paced version of pool that combines elements of snooker, 9-ball and straight pool, were Chiborak's ideas. Twenty years in the making, he said. Bonus Ball seems to traditional pool what Arena Football seems to traditional football. Only the playing surface — nine feet — seems larger in Bonus Ball.
It has a shot clock, like in the NBA. Twenty-four seconds to shoot. No time to light a cigar, no time for Samurai moves with pool cues, like Tom Cruise in the movies.
These elements will be combined into a new made-for-TV, or at least new live-streaming-on-the Internet billiards league that Chiborak and his investors hope will revitalize the game.
The laser beams, rock music and smoke-machine player introductions are coming, he said. Perhaps for the playoffs. He said he's already talking to ESPN and TSN, the Canadian equivalent, but sports promoters almost always say that.
Like all Canadians except former Maple Leafs enforcer Tie Domi, Chiborak comes off a pleasant fellow. And by halftime of Sunday's match between the Toronto Blue Sharks and your Las Vegas Dice — the league's 12 teams are named for North American cities and wear hockey-style jerseys with a crest on front; Chiborak says these easily could be changed to Labatt Blue Sharks and Bud Light Dice should the beer companies show interest — I mostly understood the rules.
Chiborak said each three-man team and alternates is paid a guaranteed salary, and that's why he has been able to attract some notable pros, such as Hall-of-Famer Earl "The Pearl" Strickland, who was sitting in the arena's comfortable theater-style chairs Sunday afternoon.
With bonuses, players on the top teams could earn as much as $100,000 by season's end, Chiborak said. That's another reason Earl Strickland was sitting in the theater-style chairs.
Strickland is captain of the New York Pride, which beat the Atlanta Scorpions 15-2 Thursday — matches will be played here every Thursday through Sunday for the next 25 weeks, culminating with the playoffs in October. (Check wpbltv.com for match times and scoring updates). He wears No. 61, because most of the good numbers were spoken for, and also because that's the year he was born.
When we spoke, it was outside at halftime, because smoking is not permitted in the WPBL Arena. Strickland took a pull on his cigarette. He said though he has spent only about 30 hours playing Bonus Ball and learning its whims, nuances and strategies — man, those pockets seem awfully small and tight — maybe it will resonate with the public in a way traditional pool has not.
When I asked The Pearl why that is, he thought it over. Maybe pool is like his cigarette, he said.
"Pool's been around a long time. Maybe it just burned itself out."
Inside, the Blue Sharks and the Dice were chalking cues for the second half. The 24-second clock had been reset. Ditto for the alternating orange and purple backlights, which create ambiance while reminding players and fans the color of the balls to be shot at next.
When I pulled the car around, I noticed that Earl Strickland had lit another cigarette, and he was having a conversation with one of the Bonus Girls. The blonde one with the long legs.
Las Vegas Review-Journal sports columnist Ron Kantowski can be reached at rkantowski@reviewjournal.com or 702-383-0352. Follow him on Twitter: @ronkantowski