Las Vegas Lights soccer coach raises glass with supporters
November 18, 2017 - 1:30 pm
Updated November 18, 2017 - 8:48 pm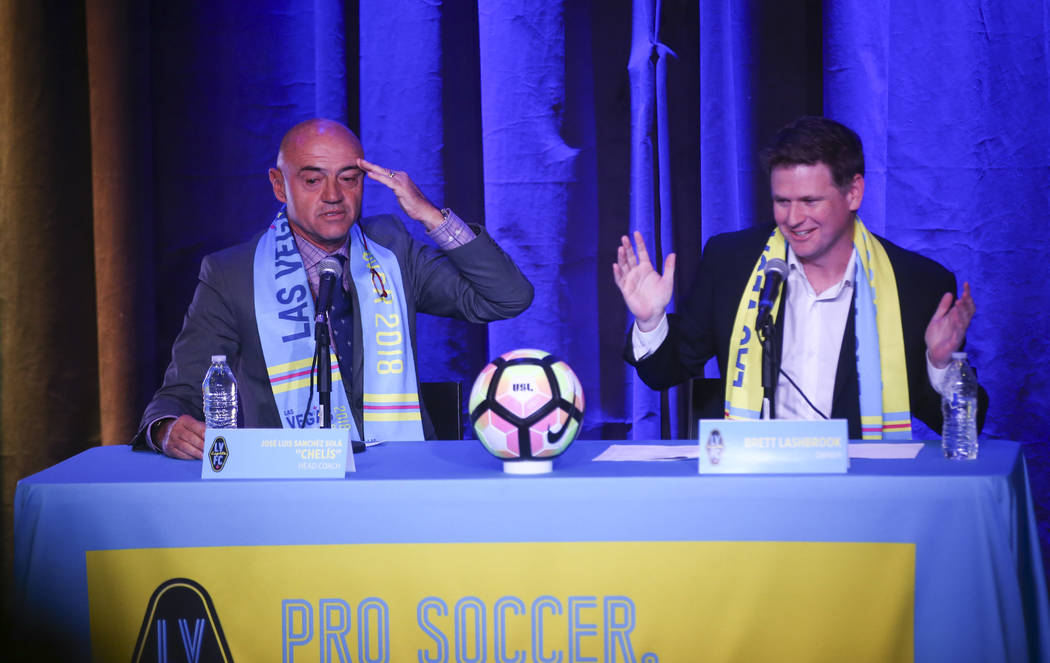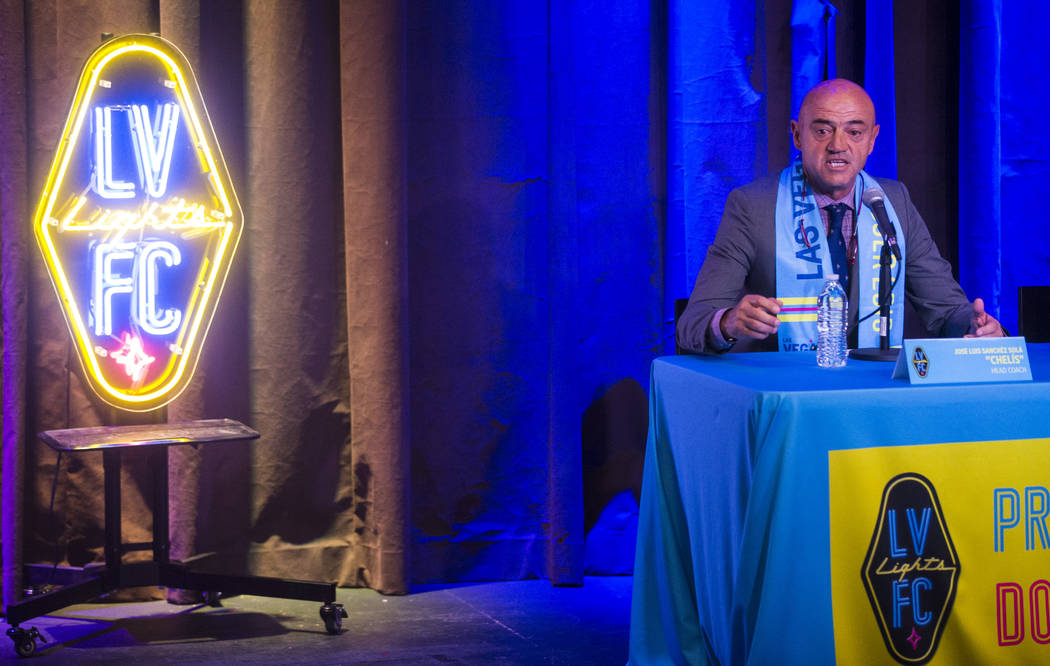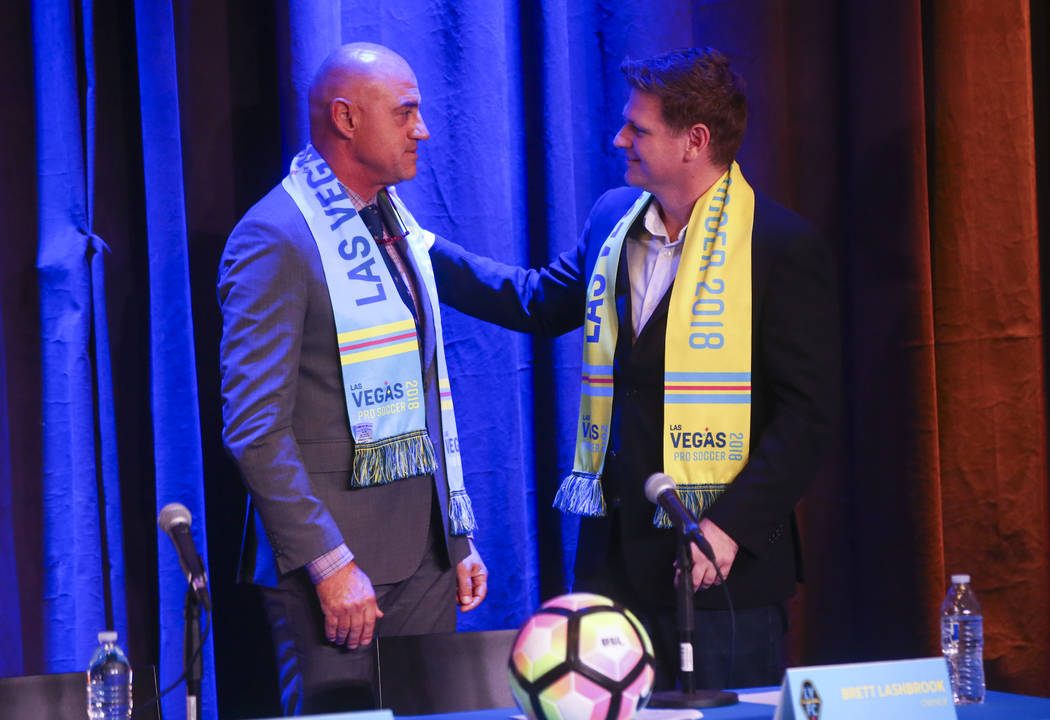 Joe Maddon would have loved this.
After he was introduced as coach of the Las Vegas Lights FC triple-A soccer team that will share Cashman Field with the 51s in 2018, Jose Luis Sanchez Sola, or "Chelis" for short, invited fans at the news conference to join him for a beer at the Gold Spike, a Downtown watering hole.
This was similar to what Maddon did when he was named manager of baseball's Cubs. He bought everybody a shot and a beer at the Cubby Bear tavern across the street from Wrigley Field.
"Welcome to the world of Chelis," Lights owner Brett Lashbrook said back by the pool tables and away from the hipsters at the bar. "I guess in Mexico when you take a new job, this is what you do."
Chelis, the former Mexican league coach and analyst on ESPN Deportes' "Futbol Picante" show, was wearing the same tailored suit he wore at the news conference, with no socks on his feet and a Lights baby blue and yellow soccer scarf around his neck. Lashbrook, also wearing a scarf, brought his American Express card. When Chelis is rambling on in his native language and inviting people he has never met for beers, one should not leave home without it.
A few dozen soccer supporters showed up at short notice to have a cerveza with Chelis, and to wish him bienvenido and buena suerte. Lashbrook, who picked up the tab, was lucky Tuesday was a school night.
I was told Chelis' nickname means, among things, "full of life, energy and creativity." So he should mesh well with the Lights' proposed attacking style. The 58-year-old is said to wear emotions on sleeves. He has a shaved head, sports an earring and in the promotional video that introduced him, was smoking a cigarette.
He looked just like former UNLV basketball coach Lon Kruger, except for the shaved head, earring and cigarette.
But Chelis' persona, and his palpable passion for the game, should play well with the hipsters sitting at the bar and the new amigos who came out to shake his hand and pose for selfies. These are the demographic groups the Lights must attract if they are to succeed.
When I arrived, Chelis, who said he wants his players to "smell like Las Vegas," already was sipping a cold one. He said through Pepe the translator that he prefers Tecate at home and Stella Artois, brewed in Belgium, on the road.
Chelis put his beer down to chat, and I never saw him pick it up again. But it was still early. Brett Lashbrook still had his credit card in his pocket.
A team must reflect its community.

Bold. Brash. Unapologetic. Welcome @Elchelis, your #LightsFC head coach.#LightItUp pic.twitter.com/oJxOH2mMrX

— Las Vegas Lights FC (@lvlightsfc) November 14, 2017
0:03
■ Las Vegan Matt Polster recently completed his third season with MLS' Chicago Fire, starting 21 games after recovering from an early-season injury. The former Palo Verde High ace scored a goal and added seven assists after switching from holding midfielder to attacking fullback for the Fire, which was eliminated from the playoffs in the Eastern Conference knockout stage by the New York Red Bulls.
2017 In Review | @MattPolster transitions – and transcends – in switch from midfield to right back.

Read: https://t.co/QWLqvpcBQg #cf97 pic.twitter.com/cQiHmqq7k4

— Chicago Fire (@ChicagoFire) November 11, 2017
■ Remember when Mike Sanford was UNLV football coach and always referred to UNR as "the school up north"? Jay Norvell, the Wolf Pack coach, now refers to UNLV as the "team down south." When John Robinson was Rebels coach, he mostly referred to the Wolf Pack as the Wolf Pack. Or UNR or Nevada. The Rebels beat the Wolf Pack, or UNR or Nevada, five straight times when Robinson was coach. Sometimes the ability to block and tackle trumps contrived motivational tactics.
Coach Jay Norvell's SDSU presser has begun: "Our bowl game will be next week when we come back and play the team down south." He's referring to UNLV.

— Chris Murray (@MurrayRGJ) November 14, 2017
■ That New Mexico State is considering turning down a bowl invitation, should one be offered, because it might wind up costing the school money shows how absurd the college bowl system has become. That New Mexico State, 4-5 and bowl-less since 1960, is being mentioned in conjunction with a bowl bid doesn't speak highly of the system, either.
@SBN_BillC Bill, are you enjoying this world where NM State will possibly compete in a bowl game and LSU will not?

— Chairgatin' (@chairgatin) October 2, 2017
Contact Ron Kantowski at rkantowski@reviewjournal.com or 702-383-0352. Follow @ronkantowski on Twitter.
Chelis' resume
Professional soccer teams coached by Jose Luis Sanchez Sola:
— Puebla, Liga MX, 2006-10
— Tecos, Liga Premier, 2010-11
— Correcaminos UAT, Ascenso MX, 2012
— Chivas USA, Major League Soccer, 2013
— Veracruz, Liga MX, 2014
— Puebla, Liga MX, 2014
— Venados, Ascenso MX, 2017-17
— Las Vegas Lights, United Soccer League, 2018