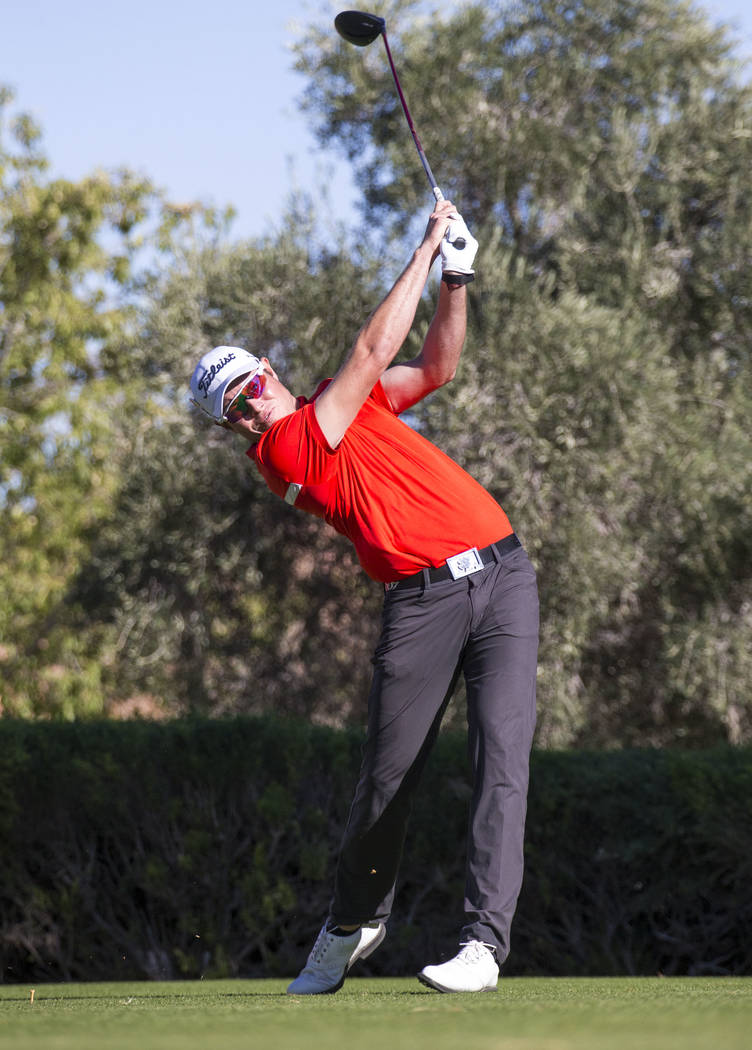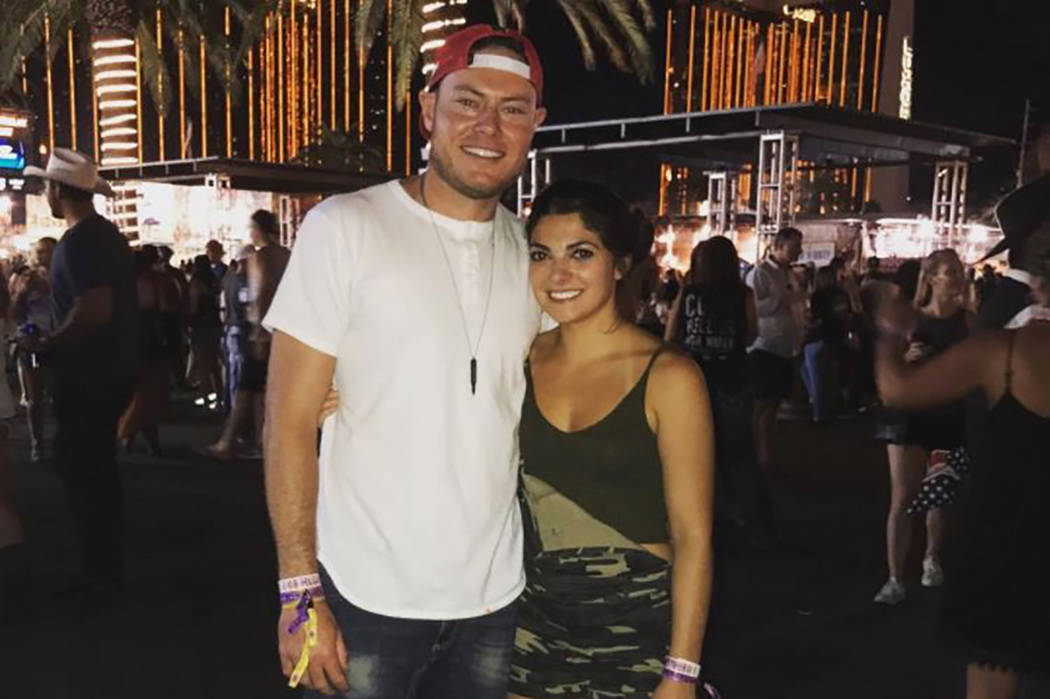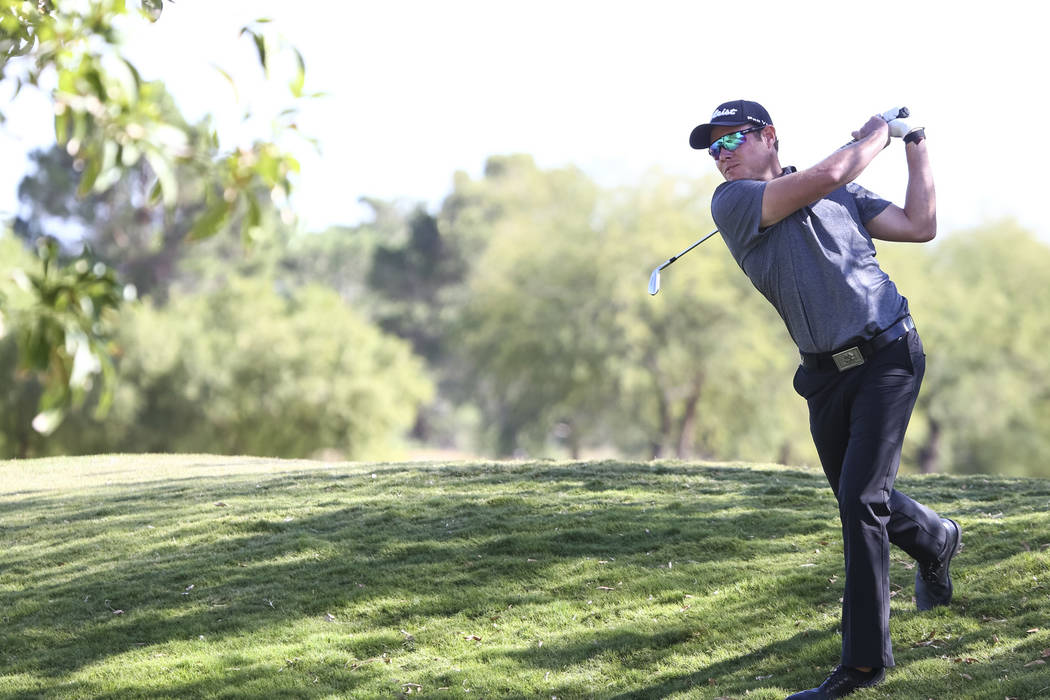 Sometimes the Cinderella Kid doesn't come out of nowhere to win the Masters, as in the manner of a bedraggled greenskeeper in the movies.
Sometimes the Cinderella Kid comes out of nowhere to finish in a 10th-place tie, as A.J. McInerney did at the Shriners Hospitals for Children Open at TPC Summerlin.
The former UNLV and Coronado High golfer shot 71-70-70-67 for a four-day total of 6-under-par 278.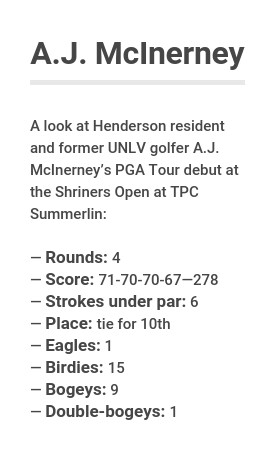 It was a fine effort by the fledgling 24-year-old touring pro from Henderson, who was consistent from the time the starter announced his name Thursday. And when the wind stopped whipping the pants legs of the players and allowed the gentle breezes to play through Sunday, McInerney was much better than consistent.
After accepting three bogeys on the front side, the local kid made six birdies on the back and holed a 30-footer on No. 18 that had the gallery chanting his name.
So, yes, it was fine effort under any circumstances.
It was a downright spectacular effort given the bigger picture, which was this:
— This was McInerney's PGA Tour debut.
— He started the final round seven shots off the lead, and finished just three back.
— He was playing on a sponsor's exemption.
— Five weeks ago, he was dodging bullets. Not euphemistic bullets. The deadly kind.
Committee reaches out
It can be assumed that part of the reason McInerney received the exemption is that he is a pretty good golfer, and the other part that he survived the Oct. 1 Route 91 Harvest music festival shooting.
In the cruelest of ironies, had 58 people not died, and had 546 not been injured by a madman's bullets, there's a chance A.J. McInerney is not playing golf with many of the world's best players this weekend at TPC Summerlin. Even if he disagrees.
"I've been writing letters to the tournament (committee) for years," he said after signing his scorecard and flipping golf balls to appreciative youngsters. "They told me last year I was close, and I did have a little bit of success on the Web.com Tour this year, and I'm pretty sure my name was in the hat prior to that."
When his name got pulled from the hat, McInerney did a beautiful job honoring those killed and injured, and the first-responders, and those who survived and now have psychological scars that will last a lot longer than the shimmer on Patrick Cantlay's Shriners Open championship trophy.
"It started a couple of Saturdays ago when I got the phone call," McInerney said of riding in the first car on the emotional roller coaster. "To come out here and prove that I can kind of play a little bit, to make the cut, I was proud of that. And then to go shoot 30 on the back side today, it was just kind of a storybook ending, I guess."
Five weeks ago, McInerney was in the crowd with girlfriend Alyssa Martine when the shooting began. After running to safety, or apparent safety, because that was the best one could hope for, he returned to the concert grounds in his truck to help others escape.
"The incident that happened, I don't think had a factor in me playing," said McInerney, whose top 10 gets him into the PGA Tour field in Mexico next weekend, though he had a 6:30 p.m. flight to Dallas on Sunday for PGA Tour Qualifying School. "But I think that having the support of the VegasStrong hashtag — it was amazing to be part of that, and to help grow that."
Move over Tiger
When the wind was still whipping pants legs, a reporter was talking to a longtime Golf Channel cameraman about the most amazing thing he had witnessed during his many years on Tour. The cameraman said Tiger Woods' long and twisting "Better than Most" putt at the 2001 Players Championship immediatley came to mind.
Years from now, when A.J. McInerney looks back at the 71-70-70-67, and the birdie putt from distance on 18, and the gallery chanting his name, he may not recall his PGA Tour debut in those terms.
But some who were there may flash back to the bigger picture: To the 58 killed, the 546 injured, the first responders, those who were at the music festival when shots rang out — those who, like him, ducked and covered and literally ran for their lives, and now are burdened with psychological scars that will last a lifetime.
And some who were there may consider what A.J. McInerney did at TPC Summerlin the more impressive feat.
The home crowd is definitely behind A.J. McInerney @ShrinersOpen.

Strong showing this week in Vegas. #QuickHits pic.twitter.com/OU8xMXRhoB

— PGA TOUR (@PGATOUR) November 5, 2017
Contact Ron Kantowski at rkantowski@reviewjournal.com or 702-383-0352. Follow @ronkantowski on Twitter.