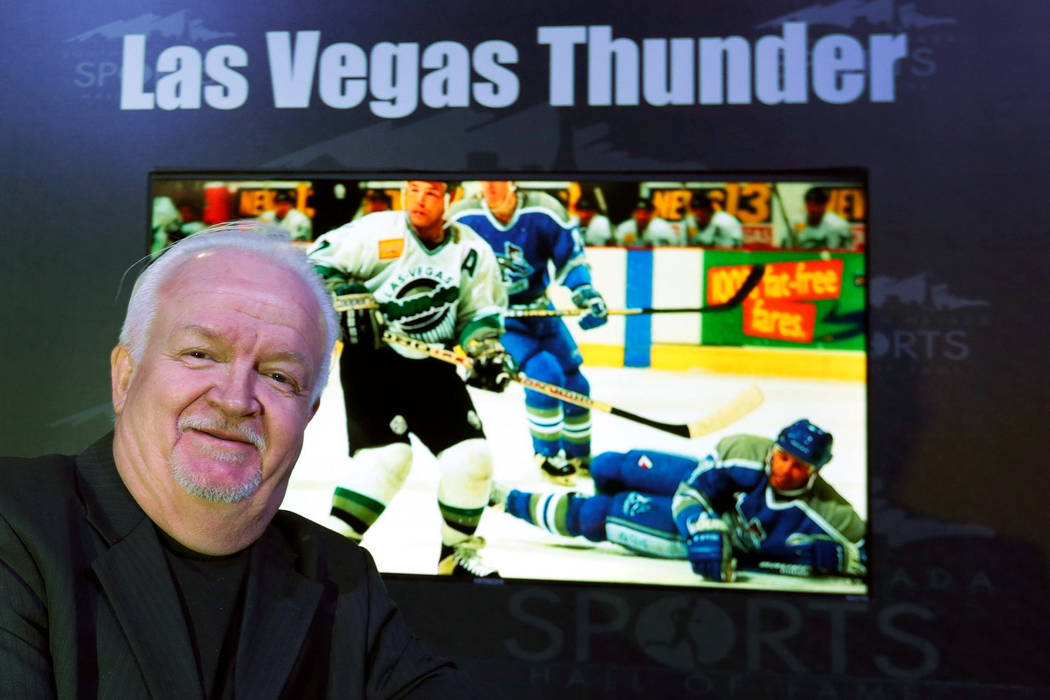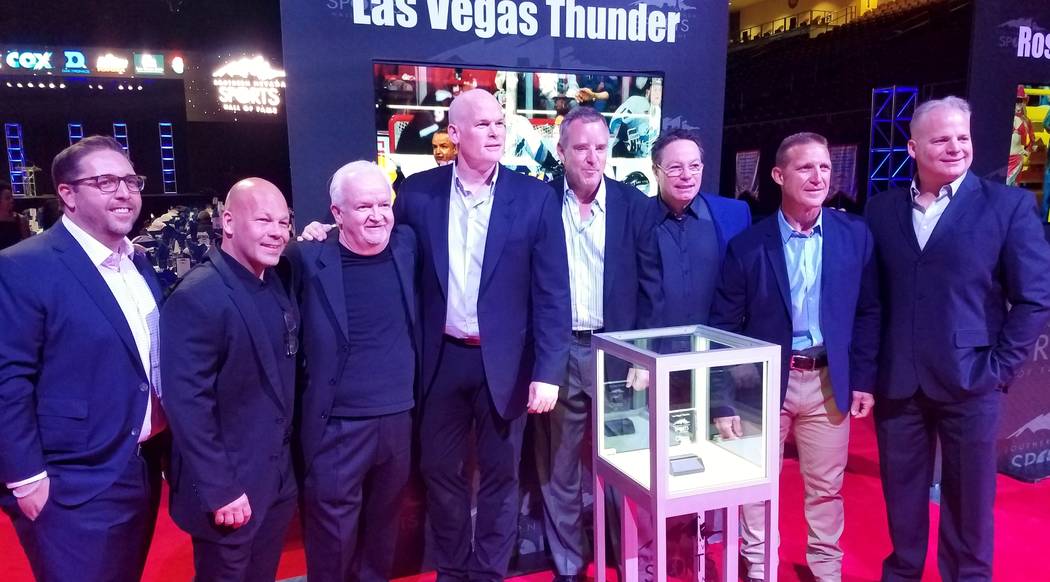 A jazz combo set up near where the goalie's crease used to be at Orleans Arena was playing background music Friday night as the latest inductees to the Southern Nevada Sports Hall of Fame, their guests and hundreds of well-wishers mingled and reminisced of past athletic feats.
It would have been cool had somebody cued the old chainsaw sound effect.
Darcy "Chainsaw" Loewen was in the house, and so were some of his old coaches and teammates representing the Las Vegas Thunder, who were enshrined as a unit. Long before there were Golden Knights, there was Thunder, and it rumbled across the plain chasing the puck with a fury and a gusto that made one's spine tingle, and the dasher boards quiver.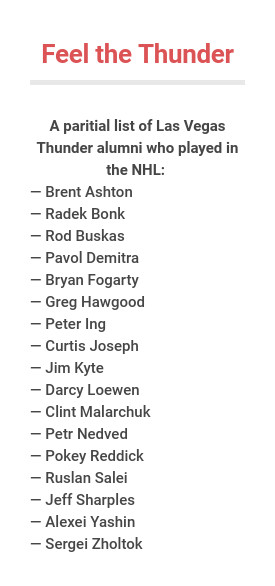 For six seasons from 1993 to 1999, the Thunder shared the Thomas & Mack Center with the UNLV basketball team, outdrew the Rebels at the turnstiles and showed that pro hockey not only could survive in the Las Vegas desert but also could flourish.
"Absolutely," said Loewen, who like the majority of those who wore the teal, black, silver and white Thunder colors had an NHL pedigree, having spent five seasons with Buffalo and Ottawa. "There's been a lot of great hockey players go through this organization — Curtis Joseph, Alexei Yashin, Radek Bonk, you name it.
"We're proud of the fact we kind of paved the way for hockey to establish itself, and for hockey to create a foundation for professional sports in this town."
It's a town in which Loewen and some of the other Thunder enjoyed playing so much that they never left.
The Chainsaw, 49, is a fireman in North Las Vegas; defenseman Jeff Sharples, a former teammate of Golden Knights coach Gerard Gallant with the Detroit Red Wings, is a commercial pilot for Alaska Airlines and still makes his home here. As do former leading scorer Ken Quinney and defenseman Rod Buskas and general manager Bob Strumm, the architect who put together a side that posted the International Hockey League's best record in its debut season.
Sound familiar, Golden Knights fans?
Patrice Lefebvre, the diminutive forward who was a Thunder fan favorite, came all the way from Italy, where he coaches hockey to raise a figurative stick of gratitude to the city in which he enjoyed his finest hours as a player.
"It's a great honor, and I will always have Las Vegas in my heart for sure," he said.
Bark-Andre redux
The season of Golden Knights goalie Marc-Andre Fleury has literally gone to the dogs. In more ways than one.
Apparently there are multiple Bark-Andre Furries. Or Barc Andre' Fleuries.
After the RJ's Blake Apgar wrote about a Jack Russell terrier whose name is Fenway but has adopted the nom de plume of Bark-Andre Furry as an homage to the netminder, I received a photo that showed a German Shepherd pup outfitted in Knights gear on the T-Mobile Arena scoreboard.
Yup — Barc Andre' Fleury.
A snarky Instagram website message from his owner addressed his canine rival:
"I know someone stole my dog's name for PR. That dog's name is really Fenway, not Barc Andre' Fleury. Please stop tagging me in all of the articles."
What are the chances that former Philadelphia Flyers' instigator Ken "The Rat" Linseman is behind all of this?
I would like to introduce you all to my cat, his name is William Snarlson pic.twitter.com/NKtvhxzHhW

— Doug Marsh (@DougMarsh2018) May 11, 2018
Folly on the base paths
A day after the parent New York Mets were called for batting out of order, the following happened to their top minor league affiliate Thursday at Cashman Field:
After loading the bases in the fifth inning with one out, Matt den Dekker crushed a ball to left field that, when it left the bat, appeared would be a grand slam.
The ball hit high off the wall.
Patrick Biondi, the runner on first, thought it had been caught and retreated to tag up. Den Dekker, head down, running hard, headed for extra bases, collided with Biondi and was called out for passing the runner.
To quote Hall of Fame broadcaster Jack Buck: "I don't believe what I just saw!"
Batting out of order is hard to do. So is being called out for passing a runner on the bases. But that it happened to the fourth-place Mets and the last-place 51s probably does not come as a major surprise.
Bases loaded situation, and Matt den Dekker helps to plate ✌️ with a 2 RBI single.

End of 5: 👽 3 – 🐻 1 pic.twitter.com/kJa4EFIpkJ

— Las Vegas 51s (@LasVegas51s) May 11, 2018
0:01
Local hockey author Kirk McKnight ("The Voices of Hockey — Broadcasters Reflect on the Fastest Game on Earth"), on the Golden Knights' playoff experience:
"Last round it was the Sharks. Now it's the Jets. Just like West Side Story."
@JamieHersch;@KathrynTappen @Jeremy_Roenick;@thekapman : Should be exciting Western Conference Final – Jets versus Golden Knights. Too bad San Jose didn't win, otherwise it would have been a real West Side Story! Jets vs the Sharks! pic.twitter.com/LcfE3aJCxE

— Rob Takamoto (@RobTakamoto) May 11, 2018
Contact Ron Kantowski at rkantowski@reviewjournal.com or 702-383-0352. Follow @ronkantowski on Twitter.