Last Cashman Field game is one for the scriptwriters
Updated September 4, 2018 - 12:24 am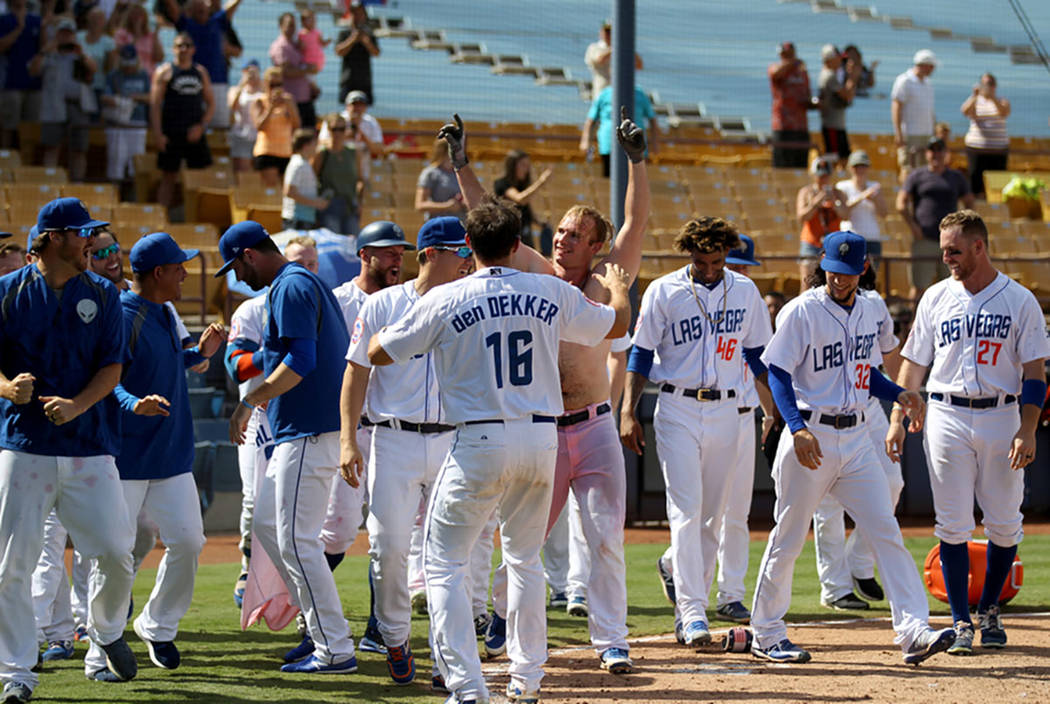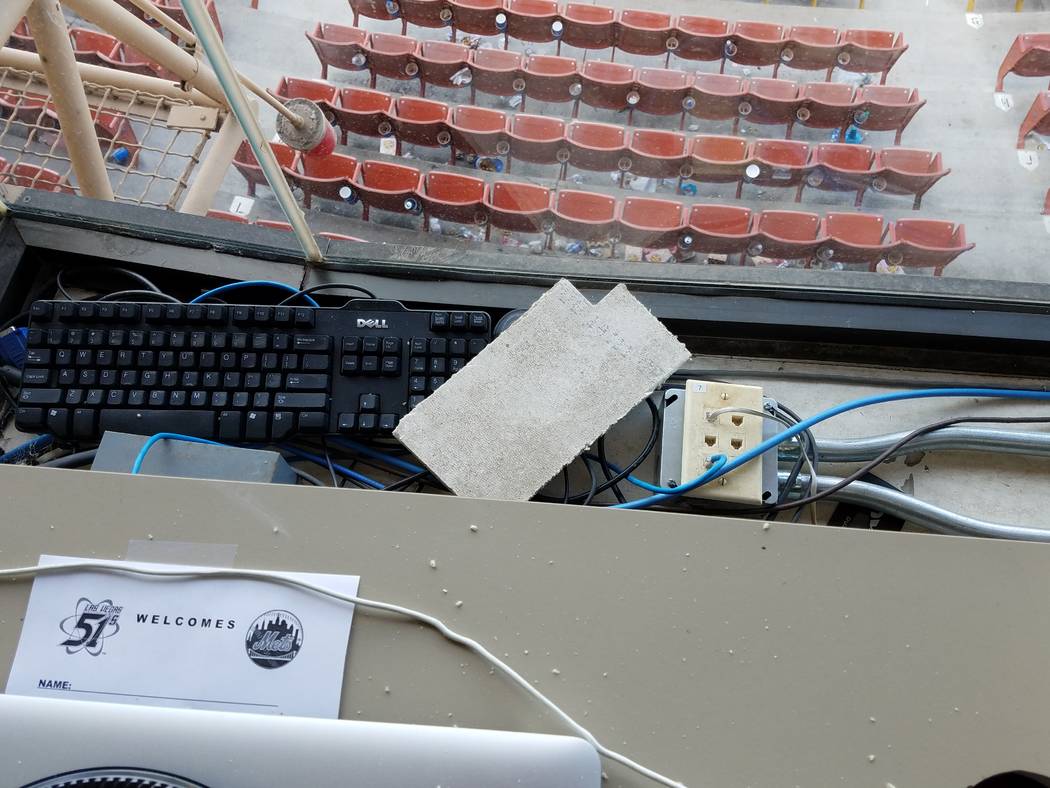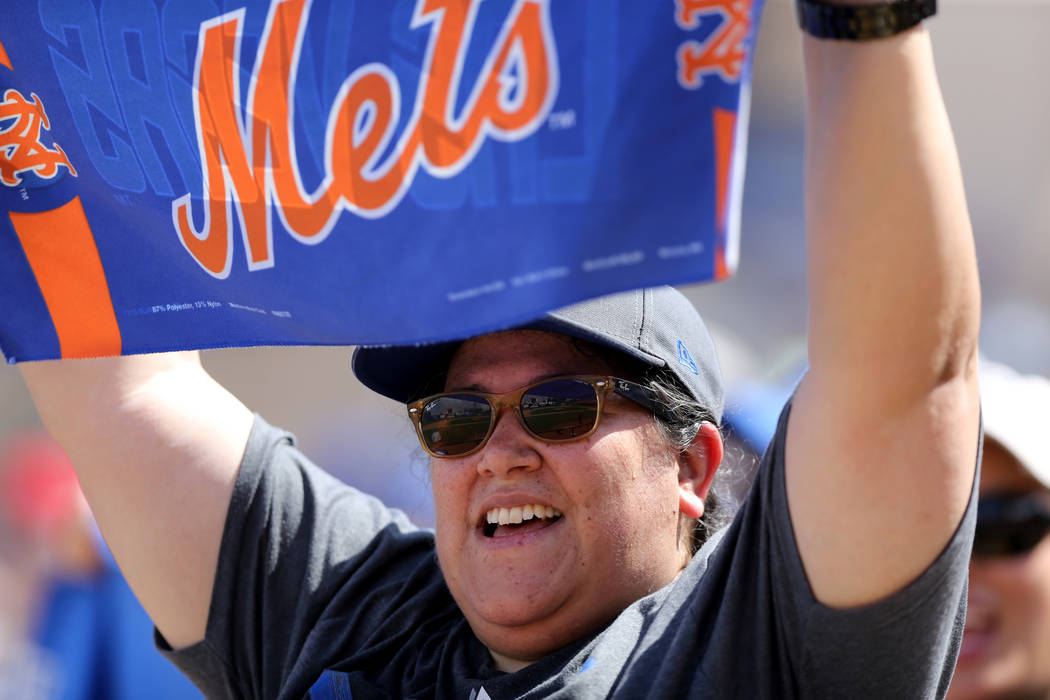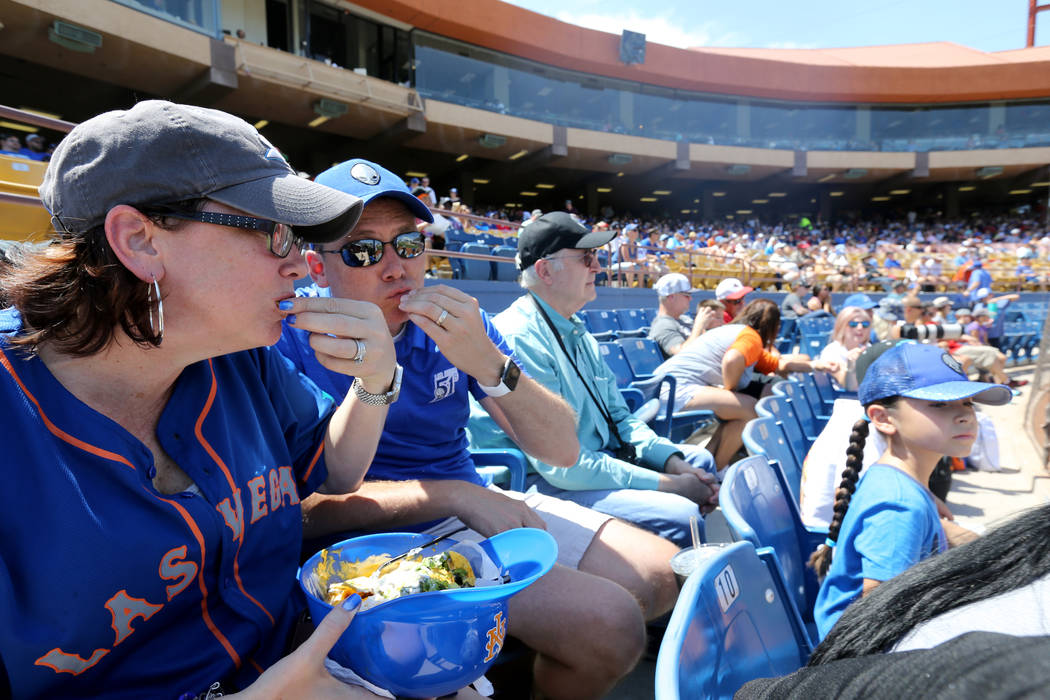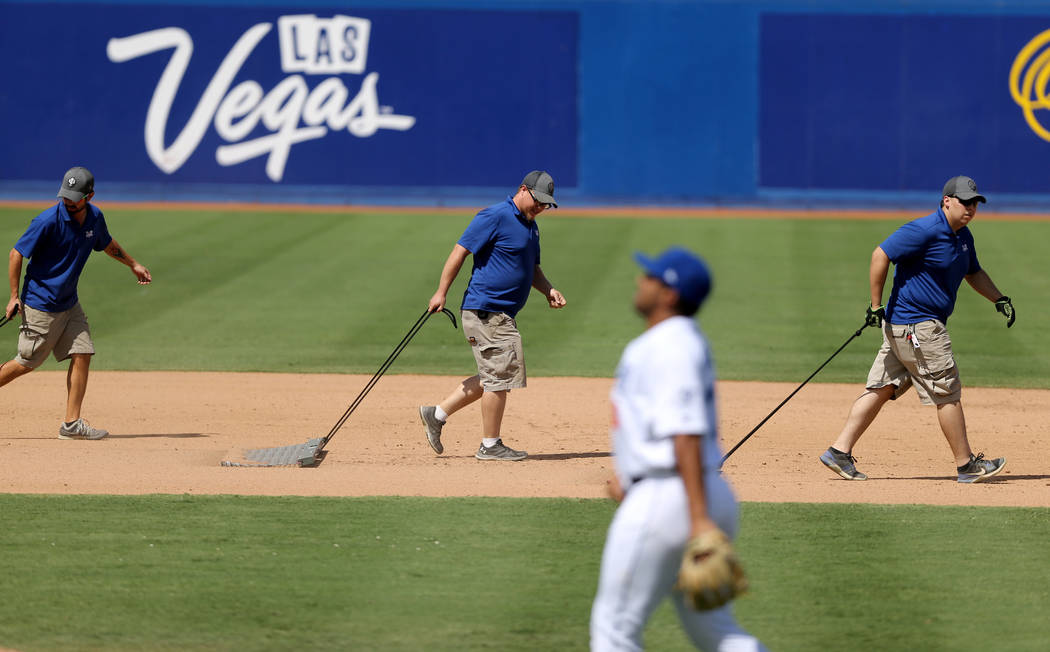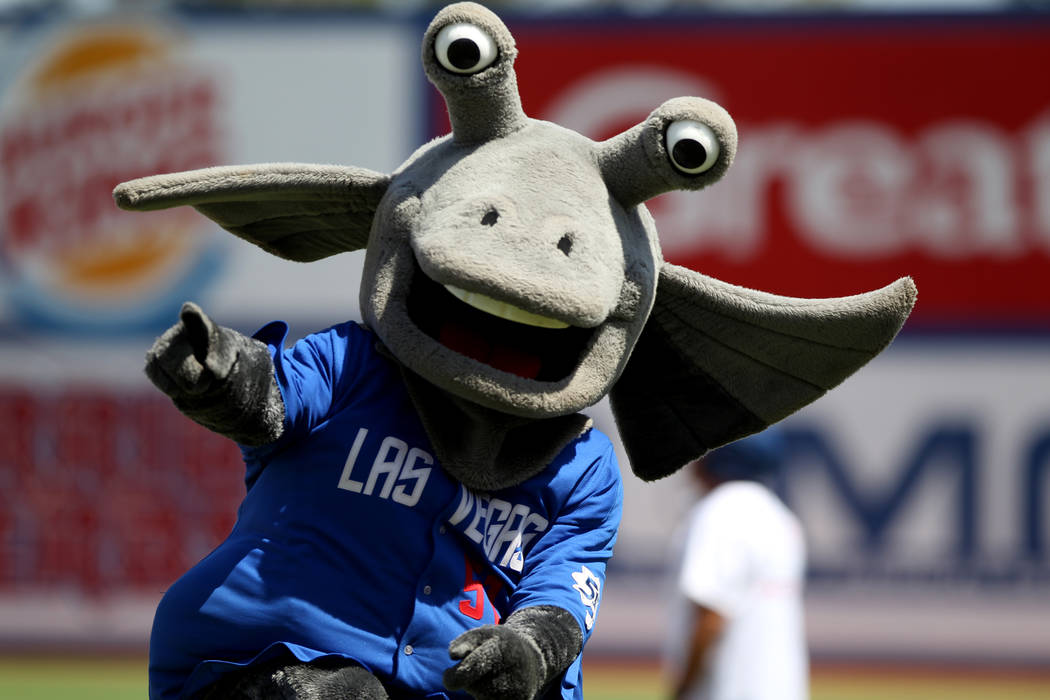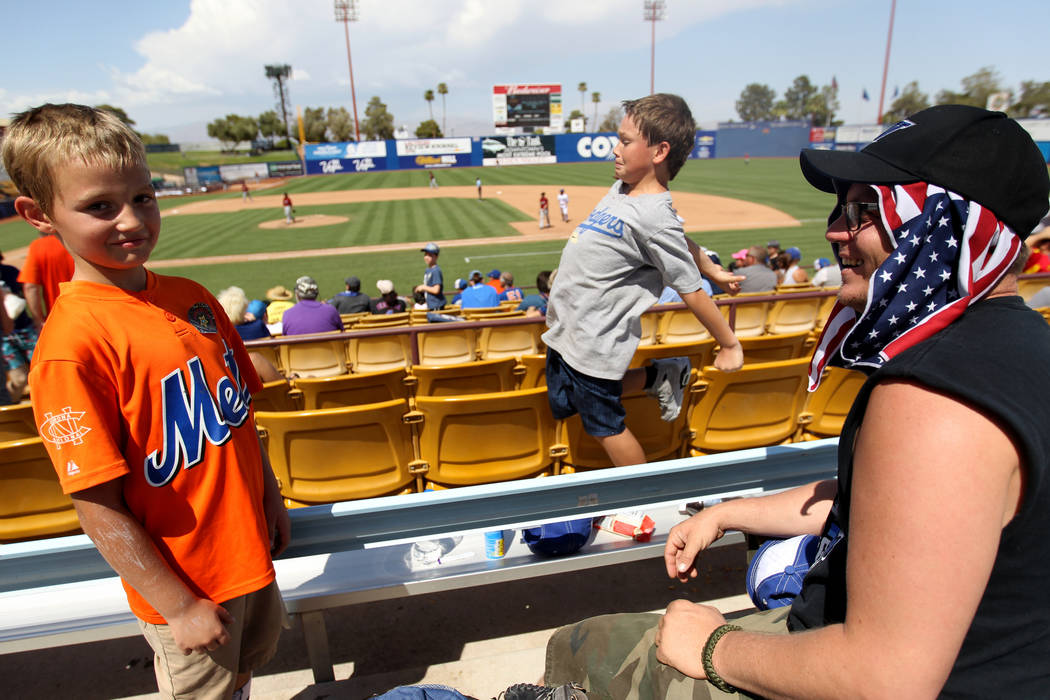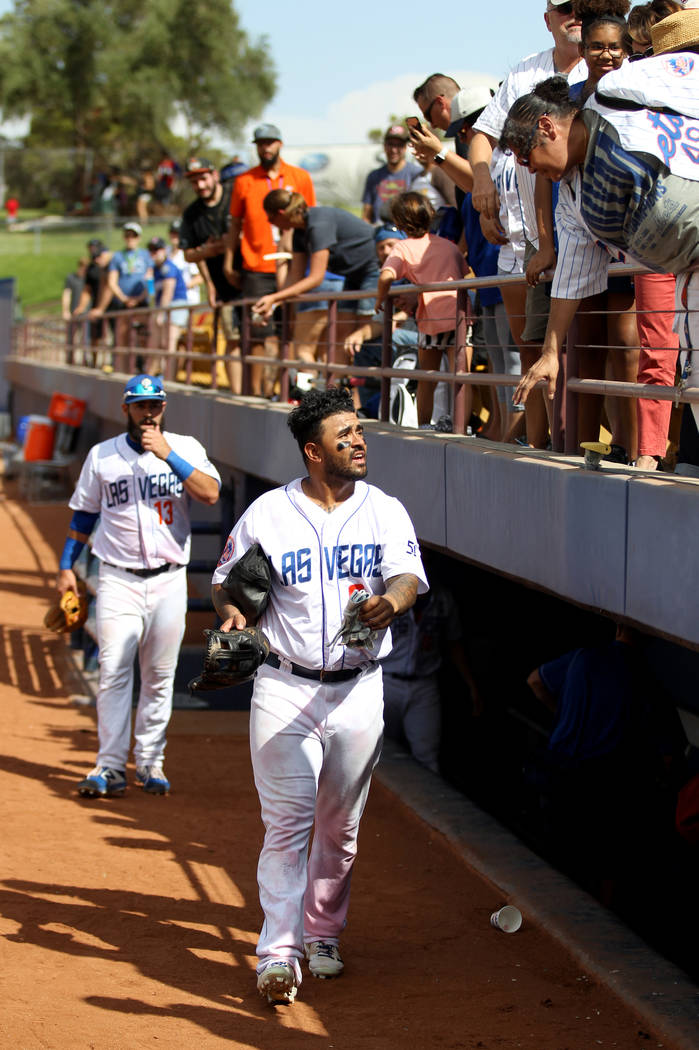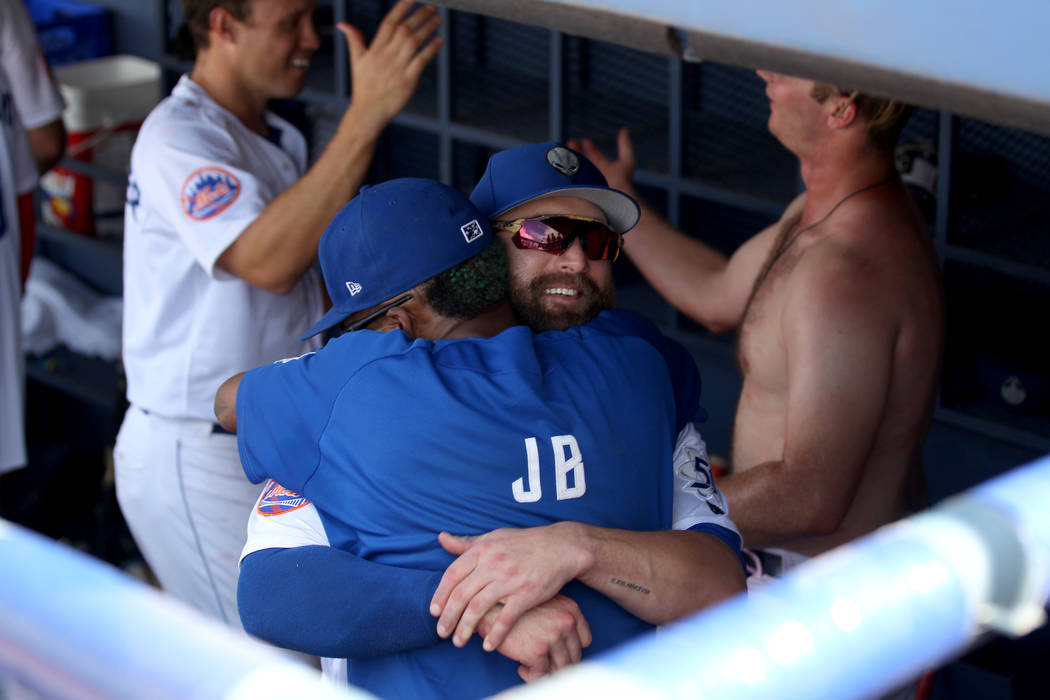 It was the bottom of the ninth inning Monday of what in theory would be the last baseball game played at Cashman Field.
The 51s were trailing Sacramento 3-2, although one couldn't really tell; the midday sun was beating down hot and hard on the scoreboard like a Nolan Ryan fastball, obliterating the runs, hits and errors as team President Don Logan made his way to the press box to watch the final out from the radio booth.
Storm clouds were gathering in the sky behind home plate when 51s shortstop Luis Guillorme led off the ninth with a triple.
The baseball gods were only warming up in the bullpen.
The next man up was slugger Peter Alonso, who walloped the first pitch over the America First Credit Union billboard in left field, the ball finally coming to rest somewhere near the Grant Sawyer State Office Building on Washington Avenue.
OK, the last part is a slight exaggeration.
But as Alonso circled the bases and the crowd went crazy, Cashman Field starting falling apart as if on cue, which is not hyperbole.
A piece of ceiling tile came crashing down in the press box, landing where my laptop had been before I got up to witness the last out with Don Logan.
Images were conjured of the "The Natural" when Roy Hobbs turned loose his bat "Wonderboy" and unleashed what arguably is the most legendary walk-off home run in baseball cinematic history.
You could be around a ballpark for 36 years and never see anything like it.
But just in case, I checked with Larry Brown.
Many happy returns
The Clark County commissioner was on the field when starting lineups for the first game in Cashman Field history were introduced to a capacity crowd and again on Monday, when a reported 5,353 showed up.
In the spring of 1983, Brown was in his pitching prime. But let the yellow-tinged, dog-eared scorecard show that he allowed three hits and two runs in two-thirds of an inning in the first Pacific Coast League game played at Cashman, though he'll tell you the wind was blowing out and at least one of those balls should have been caught.
Brown did a lot of politicking for Las Vegas Ballpark in Summerlin. He said he's still going to miss the old one with the leaky pipes on Las Vegas Boulevard North.
"Big part of my life, and my wife and family's life," he said as Monday's game was beginning, and a couple of baseball fans with leather lungs suggested we take our seats so everybody else could watch it, too.
"And yet moving to the Las Vegas Ballpark, a brand new facility and what we're going to be able to provide for the fans there — today is full of mixed emotions."
Great place to go
So what is it about a ballpark yielding to old age and the forces of nature (and the plumbing in the first-base dugout) that makes grown men feel so melancholy?
"It is for many males of my generation the place where we were first brought by our fathers, and where we first shared their world," wrote author David Halberstam.
So, yes, it's that. Maybe it's the familiar smell of the mustard and the beer getting into the concrete, as the comedian Billy Crystal said.
But perhaps it's even more simple than that.
Perhaps an old ballpark is just a great place to go when one is feeling restless and looking for something to do. Like a bar where everybody knows your name, there's a familiarity to an old ballpark that is comforting.
When Ebbets Field ceased being a great place to go and the Brooklyn Dodgers made like Don McLean, catching the last train for the coast, the New York Daily News scored it thusly: "A lot of strange things have happened at Ebbets Field since it was built in 1913, but the strangest of all occurred last night. They played the last game there."
Only Duke Snider did not hit a home run that caused the roof of the press box to come crashing down on Red Smith.
Sing it again, Mr. Sinatra
A short time after Peter Alonso put his shirt back on after being disrobed by delirious teammates at home plate, and fathers were allowed to run the bases with their sons and daughters one last time, the parking lot already was nearly deserted.
Instead of Eric Burdon and the Animals imploring "We Gotta Get Out of This Place" over the big ballpark speakers, one could almost hear Frank Sinatra crooning mournfully about when the field was warm and green. About the hot dogs and the beer. About how the summer went so quickly this year.
Two men — one young, one older — were sipping from a paper bag while resting on a boulder just outside the fence that separates old Cashman Field from Sagman Street.
They seemed oblivious that for the past 36 years, there used to be a ballpark here.
More 51s: Follow all of our 51s coverage online at reviewjournal.com/51s and @RJ_Sports on Twitter.
Contact Ron Kantowski at rkantowski@reviewjournal.com or 702-383-0352. Follow @ronkantowski on Twitter.
Related
'It's too sad': Las Vegas baseball fans bid farewell to Cashman Field