Last-second loss leaves Alabama fans mad, sad
December 2, 2013 - 10:30 pm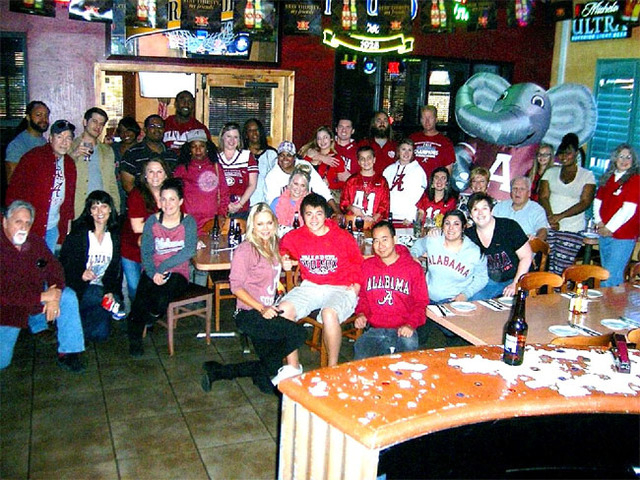 Alabama football fans across the nation returned to work on Monday morning. All, at last report, had managed to survive the weekend without jumping off a bridge following the Crimson Tide's stunning defeat to arch-rival Auburn in Saturday's Iron Bowl.
Not all precincts have reported.
Elise Luquette, who has organized local Alabama alumni into a viewing party that watches the Tide roll at a Henderson bar and grill called Nacho Daddy, doesn't go back to work at the Discovery Children's Museum, where she is special events manager, until today.
She said she wasn't looking forward to it. She works with some Notre Dame fans, and they remain bitter about last season.
But she will not be driving out to Hoover Dam to see how high the new bridge is.
"Win with class, lose with class. That's what I try to teach my kids," she said.
Roll Tide on that.
Back among the magnolia trees, the sentiment wasn't going over as well. Several people had taken to Twitter to threaten Crimson Tide kicker Cade Foster, who had missed three field goals against Auburn, including two in the fourth quarter, with bodily harm.
Foster was not the one who missed the last field goal attempted against Auburn.
More on that shortly.
Elise Luquette said she grew up in North Dakota, where her dad coached football and her brother played it, but that she was graduated from Alabama in 1997 after attending the Space Camp in Huntsville, because she wanted to be an astronaut.
This might seem a strange path, but no more strange than the ones taken by my favorite writer Gay Talese, who grew up in Ocean City, N.J., but also was graduated from Alabama; and Eli Gold, who was born in Brooklyn but became the voice of Crimson Tide football (and NASCAR on the radio). This was back when he said "yuse guys" instead of "y'all."
If you stay tuned for the postgame show Saturday, you probably heard two radio calls of the crazy finish. Eli Gold's was the one that did not include exclamations of "Omigod!" and "Auburn is gonna win the football game! Auburn is gonna win the football game!"
Anyway, when Elise Luquette moved to Las Vegas, she discovered she missed Crimson Tide football on Saturday, even though she was down there when Mike DuBose was coach, and Dennis Franchione, and Mike Price, who was only Alabama coach until he said "Roll, Tide" to a stripper and was fired by the Board of Trustees before he ever coached a game.
But Elise said she went to all the football games, anyway. And when she moved to Nevada and learned there were 200 registered Alabama alumni in Clark County, she started organizing these football viewing parties. The parties began shortly after Alabama hired Nick Saban and started winning national championships, which may or may not have been a coincidence.
These viewing parties are pretty common around here, where everybody is from Someplace Else. I mostly like them. I think it's neat when people in a new place get together to talk about the place they came from while watching sports on TV.*
(*Except during March Madness, when you call ahead for some boneless to go at the Buffalo Wild Wings on Eastern, and when you get there they haven't even started cooking your wings, because the place has been overrun by Kansas basketball fans and they all ordered wings, too.)
Elise Luquette and a few dozen Tide fans and one Auburn fan, a woman named Hilary Francis, who Elise said comes from a mixed marriage — she said "I Do" to an Alabama man — were watching nervously as Nick Saban got one second put back on the clock (because Saban always gets what he wants) — and sent out his long field-goal kicker to try a 57-yarder that would have won the game.
For a moment, the kick looked like it might be good. It was straight — but short.
And then No. 11 on Auburn was running with the football in the opposite direction, and then the Auburn announcer was yelling "Omigod!" and then Elise Luquette and Nick Saban looked for a flag. When there was none, she said her 10-year-old son Zander, who plays for the Henderson Cowboys, began to cry, and that Zander was going to be mad at his mom for sharing this bit of information.
Yes, it was just a football game, but a lot of people probably still are going to remember where they were when they saw it.
I, however, will not be among them.
I had watched the game at another Buffalo Wild Wings in Henderson, but at halftime I had ordered a giant plate of wings slathered in zesty jalapeno sauce. So after Auburn tied it with less than a minute to go and my intestines began to rumble like Jordan-Hare Stadium, I told my wife that we probably should catch the overtime at home.
I was upstairs with the door closed when I heard the roar of the crowd from the surround speakers downstairs. I could hear my wife shouting "Omigod!" and that Auburn was gonna win the football game.
Las Vegas Review-Journal sports columnist Ron Kantowski can be reached at rkantowski@reviewjournal.com or 702-383-0352. Follow him on Twitter: @ronkantowski