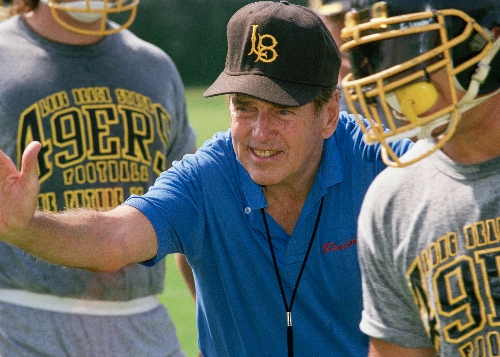 We've all seen it. There's this old married couple, could be grandpa and grandma, could be any old married couple. The old man dies; the old woman passes within weeks. Or vice versa.
On the death certificate, they'll call it cancer or emphysema or natural causes.
They never call it a broken heart.
On his death certificate, it will say that Joe Paterno died of lung cancer within months of coaching his final game at Penn State and the tragedy caused by Jerry Sandusky. Lung cancer can be a virulent thing for an 85-year-old man to deal with, and I am pretty certain that's what caused Paterno's sudden demise.
Just as I am pretty certain that it was a heart attack that killed Bear Bryant after Alabama's victory over Illinois in the 1982 Liberty Bowl.
"Probably croak within a week," The Bear had said when somebody asked what he planned to do without football.
It was four weeks.
Joe Paterno and Bear Bryant were married men, devoted husbands. One also could propose that football was their mistress.
As it was for George Allen, the NFL Hall of Fame coach, whose daughter, Jennifer, even wrote a book about his obsession with the game.
I was there the day they dumped the Gatorade bucket on her father.
On Nov. 17, 1990, George Allen coached Long Beach State to a 29-20 victory over UNLV at Veterans Stadium in Long Beach, Calif., clinching a rare winning season for the forlorn 49ers, who no longer play football. I remember there being a hole in the press box floor, and the yellow crime scene tape around it, and looking down through the twisted rebar into the stands, where people were cheering.
"GEORGE! ALLEN! GEORGE! ALLEN!" they were chanting, and they were doing it out of both sides of their mouths, turning their heads left to yell "GEORGE!" and right to yell "ALLEN!" because there weren't enough fans on the other side of the stadium to do it in the proper manner.
I remember it being chilly and the 49ers dumping ice water on their coach, because in one season he had turned them into winners. And also because the Long Beach State program was so strapped for cash it couldn't afford Gatorade.
They carried Allen off the field. It was his final game as coach, as he was planning to retire. Afterward, when he invoked Bear Bryant's memory in his postgame remarks, he was still dripping.
And in his obituary in the New York Times on New Year's Day, there was a quote from George Allen, stating that the 1990 season and the victory over UNLV were as rewarding as any he had had.
On Dec. 31, 1990, Allen died at age 72, at his home in Palos Verdes, Calif. Some people blamed the Gatorade shower.
Harvey Hyde, who was UNLV's football coach the last time the Rebels were any good, was on the field that day. Hyde had retired by 1990, but Allen, who always saw the usefulness in old war horses, had talked him into becoming the 49ers' assistant head coach, running backs coach and recruiting coordinator.
Hyde still has the piece of paper on which Allen outlined the reasons Hyde should become his sidekick. They were written on official White House stationery, owing to Allen's long friendship with President Ronald Reagan, on whose council of Physical Fitness and Sports he had served.
"A lot of people blamed it on (the Gatorade shower), but that had nothing to do with it," Hyde said.
Hyde recalled speaking to Allen the day before he died. The old coach, who was 72, hadn't been feeling well. But Hyde said the voice on the other end of the telephone sounded strong. The next day, Hyde was in his office when the news came over the ESPN ticker.
"I dropped to one knee. Total shock," he said.
In 2005, Allen's son George Jr., who had played quarterback at Virginia and then governed it but by then was a U.S. Senator contemplating a run at the presidency, and GOP pals Zach Wamp of Tennessee and some guy named Rick Santorum from the Commonwealth of Pennsylvania were driving dumbed-down Indy cars at Las Vegas Motor Speedway when Allen told me the Gatorade shower had nothing to do with his father's death, though he caught a cold from it. And that though his father would be facing a life without football, he died not of a broken heart, but of an arrhythmic one.
After the politicians finished making left-hand turns in their racecars, I joked that this proved Republicans were capable of leaning that way. And they saw the humor in that, even if I couldn't vote for them.
Las Vegas Review-Journal columnist Ron Kantowski can be reached at rkantowski@reviewjournal.com or 702-383-0352. Follow him on Twitter: @ronkantowski.