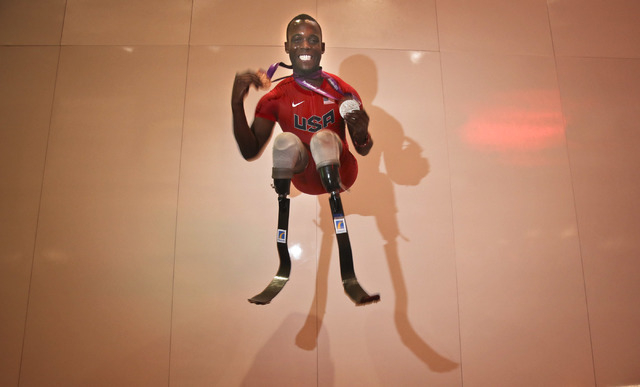 It's CES week in Las Vegas, which means vendors from far and wide have convened to peddle the latest electronic gizmos that you surely won't be able to operate or program, unless you have a teenager at home. It also means shady characters have convened on Paradise Road outside the Convention Center to pass out handbills with pictures of scantily clad women to guys with pocket protectors and expense accounts.
It means my guy Blake Leeper, and his guy, manager and documentary filmmaker Steven Barber, are back in town, hustling funds for a movie about Leeper, and for his bid to run in the 2016 Summer Olympic Games in Rio de Janeiro.
OK, so Leeper isn't really my guy. I just like his attitude and his outlook on life and his infectious smile, despite the fact he was born without legs below the knees.
I especially like his smile. One of those 10,000-watt jobs.
I remember reading something the great Red Smith wrote in a piece about Sydney Maree, a former Villanova middle distance star when the South African was negotiating with Olympic chiefs to run in the Games. This was when native South Africans were banned because of apartheid. And before Maree, who is black, became a U.S. citizen.
In describing Sydney Maree's father, Red Smith wrote Philip Maree was "a little man composed mostly of smiles."
That reminds me of Blake Leeper, except he's of average height, at least when he straps on his running prosthetics or isn't posing for photos with Shaquille O'Neal.
Leeper, 25, is from Tennessee but now trains in San Diego under the watchful eye of Al Joyner, the 1984 gold medalist in the triple jump. He is bidding to become the first American paralympic athlete to qualify for the able-bodied Olympics. He would join the infamous Oscar Pistorius of South Africa, the original track and field "blade runner" who competed in the 400 meters in the London Games of 2012.
Leeper and Pistorius used to be friends. This would have been when Leeper was first starting out, before the kid with the megawatt smile started threatening Oscar's records. And before Oscar fatally shot his girlfriend, for which he was found guilty of culpable homicide and sentenced to five years in prison.
When I first met Leeper in 2012, he still was trying to make a name for himself, or least get his out there. He was running all over the Convention Center, blades on, trying to attract sponsors. That was before he won silver and bronze at the 2012 Paralympics and finished second to Pistorius in the 400 meters.
Now he is promoting headphones for Monster Cable with Shaq and Nick Cannon, the actor. He also recently appeared on "The Queen Latifah Show," before it was canceled.
In November at a Raiders game, he carried the Oakland flag into the Coliseum. He ran up and down the sidelines with it. So people are getting to know him, and if he carries the American flag into the track and field stadium in Rio the summer after next, a lot more people are going to know him.
Leeper still must shave a couple of seconds and a few tenths from his time in the 400 to qualify. His best time is 49.3; he would have to stop the clock in 46.5 to punch his Rio ticket, and to punch his disability square in the face on the world's biggest stage.
Shaving 2.8 seconds in the 16 months before the trials might seem like a lot, but it's different running on blades, Leeper says. In under three years he went from never having run on them to challenging Oscar Pistorius' world records, so he says 2.8 seconds is doable.
As for able-bodied runners who grumble that running on blades is an unfair advantage, Leeper says he'll trade his blades for their legs, no questions asked.
"Three seconds, it's so huge for me," he said. "But once I do it, it will be a testament to what can be accomplished, disability or no disability."
Stay true to yourself. Face the challenge. Overcome the challenge. People will know your name.
His first trip to the Olympics was a vacation, he says. This one will be a business trip.
"This is it, we're 16 months out. I've got all my duckies in a row. It's up to me now, to go out and run and do the best I can."
Three years ago, when we first met, when it was 52 months out, he and Barber were sharing a room at Howard Johnson's. On Sunday, we spoke in the Monster Suite, a monster suite on the 31th floor at Planet Hollywood. It had several big screen TVs and Foosball and bumper pool tables and overlooked the dancing waters at Bellagio.
Leeper said he is staying in a similar suite on the 12th floor, only it has a Jacuzzi instead of a Foosball table.
As we got off the express elevator to the lobby, a couple of women old enough to be his mother spotted him and thought he looked familiar. Maybe they had seen him on "The Queen Latifah Show." Blake Leeper posed for photos and made their day. He and the older women were composed mostly of smiles.
Las Vegas Review-Journal sports columnist Ron Kantowski can be reached at rkantowski@reviewjournal.com or 702-383-0352. Follow him on Twitter: @ronkantowski