Lessons learned from father make Utes' Wide a winner
December 21, 2010 - 12:00 am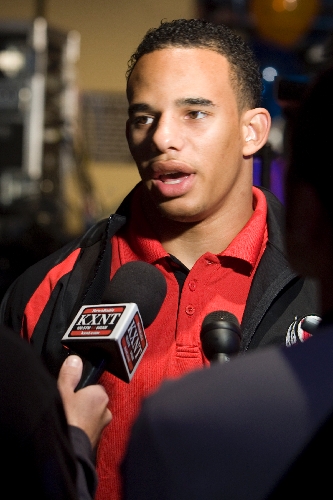 This is a story about a son who did everything within his power to become an exceptional college football player and an exemplary young man.
It's also a story about a father who did the same, so his son would have those opportunities.
Listed generously at 5 feet 10 inches and 195 pounds, former Cimarron-Memorial standout Eddie Wide III doesn't possess the physical prowess one normally associates with a 1,000-yard running back, which he was last season at Utah. He does not possess the sort of shoulders that can batter rams. His is a physique one normally associates with football players who will do anything and everything to help their teams win, such as cover kicks and launch their bodies at anything that moves.
On Sept. 10, with the Utes leading his hometown and suddenly obstinate UNLV Rebels only 17-10 in the last minute before halftime, Eddie Wide III, the same guy who rushed for 1,068 yards and averaged 5.3 yards per carry and set a school record with six consecutive 100-yard rushing games after starting running back Matt Asiata tore knee ligaments — the same guy who would score two touchdowns for the Utes in that very game — did a little something extra to help his team win.
He volunteered to cover a punt. He launched his body at the Rebels' Sidney Hodge. There was a massive collision, and Hodge fumbled.
Wide not only made the hit, he recovered the loose ball.
On the next play, Terrance Cain threw a 20-yard touchdown pass to Jereme Brooks to make it 17-10 at halftime. It was 38-10 at the end, after Wide scored on a 13-yard run.
At Utah, Wide left and Wide right are good things. So is Wide running up the middle of the defense after receiving a shovel pass.
"When Matt went down last year, Eddie was the biggest reason we had success," Utes coach Kyle Whittingham says. "Sharing time with Matt this year, Eddie's been very unselfish and a complete team guy."
Give Eddie Wide Jr., a former UNLV backup running back under Wayne Nunnely, a little credit for that. He had raised his only son, by himself, since Eddie III was 18 months old, when he and Eddie's mother divorced. He raised Eddie's two older sisters, Shanta and Calais, too. "He sure did," Eddie III said. "He just gave us a lot of support, taught us how to grow up, gave us a start on the right path."
I know a lot of guys and a very special gal whose papas were rolling stones. But Eddie Wide Jr. laid his hat in the same place every night. He made a home for his kids, for Eddie III and his sisters, and it was a good home.
Eddie Jr. said when it comes to your kids, you do what you have to do. He never considered it a hardship. Except the part about not having a car and riding the bus with small children. That, he admits, was a hardship.
"I made sure they had the necessities," said Eddie Jr., a former personal trainer at Caesars Palace who became a probation officer when Eddie III was in fourth grade. "They made it easy for me. They were good kids. At Christmas, they were always appreciative of whatever they got."
Eddie was easier to raise because of that father-son thing. Eddie Jr. could teach his girls how to fight. He couldn't teach them how to be girls. Sometimes, Eddie III would lend his father a hand, especially when it came to little sister Mariah, who lived with Eddie's mother.
Eddie Jr. tells a story about Eddie III hanging out with his high school pals. They'd make plans to go to a movie, and then Mariah would say she wanted to go, too. And then Eddie would talk his pals, maybe a dozen or more, into going to a movie that was more suitable for Mariah, who is nine years younger. Suffice it to say, Eddie III has seen more animated features than Hanna or Barbera.
When I asked about the most important thing his dad taught him growing up, he paused, as if he wanted to come up with just the right answer, just the right words, just the right way to say thanks to his old man. Then he did.
"I've learned everything from him."
Las Vegas Review-Journal columnist Ron Kantowski can be reached at rkantowski@reviewjournal.com or 702-383-0352.