Lights FC making turnstiles sing in inaugural pro soccer season
It was a year ago when Las Vegas Lights FC owner, CEO and scarf-wearing optimist Brett Lashbrook predicted the budding second-tier domestic soccer franchise would average around 10,000 spectators, which is roughly the capacity of Cashman Field.
I said he would be lucky to get 3,000.
An iced latte was wagered.
We met again at the Coffee Bean at Green Valley Ranch on Sunday afternoon where I paid off the bet.
The United Soccer League season is only half over, and the Lights are mired in 13th place among the 17 teams in their division.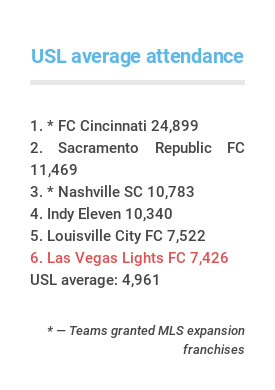 But they've been an unmitigated success at the box office.
Las Vegas ranks sixth among the 33 USL teams with an average attendance of 7,426 that exceeds the league's by about 2,500 — and that of the Las Vegas 51s, with whom they are sharing Cashman Field, by almost 3,000. The 51s are averaging 4,584 bobblehead collectors, sixth among the 16 Pacific Coast League franchises.
Apples and oranges? Probably. It's a lot more difficult to sustain a crowd over 55 games than it is nine, because you can't give away bobbleheads and sell beers for $1 and shoot off fireworks on every night there's a ballgame.
Still, what the Lights have done at the turnstiles — a much better predictor of long-term viability than wins and losses — is impressive.
Fiesta on the pitch
There are multiple reasons why the Lights have been successful in building a following. The primary one can be summarized in one sentence: They've been able to tap into the local Latino market that others have ignored.
Yes, the product was tailor-made for the audience. But from the day it was said "Let There Be Lights," Lashbook stated that hiring a Spanish-speaking coach would be a priority. And so it figured the Lights also would have Spanish-speaking players with whom the Spanish-speaking community could develop a bond.
Jose Luis Sanchez Sola is the Lights coach, or at least was, until he was bestowed with the title of technical director to circumvent a USL rule about having a proper license or whatever.
"Chelis," as he is reverently called by fans in his native Mexico, is more colorful than a dozen pinatas. Though his English has improved, he still talks with his hands a lot, and sometimes his hands invade the personal space of referees and opposing fans. This has resulted in Sola twice being suspended, and the Lights cultivating what Lashbrook calls an "uneasy balance" with the league office.
That might also describe the Lights' relationship with a non-Spanish-speaking local soccer community feeling left out or put off by the team's audacious style and swagger.
"We may have over-indexed it," Lashbrook says of focusing on the Latino community, and any fences that may need mending as an unintended consequence.
Own goals and miscues
There always are missteps in an undertaking such as this. There was blowback from USL headquarters when Lights FC announced sponsorships with a marijuana dispensary and a company with a cellphone app that allows spectators to wager on Lights games as they are being played.
But one also should not forget it was only three years ago that an effort to bring Major League Soccer to Las Vegas floated away like a U.S. corner kick in a stiff Trinidad (or Tobago) breeze.
In 2015, MLS Commissioner Don Garber wrote a letter to Las Vegas Mayor Carolyn Goodman that stated Las Vegas no longer was being considered for an MLS expansion team.
Garber recently rattled off a new list of expansion possibilities in an interview with the Cincinnati Enquirer. They included Sacramento, California; Detroit; San Diego; San Antonio and — cue the smoke bombs, drums and trumpets — Las Vegas.
"There's a lot of engagement going on in San Diego (and) recent news out of Las Vegas, (which) has a thriving USL team …"
Before the advent of llamas in the team photo, and the technical director lighting up a cigarette with supporters after being ejected, and extending a contract offer to Usain Bolt in an attempt to add a little speed on the touchline — and the wacky goalie, wacky tobacky sponsorship and all the other wacky stuff for which the Lights have been responsible in their infancy — that's something you never would have imagined Don Garber saying anytime soon.
You would have been more than willing to wager an iced latte against it.
More Lights: Follow all of our Las Vegas Lights FC coverage online at reviewjournal.com/lights and @RJ_Sports on Twitter.
Contact Ron Kantowski at rkantowski@reviewjournal.com or 702-383-0352. Follow @ronkantowski on Twitter.