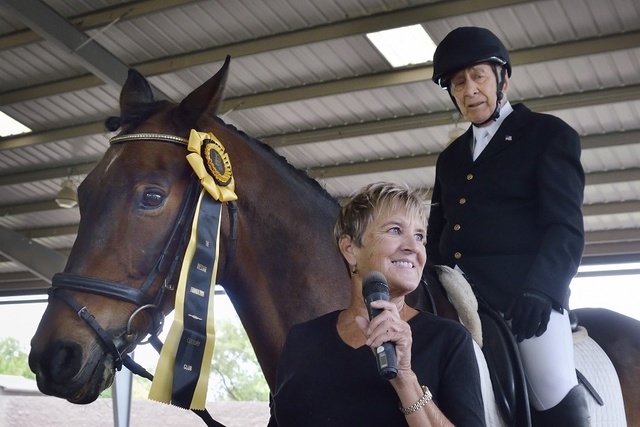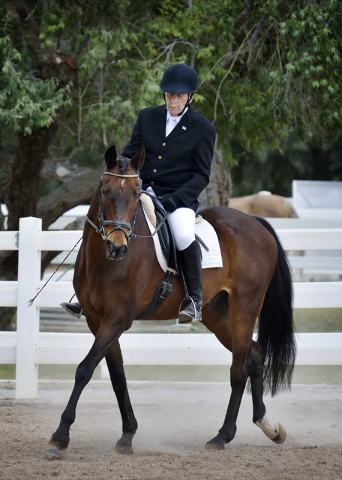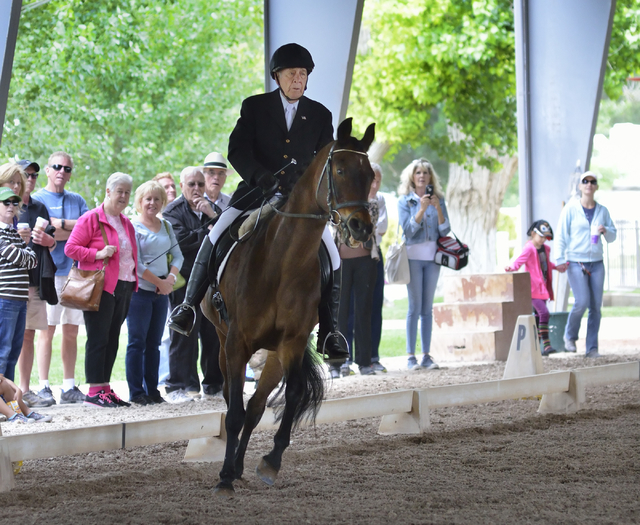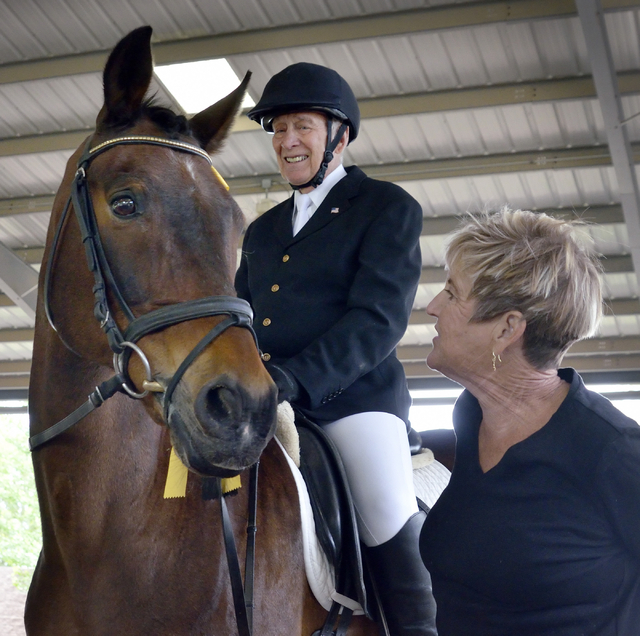 A couple of hours before the best 3-year-olds would go for a muddy romp in Baltimore on Saturday, a 21-year-old and a 79-year-old were preparing for a different kind of equine display at the Cooper Ranch in northwest Las Vegas. This was out past Ann Road, where it's OK to keep horses on one's property.
It was overcast and windy but the well-manicured pavilion was covered. Unlike the infield at Pimlico for the Preakness Stakes, everybody was dry. Very much like the infield at Pimlico, everybody seemed in good spirits, although this was a different kind of good spirits.
The 21-year-old was called Magellan, a show horse mostly owned by Ann King, a local equestrian, and a little bit owned by Harry King, her veterinarian husband.
The 79-year-old was Thann Hanchett, a retired Clark County School District health teacher who once upon a time, lived in a trailer on the grounds of the old Henderson Saddle Association on Boulder Highway. The Association was next to a Stuckey's.
Mr. Hanchett soon would climb aboard Ann King's horse. Together they would attempt to complete something called the Century Ride — this would explain why the people at the Cooper Ranch were in such good spirits.
Many of them had learned the finer points of horsemanship from Mr. Hanchett, when he taught at Eldorado High and at Whitney and Gene Ward Elementary, and was a horse whisperer on the side.
In the Century Ride, the combined age of rider and mount must add up to at least 100.
The Dressage Foundation started the program in 1996, which coincidentally was the year George Burns died.
Had it existed three years earlier, and had George Burns been a horseman, it is conceivable he could have climbed aboard Sea Hero, the 1993 Kentucky Derby winner; or Prairie Bayou, that year's Preakness winner, and been the very first Century Rider of only 198 who had received their ribbon before Saturday.
But the horses usually aren't 3-year-olds, and the riders usually aren't 97.
Magellan is getting older, but he's still a fine looking horse. Thann Hanchett is getting older, too, or so they say, but he's still a fine looking rider. He looked resplendent in his blazer and tights and shiny black boots and riding helmet. His blue eyes sparkled.
At 11:56 a.m., the bell by the judge's cubicle rang, and Mr. Hanchett literally put Magellan through the paces — the measured walks and trots, etc., that one would see at any dressage competition, such as at the Olympics, or at the World Championships that were held at the Thomas &Mack Center a couple of weeks ago.
After the measured walks and trots, the dressage judge, a distinguished gentleman named P.S. Chopra who was wearing a turban, came out of his cubicle. He congratulated Mr. Hanchett (and Magellan) on completing the Century Ride. He said it was a privilege to judge them.
"Always be patient and work with your horse," Ann King said about the most important thing Mr. Hanchett had taught her about horsemanship. "Your horse will always show you the way."
And now that both are getting older, Magellan showed Mr. Hanchett the way.
The rider patted the horse about the side of the neck. Ann King handed a microphone up to him so he could say a few words. Mr. Hanchett got a little emotional when he saw the faces of his former pupils and he thanked them for coming.
I followed him back to the paddock, where he dismounted from Magellan with ease and grace. You could tell this was a man who had been on a horse before.
Before he started whispering to them, he had ridden them in the rodeo, or on the brush track racing circuits amid dust and tumbleweeds.
"When there was a bad horse in town, they called me," he said when I asked how he had become a horse whisperer.
Mr. Hanchett said it may have looked easy out there under the roof of the riding pavilion, but he was riding with a titanium rod in his hip. Last year when there was a bad horse in town, near Annabella, Utah (pop: 795), where he lives, and they called him, he fell off.
Perhaps he should have shouted at that one instead of whispered.
Riding rank horses in the rodeo and then the more mannered ones in dressage, and training them, and teaching his students the finer points of horsemanship, has been enriching, he said.
He met his wife, Stephanie, a former showgirl at the Casino de Paris at the Dunes, when she brought her Arabian to him. They have been married 35 years.
Somebody shouted for the newest member of the Dressage Foundation's Century Club to come over to where the refreshments were, that he was needed to cut the cake.
It was closing in on 1 p.m.
The Preakness would be starting in a couple of hours.
When Thann Hanchett was asked if he would be watching American Pharoah and the other 3-year-olds frolic in the mud for fame and glory and a blanket of black-eyed Susans, the 79-year-old said that was the plan.
If there was a bad horse in town, it would have to wait until Monday.
Las Vegas Review-Journal sports columnist Ron Kantowski can be reached at rkantowski@reviewjournal.com or 702-383-0352. Follow him on Twitter: @ronkantowski.