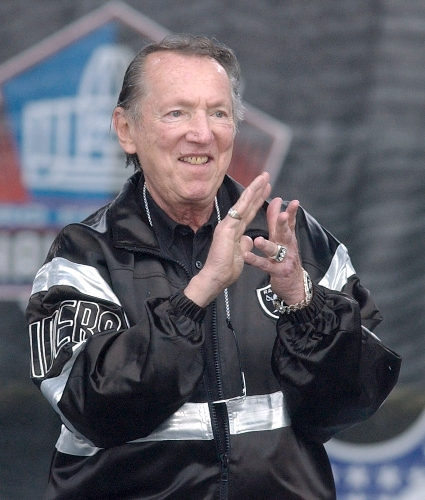 It was June 2007 when the phone rang in the newspaper office and a matronly female voice asked if I would please hold for Mr. Davis.
As in Mr. Al Davis, the maverick owner of the Oakland Raiders, who died Saturday at age 82.
Great practical joke, I thought. My buddies really outdid themselves this time.
I was still chuckling when a familiar voice, full of gravel and unfiltered cigarettes, came on the line. Mr. Al Davis said he had heard I was a guy "who could get things done" in Las Vegas. And that he wanted to talk about his pal and former play-by-play broadcaster Bob Blum, who was being inducted into the Southern Nevada Sports Hall of Fame.
The inference, unspoken but understood, was that I should write something about Blum, which I had planned to do anyway. But having Al Davis' quotes in that story made it sound more authentic, and they surely must have made Blum feel proud.
"Las Vegas has been a big part of my life for the past 50 years," Davis told me. "I have some great friends there, and Bob was kind of the conduit for several of them and several events I've been part of there.
"You want loyal people, dedicated people, people you can trust. That was Bob."
And that was Al Davis, Blum said Saturday after learning of his friend's death.
They had met at the historic Leamington Hotel in downtown Oakland, Calif., during the old AFL days, after Davis had become the youngest coach and general manager in pro football history.
Davis was 33 in 1963 when he asked Blum if he enjoyed calling Raiders games on the radio. Blum, 43 then, 91 now, said he did. Davis said Blum could stay.
"He kept three of us. Me, the trainer and the entertainment director," Blum said, adding that Davis' loyalty to those loyal to him knew no bounds.
"It's like John Madden said when he was inducted into the Hall of Fame: If he had a problem, and could make only one telephone call, it would be to Al Davis. So many people felt the same way."
Davis must have liked my story on Blum, because he invited me to see a Raiders game on his nickel. Though I couldn't accept his nickel, I said I would come to the game, with Blum, and write a story about the Raiders experience, about flying in on Southwest Airlines with a bunch of local lunatics dressed in scary black and silver outfits featuring spikes and chains.
When we arrived at the Oakland airport, a long, black limousine was waiting.
Davis wanted to meet, and so we talked for 10 minutes in his box, where he shared anecdotes about Las Vegas people who were part of the Raiders' family, such as Frank Hawkins and Napoleon McCallum and Mike O'Callaghan and Tom Wiesner and David Humm, a former Raiders backup quarterback. Davis had a radio studio built in Humm's Las Vegas home so Humm could continue to host the Raiders' pregame show after he contracted multiple sclerosis.
A lot of people never saw that side of the renegade Raiders owner, the humanitarian side.
When my 10 minutes were up, I went to the door of his private box, so the next guy could have his 10 minutes with Mr. Al Davis.
As I walked out, Fred Biletnikoff walked in.
THREE UP
■ It was a crisp October afternoon, and I was listening to Bob Uecker call a baseball game — by himself — and it sounded exciting, and it sounded like 1968. And so I kept waiting for a nun to reach over from the back seat to confiscate my car radio.
■ If you are reading, Michael Chang, serve one underhand, 1989 French Open style, against Sampras or McEnroe or Agassi at Saturday's Champions Series tennis event at the Thomas & Mack Center. Fans will dig it.
■ Boise State beat Fresno State 57-7 on Friday. It wasn't that long ago that Fresno State was Boise State, when Boise State was nothing and Fresno State coach Pat Hill had a Fu Manchu.
THREE DOWN
■ Texas Christian is leaving the Big East for the Big 12 without having played a game in the Big East. This recalls Carmen Electra's nine-day Las Vegas marriage to Dennis Rodman, if Carmen Electra had talent or could play defense.
■ Judging from my email, the only IndyCar drivers who won't be available for an interview or appearing at an autograph session in the run-up to the series finale at Las Vegas Motor Speedway this weekend are the late Bill Vukovich and the German guy who played Beau Brandenburg in "Driven."
■ Kelly Kulick, who in 2010 at Red Rock Lanes became the first woman to win a professional Pro Bowlers Association tournament, also is the first bowler to pose nude for ESPN The Magazine's "Bodies We Want" photo feature. We all should be thankful that ESPN The Magazine did not exist when Carmen Salvino was in his prime.
Las Vegas Review-Journal sports columnist Ron Kantowski can be reached at rkantowski@reviewjournal.com or 702-383-0352. Follow him on Twitter: @ronkantowski.