Madlock's lessons not limited to batter's box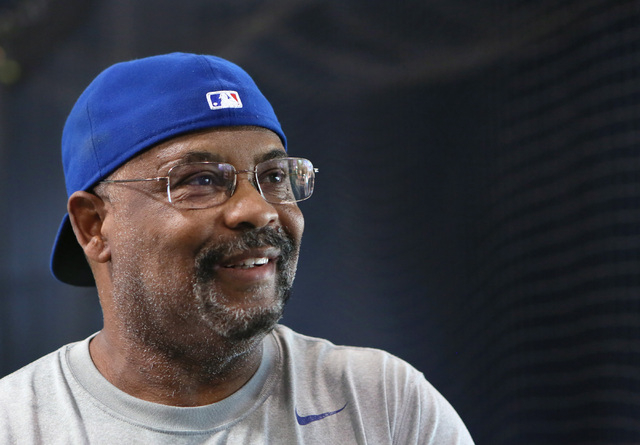 It was Thursday, midafternoon, and it was a little stuffy at the climate-controlled batting cages in an industrial park on McLeod Drive not far from the airport called The Dugout. It's hard to control climate when guys toting baseball bats keep barging through an open door to take their cuts.
And it wasn't only guys. When I arrived, this softball girl was taking her cuts. She was a big girl — not overweight, just big.
Lauren Powell was asked where she plays in college. She said she's not in college. What high school, then? She's not in high school, either, she said. She's only 12.
She comes to The Dugout to take hitting lessons from the guy who was shagging the bright yellow balls at the other end of the cage, the guy who wears his Cubs cap backward and tosses pitches into her substantial wheelhouse.
Lauren Powell's mom spends $40 for 30 minutes of hitting instruction from Bill Madlock, who won four batting titles in the big leagues.
The Mad Dog, which is what the other ballplayers called him, mostly because he played baseball like one, isn't so rabid anymore. He laughs and jokes with his hitting pupils, and sometimes he teases them about how tall they are.
He's like your uncle, if your uncle could hit .354 against big league pitching when big league pitching was much better than it is now.
Madlock is 63, but he looks great, like he could still hit. He invites a visitor into the cage. Pull up that bucket, he says. Stay low, behind the screen. Some of these kids can really swing the bat.
One of the first things Bill Madlock says is that when he was drafted by the Washington Senators, Ted Williams was manager. The Splendid Splinter knew everything there was to know about hitting, and he let you know it, and he could be more difficult than Juan Marichal's high leg kick.
"As a hitter, no one got along with Ted," Madlock said.
But Bill Madlock didn't invite me to pull up a bucket to talk about Ted Williams, as fascinating as that would have been. He wanted to talk about another guy who could hit just a little better than him.
He wanted to talk about his pal Tony Gwynn.
It had been three days since Gwynn, who won eight batting titles, had died. He was 54. Sometimes death, like a ballgame, takes you by surprise.
Whereas Bill Madlock was a natural hitter — see the ball, swing the bat — Tony Gwynn was a scientific one. "He was one of the first guys to really use the video. At Wrigley, we couldn't do that too much," Madlock said.
When Madlock played, players didn't have access to the latest video technology in the Wrigley Field clubhouse. They had access to a radio, and it usually was tuned to WLS. They only had video in the Cactus League.
"The sad thing about Tony is every spring training, they had films about two or three things. One was gambling. One was tobacco. The other was women. How you can get in trouble," Madlock said.
"I was all right, two out of three."
Gambling can get a guy banned from baseball, but tobacco can kill a guy. So last week at the batting cages, after Bill Madlock was through teaching kids how to hit line drives, he lectured them on little pinches between cheeks and gums.
Although tobacco use supposedly is down in baseball, David Wright says half of the Mets still use. It's illegal in the minors, but that doesn't stop guys. If you're sitting down low at a 51s game, sometimes you even can see the outline of the little can on the players' back pockets.
"With Tony, it's so sad. Only 54," Madlock said as batting practice line drives continued whizzing past our ears. "Not only him, but Bob Welch."
Welch, an excellent pitcher during Madlock's day who won the Cy Young Award and 211 major league games, died June 9. He was 57. They said it was a heart attack, in the bathtub. Isn't that how Jim Morrison died? Bob Welch had battled alcoholism, too.
"They say no drinking in the clubhouse, but the clubhouse kid is gonna get you what you want, if you tip him," Madlock said. "It's sad."
A story in Friday's USA Today said Tony Gwynn, famous for studying video, made one himself, before he died, in which he speaks out against using tobacco. It will be released later this season.
In the story, Oakland Athletics first baseman Brandon Moss, like Bill Madlock, a nonuser, said he hoped this would be a wake-up call.
Sometimes, it takes a great one to die before people wake up.
Hardly anyone notices when it happens to a guy running a lap down in an auto race. When it happens to Dale Earnhardt, guys start cinching their safety belts up really tight.
But Brandon Moss doesn't see a lot of ballplayers cinching up their belts because Tony Gywnn died of mouth cancer at 54.
"Most guys are probably going to look at it as the loss of a great man and a great baseball player and leave it at that," he said, and you could almost see Brandon Moss shrugging his wide shoulders.
That's just the way it goes in baseball until you retire from the game, or the game retires you. Then maybe you come back for Old-Timers Day, if you live that long.
Las Vegas Review-Journal sports columnist Ron Kantowski can be reached at rkantowski@reviewjournal.com or 702-383-0352. Follow him on Twitter: @ronkantowski.