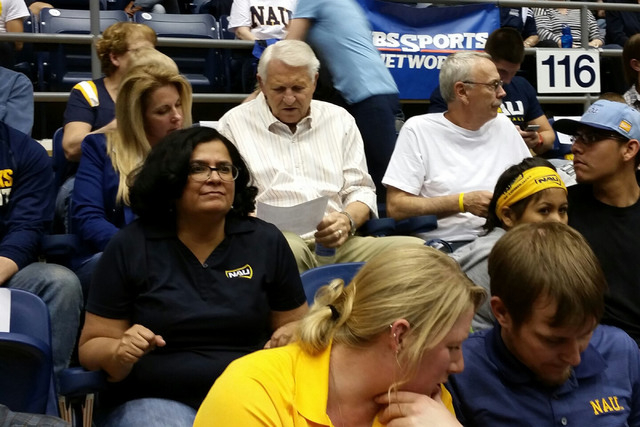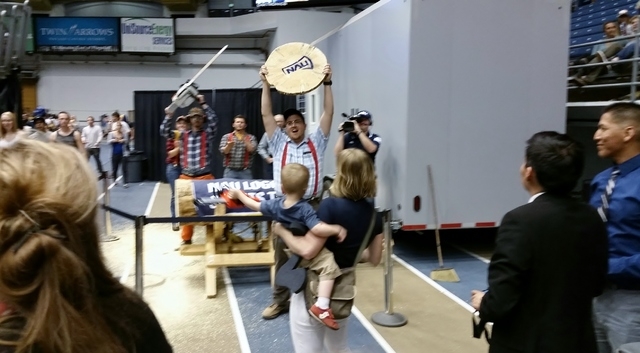 FLAGSTAFF, Ariz. — Just before 6 on Tuesday night, a guy wearing a plaid shirt and suspenders and wielding a chainsaw cut off a big slice of this giant log, which another guy wearing a plaid shirt and suspenders then took off running with, whipping a sold-out crowd at the Walkup Skydome on the Northern Arizona campus into a frenzy.
A few minutes after 6, guys from Las Vegas were hitting 3-pointers and pulling down rebounds, staking the Lumberjacks to an 11-2 lead over New Jersey Institute of Technology — which earlier this season had beaten 16th-ranked Michigan — in the College Insiders.com Tournament semifinals.
Other guys from Las Vegas were coaching them.
The dome was rockin'.
And then who should walk into this wild scene but a distinguished-looking gentleman with silver hair and his attractive wife. They took the only two seats in the Las Vegas cheering section behind the Northern Arizona bench that weren't occupied, and nobody noticed them at first, which was remarkable. Because the distinguished gentleman with the silver hair usually cannot go anywhere in this state without being noticed.
Lute Olson, who spent 25 years as basketball coach at Arizona, guiding the Wildcats to the 1997 national championship, and his wife, Kelly, had driven up from Tucson to support Durango High's Jack Murphy, the Northern Arizona coach — Olson's former team manager, recruiting coordinator, administrative assistant, video coordinator and director of basketball operations.
They sat down exactly two seats from a Las Vegas sports writer.
The Hall of Fame coach said they got stuck in traffic in Phoenix, or he and Kelly would have been there to see the guy slice the log with his chainsaw.
Lute Olson spent the entire evening cheering for his protege Jack Murphy, and for former UNLV (and Arizona State) star Kevin Kruger, who was sitting next to Murphy as assistant coach, and for Centennial High's Aaseem Dixon, who scored 19 points, and for Palo Verde's Jordyn Martin, who pulled down 17 rebounds.
It wasn't an aesthetically pleasing game, as each side frittered away a double-digit lead. But Northern Arizona won, 68-61, and that's all that mattered to the sold-out crowd, and the guy with the chainsaw seemed pleased.
It also made a young woman sitting two seats away from a Las Vegas sports writer in the other direction — four seats from coach Lute Olson and his wife — very happy.
Michelle Murphy, Jack's wife, is the daughter of former Arizona and UNLV athletic director Jim Livengood. She was wearing a gray NAU T-shirt and blue jeans. She had her hands full with twin daughters Emma and Isabella, and her and Jack's 3-year-old son, Dylan — named for Bob Dylan — who was eating something that had turned his mouth and lips bluer than the Lumberjacks' road uniforms.
Michelle Murphy said she loved living among Flagstaff's cool pines during summertime, and even the last couple of winters had been pretty mild. No, she said, she had yet to make a road trip to Montana, which possibly could alter one's perception.
The postgame celebration still was swirling when Kevin Kruger was spotted under one of the baskets. He said the scene reminded him a little bit of 2007, when he pretty much had carried UNLV on his back to the Sweet 16.
The Montana road trip? It wasn't that bad, Kruger said. But he's still thawing out from his inaugural visit to North Dakota.
Aeseem Dixon stopped and turned when he heard a fellow Las Vegan call his name, after his 3-pointers had helped the Lumberjacks post a school record 23rd victory. "I'm thankful to have my senior year still going, especially with a great group of guys like this," he said.
Out on the court, Jordyn Martin, the Big Sky defensive player of the year, was reaching toward the sky for his 18th rebound of the evening. Only instead of an errant shot, he was cradling a little girl in his outstretched arms.
"Not all the teams get a chance to keep playing," the junior forward said after tossing his cousin Abrey into the air a couple of more times. He said unlike the guy with the chainsaw, he was sort of familiar with the College Insiders Tournament before the Jacks were invited to play in it.
I wanted to believe him.
"I had heard of it; we knew we had a chance to go to a postseason tournament, but we didn't know where we'd be going," Martin said a few feet from the backboard in front of the raucous student section. If you looked closely, you could see his palm prints on the glass.
By then it was going on 9 p.m., and the guy with the chainsaw had left the building.
In three hours, March Madness would be over. It then would be April Madness — at 1 a.m., the Northern Arizona players and coaches would get on a bus bound for Phoenix, and there they'd get on a plane bound for Indiana — and there, in less than 48 hours, they would be playing the Purple Aces of Evansville for the College Insiders championship.
As cool as it would have been to take the chainsaw guy with them, the general consensus among the Lumberjacks was that there probably was no way in hell he would get through security.
Las Vegas Review-Journal sports columnist Ron Kantowski can be reached at rkantowski@reviewjournal.com or 702-383-0352. Follow him on Twitter: @ronkantowski.