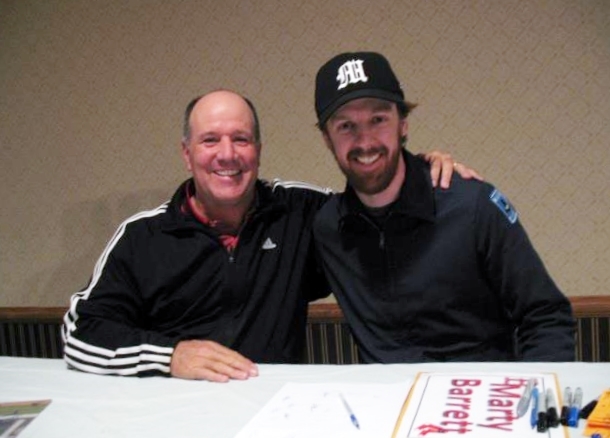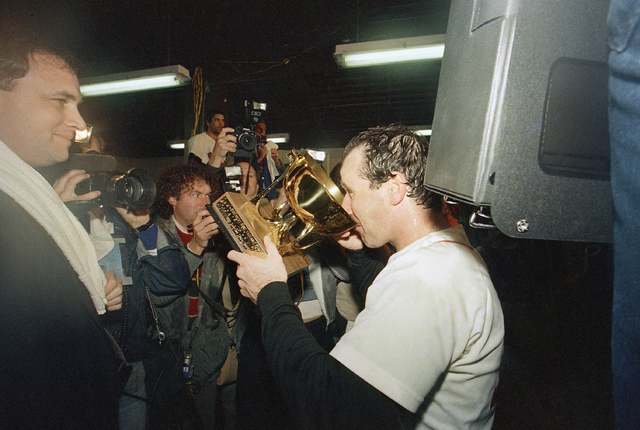 It was one of the great postseason performances of baseball's modern era, and a kid from Las Vegas was responsible for it.
People sometimes forget that former Rancho High star Marty Barrett collected 24 hits during the 1986 national championship baseball tournament, because that was the World Series in which Bill Buckner made a mess of Mookie Wilson's nubber down the first-base line.
By then Marty Barrett wasn't such a kid from Las Vegas anymore. He was 28 years old. He was a slick-fielding second baseman for the Red Sox, a guy who could get the clutch hit, a guy who could hit behind the runner or lay down a sacrifice bunt whenever you needed one — a guy who could even pull off the hidden ball trick to snuff out a rally.
He led the American League in moving the runner over in 1986 with 18 sacrifices, and again the next two seasons with 22 and 20. More amazingly, he pulled off the hidden ball trick three times, including twice in July 1985.
If there's another guy who will back me up on this besides John McNamara, it's a high school librarian named Casey Brough of South Portland, Maine. In researching Marty Barrett's wondrous postseason of three decades past, I stumbled onto Casey Brough's internet tribute to Barrett, which also can be described as wondrous.
He calls it "The Marty Barrett Collection — A Cardboard Retrospective."
It consists of a lot of Barrett's baseball cards when he was with Boston, and a Marty Barrett stamp from the Boston Herald, and a minor league card of Marty in which he is sporting a cheesy Pawtucket jersey, and Casey Brough's thoughts about the cards from a stylistic viewpoint. There also is a year-by-year retrospective of Marty Barrett's career that is more comprehensive than the Warren Report or even "Harry Potter and the Order of the Phoenix."
Casey Brough said it's still a work in progress.
I reached out to him via email, because how could you not? He reached back and tried to explain his fascination for all things Marty Barrett. He included a photo of the two of them taken at a card show.
"I can't say for sure why I was drawn to him. Maybe it was his craftiness in the field or his seemingly timely hitting," Casey Brough wrote.
"A few years ago, Marty's son left a comment (on the website), and we got to talking. He ended up giving me Marty's email address, and we exchanged a couple of emails — mostly just me asking questions. It was a real thrill for me, and I think it speaks to the sort of person Marty is."
There may be a guy somewhere who might say the same things about former Atlanta Braves pitcher John Rocker, and put up a stamp of him in perpetual homage, though I kind of doubt it.
ROOM FOR GROTH
An unseeded Australian named Sam Groth served 30 aces — which I believe is a lot — to defeat a fourth-seeded Colombian named Santiago Giraldo 6-7 (4), 6-4, 7-5 in a $50,000 ATP Challenger tennis tournament at UNLV's Fertitta Tennis Complex.
In 1987, when I was low man on the sports department totem pole, I was assigned to cover a Challenger event at Spanish Trail. One of the finalists was Vijay Amritraj of India, of whom I had heard.
I had never heard of the kid who won.
A couple of years later, 17-year-old Michael Chang was serving underhanded to Ivan Lendl en route to winning the French Open.
So there's still hope for Australian Sam Groth.
BENNETT NETS ANOTHER SHOT
Former UNLV star and No. 1 NBA Draft bust Anthony Bennett is back/still in the Association, as the hip ESPN broadcasters refer to it.
When you get released by your hometown team, which is what the Toronto Raptors did to Bennett in March, there's often not a road back to the Association, or even the D League. But in July, after getting his game and mojo in shape at Las Vegas' Impact Basketball, Bennett signed a two-year deal with the Brooklyn Nets.
In an attempt to change his luck — or perhaps because Isaiah Whitehead already had been given No. 15, Bennett's number at UNLV and with the Cavaliers and Raptors, before they questioned his desire — Bennett will wear jersey No. 13 for Brooklyn.
ZEBRAS WANTED
The Southern Nevada Officials Association is looking for a few good men and women to become high school basketball officials.
They will provide the striped shirt and whistle; you provide the thick skin.
There will be an organizational meeting at Durango High School, 7100 W. Dewey Drive, at 5 p.m. Nov. 6. For more information, email Ed Brown at Kligvo11@gmail.com or visit snoabasketball.com.
MADDUX REDUX
Greg Maddux, the Hall of Fame pitcher from Las Vegas, is known for painting the outside corner and never saying much about it. That supposedly will change Nov. 6.
Maddux will be the featured guest during "Conversations with Norm," with former Review-Journal man about town Norm Clarke and Jack Sheehan, a local author, golf enthusiast and former casual acquaintance of the great Steve Prefontaine when the two attended classes at Oregon.
The conversations about painting the outside corner begin at 2 p.m. at Cabaret Jazz at The Smith Center. Tickets are $25.
Contact Ron Kantowski at rkantowski@reviewjournal.com or 702-383-0352. Follow@ronkantowski on Twitter.