Mayor's Cup honors American killed in Paris bombing
February 14, 2016 - 12:38 am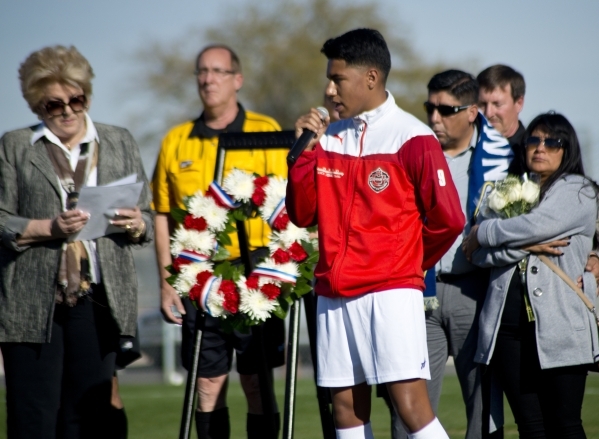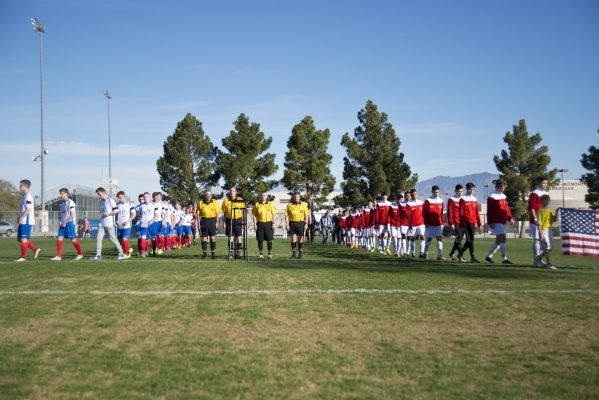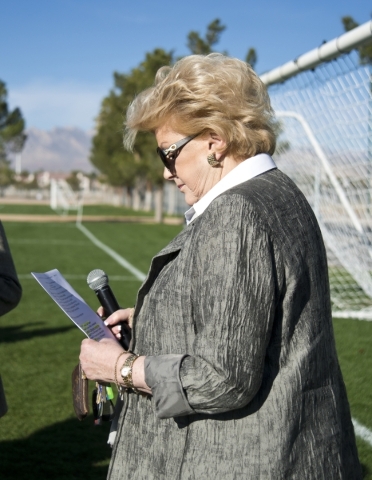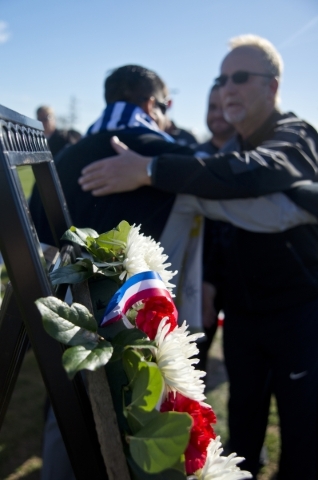 It had been exactly three months since terrorist bombings in Paris had left 130 people dead. On Saturday morning, the echoes from those blasts were felt in the middle of Field 2 of the Bettye Wilson Soccer Complex.
This was the annual Mayor's Cup. In a few minutes, 537 teams representing 19 soccer-playing nations and 29 American states would begin kicking the spotted ball around (or at least a derivative thereof) in the spirit of competition and sportsmanship. There would be respect for one another, Mayor Carolyn Goodman said at midfield.
There was no show of respect in the Stade de France district on the grim night of Nov. 13, when suicide bombers detonated vests and sprayed anything that moved with a hail of bullets.
Nohemi Gonzalez, an exchange student at Long Beach State, was one of those killed. She was having dinner at a cafe near the stadium where France was playing Germany in an international exhibition match called a friendly.
The irony of that word is profound.
On Saturday morning, her parents, Jose and Beatrice, and her boyfriend, Tim Mraz, were standing behind Mayor Goodman as she made heartfelt remarks. They wore dark glasses that did not hide the sadness in their faces. Jose wore a soccer scarf adorned with Downtown Las Vegas logos; Beatrice carried three white roses.
To their right was Team LA 59-62 from Paris, or just north of Paris, a team spokesman said. To their left was Sagebrush Soccer Club United Red 98 from Reno.
The tribute was the idea of the Paris kids, I was told. They were so looking forward to coming to America and kicking the soccer ball around. They wanted to do something to honor those killed by the bombs and the bullets.
It was a warm, beautiful morning. But when soccer kids from Paris held placards that spelled out "WE PRAY FOR NOHEMI" — the goalkeeper wearing the gold jersey clutched the last placard, a peace symbol featuring the Eiffel Tower, close to his heart — and they sang "La Marseillaise" in a proud and stirring voice, a chill went down your spine.
Nick off the block
His late father once outplayed Pele when the soccer legend was closing out his career with the New York Cosmos, and Victor Arbelaez was playing for the Las Vegas Quicksilvers of the old North American Soccer League.
Now Nick Arbelaez, who helped his dad coach a Bishop Gorman High soccer team that won 11 state titles, is looking for some good players of his own. They don't have to be as good as Pele or his dad. He would prefer they be from Las Vegas, though.
Nick Arbelaez is the men's soccer coach at Lake Tahoe Community College. He'd like to build a recruiting pipeline between his old hometown and his new one amid the tall pines. There are nine Las Vegans on the Coyotes' roster; Arbelaez says he has room for more.
"I give so much credit to the Las Vegas people for the continued success I have had," he wrote in an email in advance of the Mayor's Cup. "I'd like the chance to thank the city."
Ex-51s skipper sounds off
Tim Flannery always will be at the top of my list of favorite former Las Vegas baseball managers, if for no other reason than when somebody put a cap and jersey on him at his introductory news conference — this was when the team still was called the Stars and wore purple and teal — Flannery said those were Barney colors, in reference to the kids' TV show. Plus, he's in a band and has a record deal. Or at least he did.
But for some reason Flannery became embroiled in a Twitter rhubarb with Padres fans this past week. He had harsh things to say about the organization he and Bruce Bochy (who hit 23 home runs for the Stars, when their colors were brown and orange) played and coached for in San Diego before they were run off to San Francisco. At least according to Flannery.
Being run off was only a small part of his rant, the crux of which can be read here: http://tinyurl.com/jse9fn9
There also are epic Internet rants featuring current/infinite Las Vegas skipper Wally Backman. But Flannery's is different in that it doesn't utilize expletives in long, passionate groupings. Barney fans would have been proud of him.
Three dots …
• In its official explanation of how Colorado State was judged to have beaten Boise State in basketball the other night, despite the Broncos sinking a desperation shot that clearly seemed to have beaten the clock, the Mountain West office referenced the Precision Timing System. Based on the resulting kerfuffle, this might not be the best name for it. …
• More evidence the world is not as big as you think: During a hot stove league session with the Thursday Lunch Bunch at Main Street Station, I recently told a story about once having watched Nolan Ryan warm up against the White Sox by making his pitches explode into the brand new (read: not yet broken in) catcher's mitt of Art Kusnyer, a California backup backstop. Fred Albrecht, the two-time UNLV interim athletic director and tireless fundraiser whose life was celebrated Saturday during a ceremony on campus, and Art Kusnyer were basketball teammates at Kent State.
• I'm sure he meant well, but … when Bryce Harper went on a radio show in D.C., and the hosts asked about the possibility of him becoming baseball's first $400 million man when his contract comes due, the Las Vegas slugger came off sounding like Rich Uncle Pennybags, the guy with the bushy mustache from Monopoly. Said the brash and most valuable of players: "Yeah, I mean I don't really think about that stuff. I just try to play the years out and do everything I can to help my team win. But don't sell me short. That's what you're doing right now to me, so don't do that." Do not pass go (or Jonathan Papelbon in the home dugout); do not collect $200. For now, anyway.
— Las Vegas Review-Journal sports columnist Ron Kantowski can be reached at rkantowski@reviewjournal.com or 702-383-0352. Follow him on Twitter: @ronkantowski.