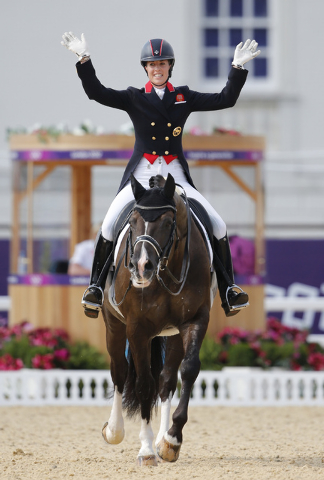 She can make a donkey dance.
That's what Jane Dujardin says about her daughter, Charlotte, the horse trainer and rider from Enfield, Greater London. So now that's what the British press say about her, too.
Charlotte Dujardin certainly can make a horse named Valegro dance, to prance and preen about the dressage ring in the manner of an NFL player who has just scored a touchdown, only with much more class and dignity.
Dujardin, 29, holds every dressage title for which they have championships or award gold medals: Olympic freestyle, World freestyle and Grand Prix Special, European freestyle and Grand Prix Special. No one has held the complete set of titles before she came along.
She is the Michael Jordan of her sport, the Tom Brady, the Clayton Kershaw. Except that MJ missed a 15-footer every now and again, and Brady sometimes throws an interception when the football's overinflated, and Kershaw has been known to serve up a gopher ball when he gets behind in the count.
Charlotte Dujardin does not serve up gopher balls when she is riding Valegro.
Together they dance, and then the judges usually award them a score in the 90 percent range.
Dujardin and Valegro will be the ones to beat in the dressage part of the FEI World Cup Finals (dressage and jumping) from Thursday through Sunday at the Thomas &Mack Center. They're always the ones to beat.
The British lass stopped by the World Cup media room for a chat Tuesday. Outside the T&M, workers were struggling to put up FEI World Cup banners on the midway in a typhoon.
Dujardin was wearing a ball cap, a windbreaker (good idea!) bearing Las Vegas Events logos, black stretch riding pants, black low-cut Converse sneakers sans laces. She has a disarming smile. She said she had no idea what day or hour it was, because her body clock still was set to Big Ben time.
"I never set goals. I've had dreams — there were three things I wanted to do during my career. I did them during my first year of Grand Prix," said Dujardin, who, unlike many of the World Cup riders and jumpers, does not come from money or represent the upper crust of society.
She started out as a groom, which is sort of like a Wall Street trader starting off in the mail room.
"If someone wrote it down and said, 'Charlotte, that's what you are going to achieve,' you'd probably take one or two," she said of her gold medals and trophies and laurels. "To have done the whole lot, it's just been absolutely surreal."
But can she really make a donkey dance?
That was one of the first questions I asked the Michael Jordan of dressage, after I asked if she knew who Michael Jordan was. (She did.)
Dujardin laughed. She said one can't believe everything one reads or sees on the telly.
"Moms being moms, they're very supportive and they're always talking very highly of you," she said.
"From the background I've come, I've had to ride lots of tricky horses. I guess when you make a normal horse look like something quite special, it's a huge achievement. I think that's where (my mom) sort of got that saying from."
There's nothing tricky or normal about Valegro, the 13-year-old dark bay gelding with the perfectly coiffed mane and tail.
I watched them perform on this YouTube video. I wasn't sure what I was watching, only that it appeared beautiful — it was like a horse ballet.
The British commentator used proper English, and the crowd was proper and reserved, like at a Montreal Canadiens game. And during this one part, Dujardin made Valegro prance diagonally, or Valegro just did it on his own after Dujardin whispered something to him.
I imagine it might take a trainer weeks or even months to teach a tricky horse how to prance diagonally. Not Valegro. Valegro is a special horse, said his trainer. He learned how to prance diagonally in only a day or two.
You could tell by watching the video that these two have a special bond.
Dressage may be a genteel sport and all of that, but when it was over, the rider flashed a disarming smile and patted the horse about the head with loving enthusiasm, sort of like the way Ron Turcotte patted Secretariat after the 1973 Belmont Stakes.
"It's not just a horse, it's like he's your best friend," Dujardin said.
"You build up a huge partnership, so much trust and belief in each other. I can feel when he's a little bit worried, and I'm sure he can feel when I'm a little bit worried, and we both can settle each other down."
Charlotte Dujardin continued to speak about her Valegro as if he were up at the media buffet, grazing for carrots.
"He's a real performer. He loves to go out there and do his best. It's the greatest feeling," she said.
"He makes me pretty emotional."
She was starting to get emotional as she tried to explain it, this connection, that bond, the synchronicity. You could see it her eyes, hear it in her voice.
The dressage part of the World Cup begins at noon each day. If you get there early, before the music starts, and you listen carefully, you might even get to hear Charlotte Dujardin whisper something to her horse like in that movie with Robert Redford.
Las Vegas Review-Journal sports columnist Ron Kantowski can be reached at rkantowski@reviewjournal.com or 702-383-0352. Follow him on Twitter: @ronkantowski.
PREVIEW
What: FEI World Cup Finals Jumping and Dressage
Where: Thomas & Mack Center
When: Thursday through Sunday, April 16-19. Dressage begins at noon; jumping at 7 p.m. The jumping finals are set for noon Sunday.
TICKETS: $30 and up; UNLVtickets.com or 702-739-3267