Mike Bryant to coach Cubs-backed team in Vegas Baseball Classic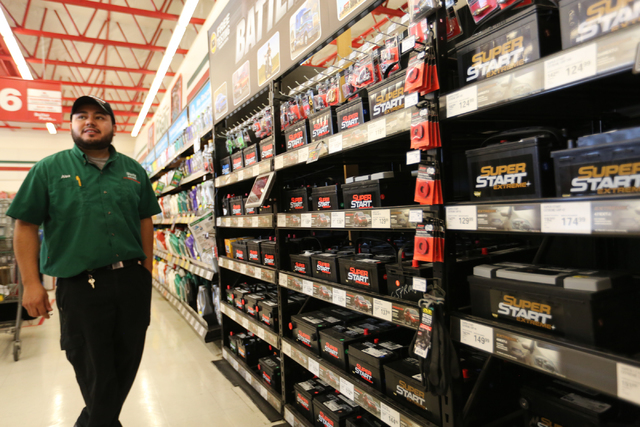 It already has been a good week for Mike Bryant, one of Las Vegas' most eminent baseball dads.
During Saturday night's Cubs-Pirates game on Fox, the guys in the booth showed his baseball card — his 1980 Elmira Red Sox baseball card, in which he is sporting hair, eyeblack and an ample mustache.
Before John Smoltz could comment, Bryant's son, Kris, hit the next pitch over the Wrigley Field bleachers and onto Waveland Avenue for a most prodigious home run. Official Shawon-O-Meter distance: a country mile.
Kris Bryant cleared the ivy again on Sunday, and that must have been a pretty nice Father Day's gift, too. Starting Wednesday, Mike Bryant gets to coach baseball again, in a high-falutin' youth tournament at Cashman Field and other suitable baseball venues about town.
It's called the Vegas Baseball Classic. Top high school-aged travel teams set to compete include the vaunted Ohio Warhawks.
Mike Bryant's entry is called the Chicago Cubs Scout Team. It has the expressed written consent of the Chicago Cubs, or at least permission to wear official Cubs uniforms sent to Bryant from the Cubs' Cactus League compound in Mesa, Arizona. The pants even have the little Cubs logo on the upper thigh.
Whereas the Griffeys, Ken and Ken Jr., combined for 782 big league home runs, and the Bryants, Mike and Kris, have only 43 so far, Kris is just starting out. And Mike was the one who showed him how to hit with that slight uppercut.
So now Mike gets a chance to show other young ballplayers wearing official Cubs uniforms how to hit like that.
This is what Mike Bryant lives for. And the Human Torch-like weather we're having notwithstanding, he's looking forward to it, even if it means he'll have to DVR a couple of Kris' games.
In keeping with the spirit of the Cubs, and the time-honored advice of Chicago manager Joe Maddon, their scout team will "try not to suck."
Bryant said he doesn't have the best Las Vegas kids, and you can blame infighting and jealousy within the local baseball community for that. But he has a left-handed pitcher from Bishop Gorman named Jarod Billig, and a multitude of players from Southern California who are ticketed to Division I schools such as Stanford, Pepperdine, Washington and the University of San Diego, where Kris Bryant played.
It's hard to say how Mike Bryant's kids will stack up against the Ohio Warhawks.
Formed in 1990, these Warhawks have won 12 national titles, had 361 players drafted by major league teams (30 in the first round) and put 51 alums onto high per diem lists (including one named Bryant and one named Joey Gallo).
Their all-time won-loss record is 1,321-231. If I were with the Indians or Reds, I'd be sending these guys official uniforms.
It's the kind of program Mike Bryant would like to build here, with a little help from his son's employer and the continued support of Cubs scouts Tom Myers and Denny Henderson.
"We're in it for the long haul," he said last week from a cushy couch in the Bryant Man Cage, an addition built onto the home Kris grew up in which includes a batting cage, about two dozen of Kris' bats, one of Mike's from his Elmira Red Sox days, a few Kris Bryant Fatheads and a life-size cutout of the Dos Equis beer guy.
"The Cubs are planting roots here. They picked Las Vegas largely because of the Bryce Harper-Joey Gallo-Kris Bryant story."
Mike Bryant said in addition to cool major league uniforms, the Cubs' scout team players will play a ton of games against top-level competition in wooden bat tournaments in Florida and Illinois. They will be both exposed to and coached by professional baseball scouts.
"These contacts run deep, all the way to the top," he said.
He mentioned how things have changed since when he played, when a young player might have to drive for hours to try to impress scouts at a tryout camp. But those camps usually were free, whereas today's travel teams have budgets that may run as high as $100,000.
The Ohio Warhawks even have their own dormitory, called The Nest. It's 4,000 square feet and has 22 beds, a plasma TV, batting cages and pitchers mounds. And an Xbox 360.
"Five throws from the outfield and 10 cuts," Mike Bryant said of the tryout experience of yesteryear, adding that he was lucky to get 125 at-bats during a season of American Legion ball.
I said things have changed since I started writing about summertime baseball, too, when the best team I ever saw was another squad from Ohio, called the Midland Redskins. This team of young phenoms had uniforms patterned after the University of Michigan and featured Ken Griffey Jr. and Barry Larkin in the same lineup.
Mike Bryant's eyebrow went up like an infield fly.
"We're playing them on Wednesday — they're in the tournament," he said.
It's the second game in Pool B — the Kris Bryant Pool.
Las Vegas Review-Journal sports columnist Ron Kantowski can be reached at rkantowski@reviewjournal.com or 702-383-0352. Follow him on Twitter: @ronkantowski
VEGAS BASEBALL CLASSIC
WHAT: Travel team baseball tournament for top high-school aged players.
WHERE: Cashman Field, UNLV's Wilson Stadium, CSN's Morse Field, Bishop Gorman.
WHEN: Wednesday through Sunday.
TEAMS: Aaron Blair pool: Ohio Warhawks, Orlando (Florida) Scorpions, ABA New Mexico, St. Louis Pirates Elite, Danville (California) Hoots, Las Vegas Knights. Kris Bryant pool: Midland (Ohio) Redskins, Evoshield (North Carolina) Canes, Utah Marshalls, CBA California, Texas Prospects, Chicago Cubs Scout Team.
WEBSITE/SCHEDULE: OhioWarhawks.net