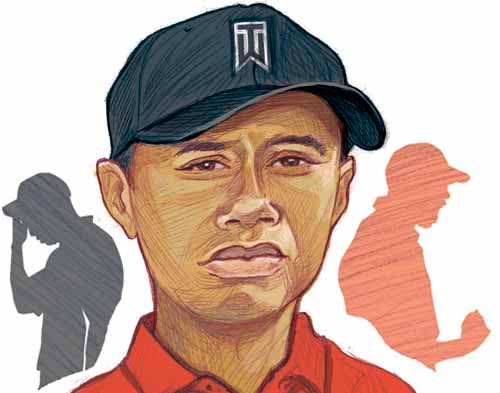 It was 1991 when this big and mostly lovable lout named John Daly joined the PGA Tour and won the PGA Championship.
After that, he went off the deep end. With a gigantic splash. Like Thornton Melon doing the Triple Lindy with a Jack and Coke in each hand.
Four years later, Daly won the 1995 British Open. Sometime after that – or during the back nine – he started drinking Jack and Coke again, and wearing pink golf shirts and orange pants. Together.
This is why I believe Tiger Woods, who has been stuck on 14 major titles since he began chasing the ladies and lost his mojo, will win another major title.
I believe Tiger Woods is a much better golfer than John Daly. Better today, better yesterday, better tomorrow, better playing the windmill hole at the local putt-putt. Better whenever, better wherever.
If John Daly can do it, Tiger Woods can do it. It is just that simple.
My esteemed colleague Ed Graney is much better at analyzing golf than I am. Graney doesn't play windmill holes. He actually has golf clubs. Might even be able to hit a fade. He can get up and down, stuff like that. Probably plays a Titleist.
I, on the other hand, left my golf clubs and range balls on the curb in New Mexico when I moved here because they wouldn't fit in the back of my truck. The Wiffle bat made the cut. I can hit a Wiffle bat better than I can hit a 5-iron.
David Feherty and the other golf experts who talk in whispers when the wind is whipping across the microphone at the Quad Cities Open mostly agree with Graney. But Feherty looks like a magician, and so I do not always trust him.
Feherty and the golf experts talk about how Tiger's swing is all messed up. Maybe it is. Maybe it does look like a rusty gate blowing in the Iowa wind when he's shooting 77. But what about this guy Furyk who contorts into the shape of a pretzel, then a spring or something lets go, and a couple of days later some guy who drives a Cadillac or a big Buick hands him one of those giant checks on the edge of the 18th green.
Jim Furyk won the 2003 U.S. Open with that goofy swing.
Jack Nicklaus was stuck on 17 majors for six years before he won No. 18. At age 46.
Tiger can get his mojo back. And that consistency thing. Before he's 46. He can get them back at Augusta National or Shinnecock Hills or St. Andrews or wherever they play the PGA Championship. Then everybody will start watching golf on TV again.
Trevor Immelman won the Masters, Lucas Glover won the U.S. Open, Keegan Hansen Bradley won last year's PGA Championship. Dow Finsterwald won the first one, in 1958. Finsterwald won 11 tournaments, though one was the Fort Wayne Invitational. Shooter McGavin must have had another commitment.
But if you were to put together an all-time foursome, it would not be Trevor Immelman, Lucas Glover, Keegan Hansen Bradley and Dow Finsterwald.
It might be Jack Nicklaus, Ben Hogan, Tom Watson and Tiger Woods. Arnold Palmer could be the alternate, in the event Hogan's injuries from the car accident flared up.
Tiger made two eagles Friday at Congressional. One was from 45 feet, the other from 7. The wire story said he also "made pars from delicate spots." This is what you have to do to win a major. You have to make pars from delicate spots. Except at the British Open, where you mostly have to hit the ball the length of Scotland and hope the wind isn't blowing too hard.
The wire story said the course was playing like a U.S. Open course, and that Tiger was heating up.
Yes, I am aware he hasn't cracked the top 20 in his last three majors, and that David Feherty says he misses the old Tiger, and that too many people write books about him. And that's messing him up, making him seem all distant with the golf reporters.
I still think he's going to win another major. And then he won't seem so distant, and David Feherty and the golf reporters will say he's back.
Las Vegas Review-Journal sports columnist Ron Kantowski can be reached at rkantowski@reviewjournal.com or 702-383-0352. Follow him on Twitter: @ronkantowski.