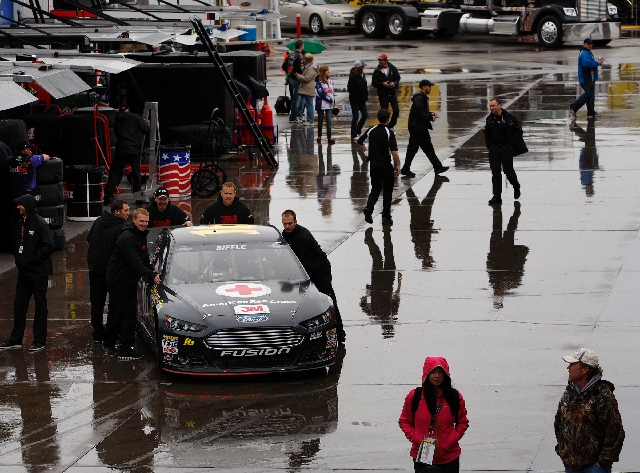 It was just past 1:30 p.m. Friday when I was nearly broadsided by the GoNoah Racing.com Ark in the Neon Garage at Las Vegas Motor Speedway and spotted a face that was sort of familiar. It was, in fact, the face I was looking for.
The reason Mike Bliss' face was only sort of familiar was because it has been awhile since he was one of the top drivers in the NASCAR Truck Series. And also because the Speed channel now mostly shows auto auctions and guys with tattoos turning trash compactors into hot rods, instead of showing real auto racing as performed by real auto racers, such as Mike Bliss.
Bliss was holding an umbrella, mostly because he's from the Milwaukie in Oregon, where it rains a lot. The rain didn't make Milwaukie famous, but they do get 47 inches there every year, whereas we in Las Vegas get only 3½.
The other reason Mike Bliss was carrying an umbrella was that the rain still was coming down in cold, slanted sheets.
This was the rain that washed out pole day qualifying for Sunday's Kobalt Tools 400 at the 1½-mile oval for the first time in our Cup race's 16-year history and sent Bliss home early, at least in a manner of speaking.
Forty-four Sprint Cup cars were on the speedway grounds Friday.
Forty-three, because that was Richard Petty's car number, will start the race Sunday.
One never had a chance.
The flat black No. 19 Toyota, which was to be driven by Mike Bliss of Milwaukie, Ore., where it rains a lot.
So I was sort of feeling bad for Bliss when I called his name, and I think he was sort of feeling bad for me, because I am the dummy from the desert who doesn't own an umbrella. He ducked into the Nationwide Series dock so we could talk.
He said being denied a chance to qualify for the Cup race on account of rain — he'll hang around to drive in today's Nationwide Series event — was one of them racin' deals, or in this case, one of them nonracin' deals.
"You can't control Mother Nature," Bliss said.
You can't take her to the NASCAR hauler and fine her for "denigrating the racing product," either. Which is why Denny Hamlin might be thinking about changing his name after he denigrated the redeeming qualities of this new Gen-6 car at Phoenix last Sunday.
Bliss' car arrived at the track in an unadorned white hauler with his name and number on the side, and that's it. That's why he hated to see the rain. He had invited some prospective new sponsors to Las Vegas for the Cup race, because Las Vegas is a lot better place to entertain prospective new sponsors than, say, Martinsville, Va.
Bliss was one of five drivers on the entry list with an "I" next to his name — he is ineligible for owners points.
One of the NASCAR officials explained to me how the field is set when rain cancels qualifying, but this discourse ranked somewhere between understanding the balk rule and launching the space shuttle in its complexity.
Owners points are part of it, though.
"You could just say he would have had to beat a handful of drivers" on qualifying time, said Kerry Tharp, NASCAR's director of communications, putting it into terms that even Darrell Waltrip could understand.
Bliss said he thought he had the speed to do it, based on Thursday's practice sessions.
"It wasn't supposed to be like this," he said, nodding toward the leaden sky over Nellis Air Force Base.
Forecasts called for a 40 to 50 percent chance of showers. For a brief time, the sun came out, and the track began to dry. But Bliss said he had seen the radar; he knew he wouldn't get a chance to race for a spot on the grid.
Before long the sun disappeared like Jimmie Johnson on fresh tires, and then the skies got even grayer, and then Mike Bliss and I were huddled in the Nationwide garage as Garfield and Lassie fell from the sky.
"It's just part of racing," Bliss said with a shrug, and until NASCAR changes the rainout rules, or lets 44 cars race on Sunday, or develops a 1½-mile tarpaulin, scuttled hopes and umbrellas in the garage area will continue to be part of racing.
So when I asked where does he go from here, Mike Bliss said "Bristol." Here's hoping it will be drier in Tennessee.
When I returned to the media center, Dale Earnhardt Jr. was talking about having his colon cleansed. It still was raining outside.
Las Vegas Review-Journal sports columnist Ron Kantowski can be reached at rkantowski@reviewjournal.com or 702-383-0352. Follow him on Twitter: @ronkantowski.
TODAY AT THE TRACK
8 a.m.
Nationwide Series practice
9:40 a.m.
Sprint Cup practice
11:35 a.m.
Sprint Cup practice
1:15 p.m.
Nationwide Series Sam's Town 300
5 p.m.
Neon Garage closes