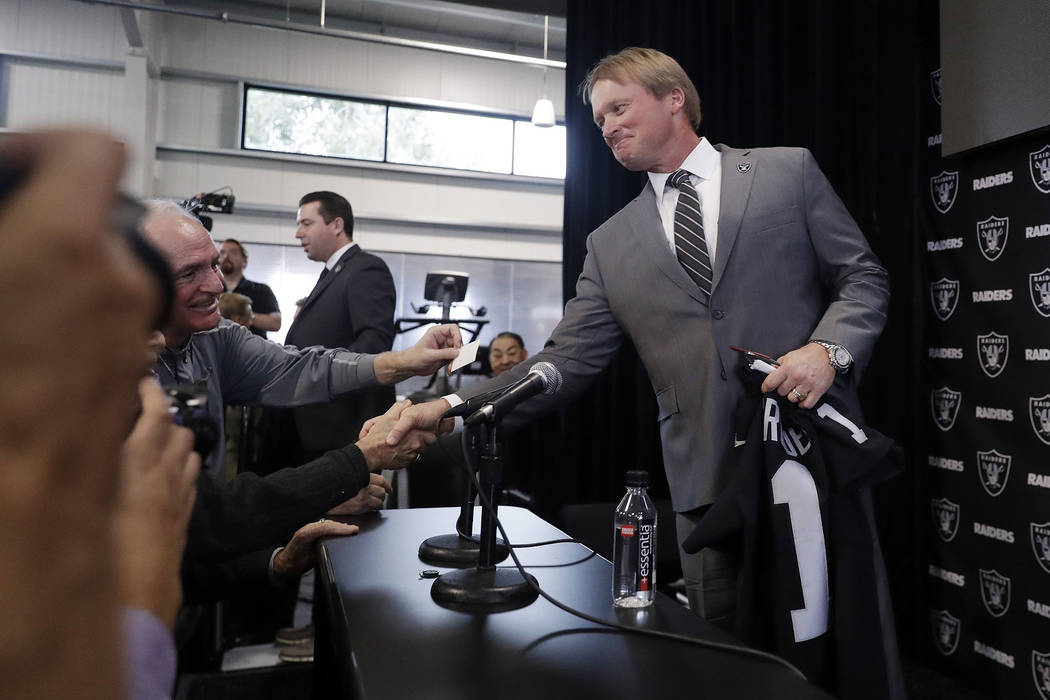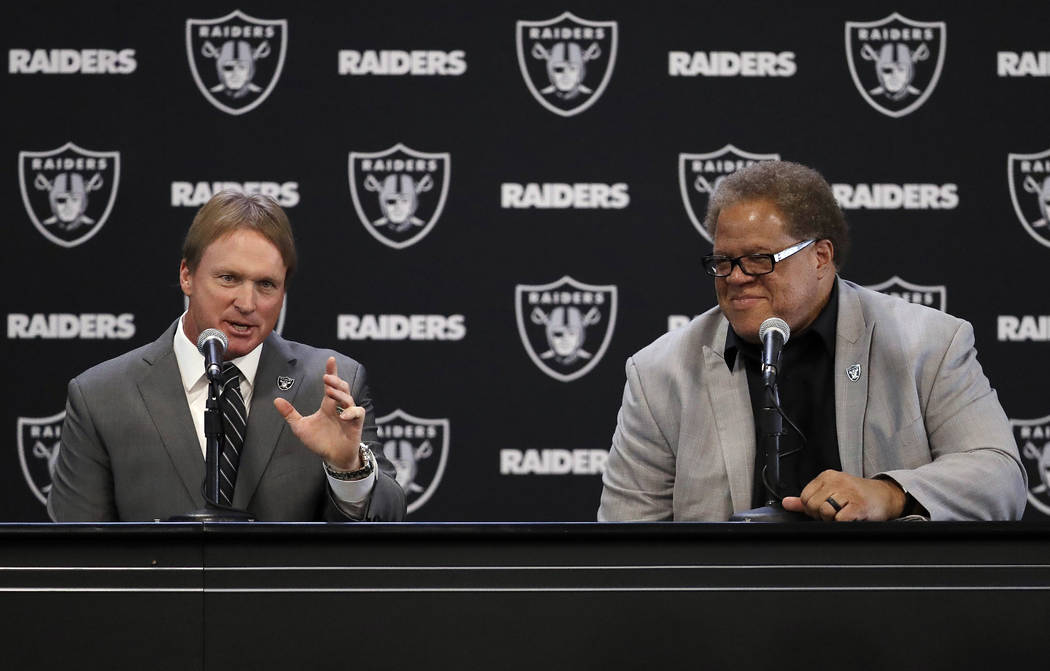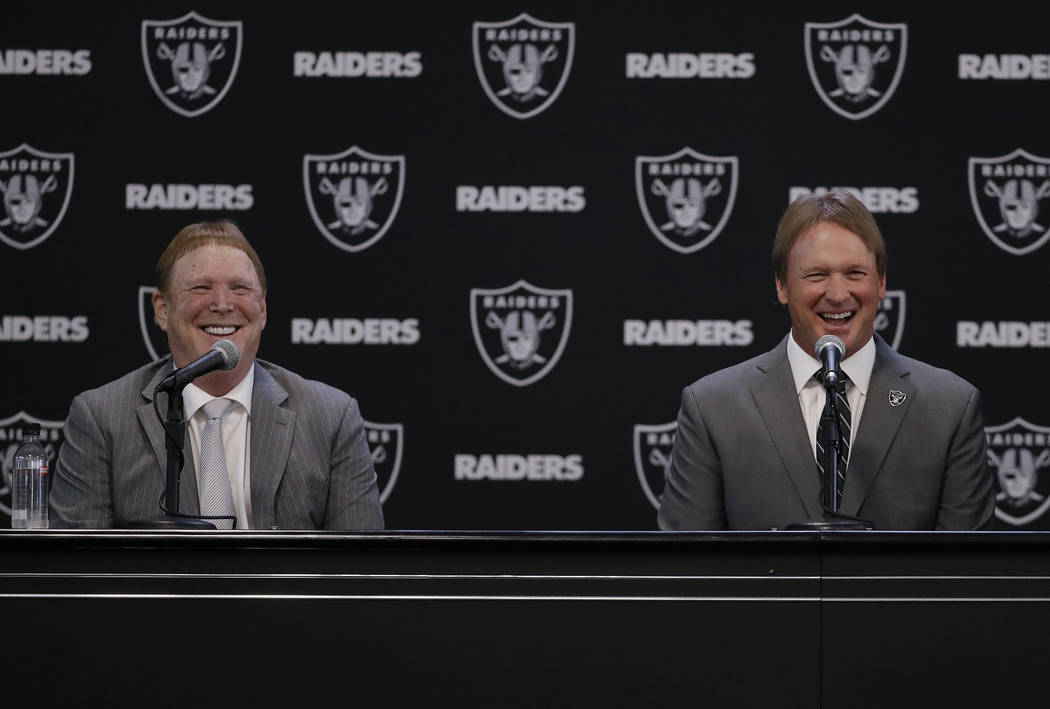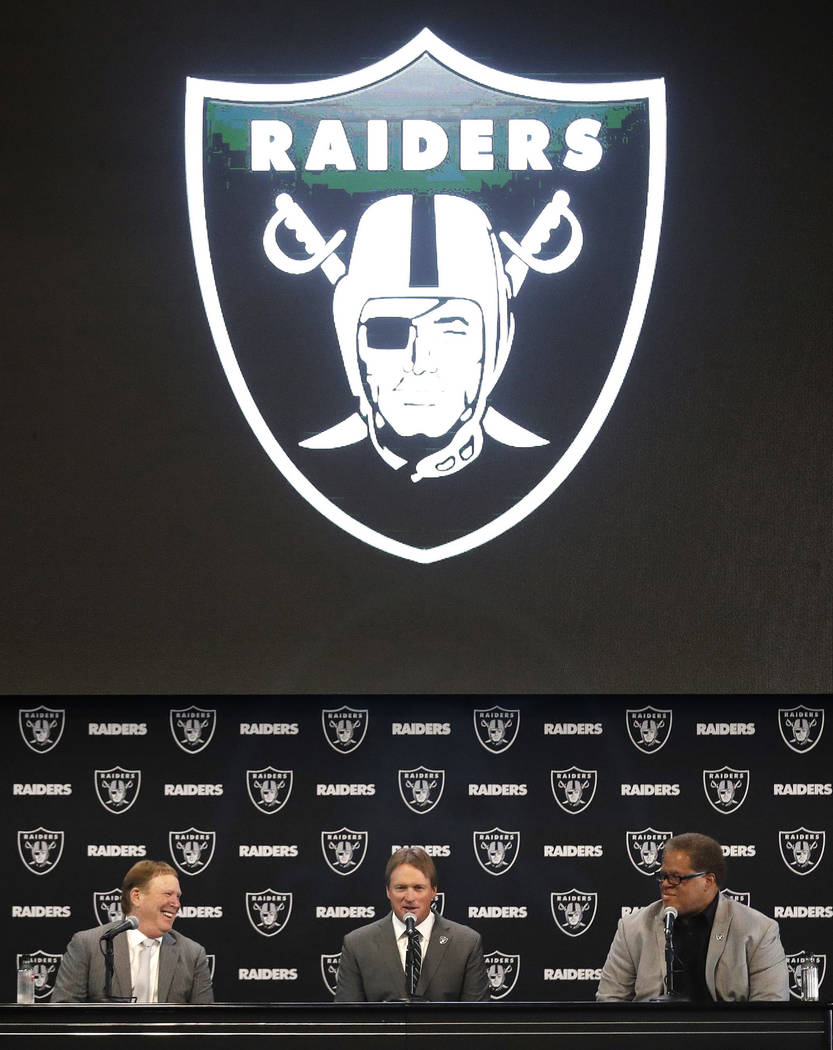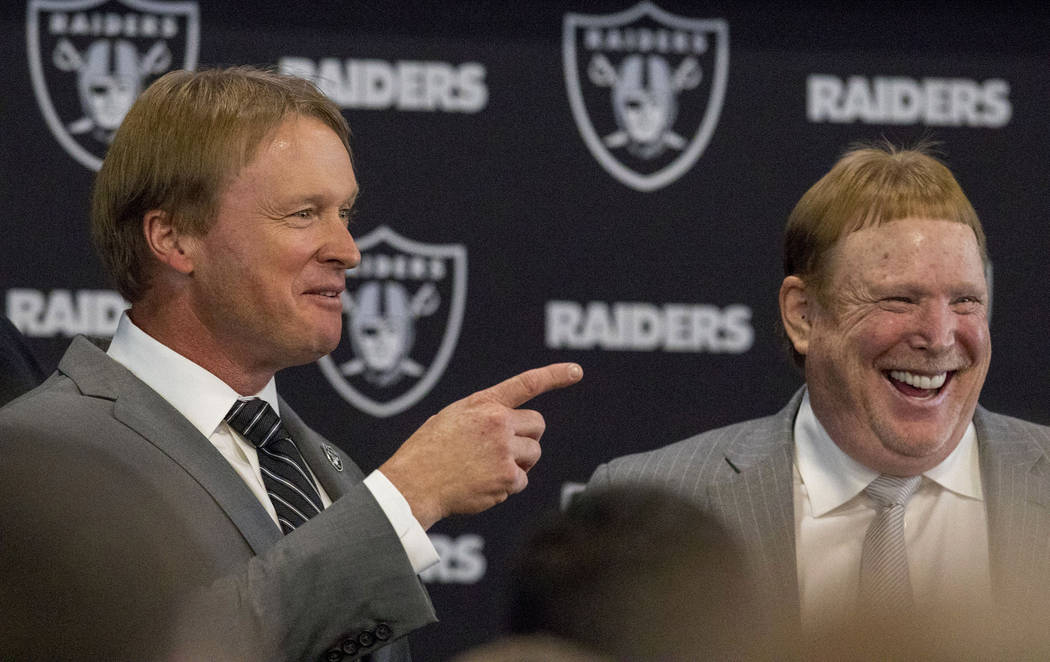 Remember the old "Happy Days"on TV when Fonzie would try to apologize for being wrong, and he could only get out the first two letters?
That reminded me of Jon Gruden when he was reintroduced as the Raiders' coach this week. He had trouble saying "Las Vegas" when asked about the Raiders moving here.
Not the right place for such a query, one surmises. Not the right time.
On the other hand, Gruden talked about Oakland as if it were Valhalla or Utopia and had a low crime rate. Which again was more predictable than Amari Cooper dropping a pass from Derek Carr.
It was Oakland where he made his coaching name; it was Oakland where one of his sons was born; it was Oakland where Raiders lineman Grady Jackson (or running back Harvey Williams) nicknamed him "Chucky."
Said Gruden:
"Some of my great memories in life are of Oakland."
And: "All I know is this year I'm going to be coaching in Oakland, and next year I'm going to be coaching in Oakland."
And: "I want to help deliver the best football team we can for the people here in Oakland."
And: "Big reason I'm here is my passion for the city of Oakland."

And: "(Marshawn Lynch) came back to the Raiders for similar reasons, I think, that I did. I think he loves Oakland."
To paraphrase another iconic TV sitcom: Marshawn, Marshawn, Marshawn! Oakland, Oakland, Oakland!
What about Las Vegas?
Gruden mentioned Las Vegas only once, when somebody asked about Raiders relocation. "Mark can talk about the move to Las Vegas," he said, handing off to owner Mark Davis.
If Mark could talk about moving to Las Vegas, he didn't.
Not the right place. Not the right time.
There were many old Raiders inside the weight room where they had the circus disguised as a news conference. No need to upset Ted Hendricks, whose nickname was "Mad Stork." There were guys with spikes protruding from chain mail waiting to greet the new/old coach. No need to upset The Black Hole.
Gruden showed old intensity and new resolve. He said typical Gruden things, in typical Gruden style. He probably sold a few more seat licenses here, even if he wouldn't mention us. You know he will say all the right things about Mayor Goodman and Steve Sisolak and Carrot Top at the appropriate time.
Would he discuss moving to Las Vegas in a less guarded moment, during the only one-on-one interview he gave to local media?
No. Not really.
Tim Brown on Jon Gruden: 'Can you imagine Chucky in Las Vegas?' https://t.co/RgsWcPC4Hf pic.twitter.com/Fl0mvpK8Co

— NFL World (@NFLWrld) January 10, 2018
The future can wait
"It's two years away," Channel 5's Kevin Bolinger said after catching Gruden in Cover 2 defense. "But the Raiders are moving to Las Vegas in 2020. What are your thoughts on the move and the city of Las Vegas as an NFL city, and as a Raiders city?"
Gruden stayed in the pocket. "Well, obviously, I think it's an incredible place. Las Vegas.
"The Raiders are an incredible franchise, and so that combination has a chance to be something really exciting. But right now, I'm focused on Oakland. I'm focused on this year, this week and trying to deliver a championship to the Raiders right here in Oakland."
Gruden rubbed an eye. Bolinger tried again.
"As they build a stadium, and they're going to build a whole new practice facility, is that something you want to have your finger on in terms of what's in there in Las Vegas, so you have the right tools …"
Gruden checked off to a secondary receiver.
"Las Vegas is gonna be spectacular, and the Raiders are going to make sure it's gonna be spectacular. But when you're me, the last thing you can think about is three years from now. Or two and a half years from now. In a couple of years, I can't wait to see what it looks like, I really can't. But in the meantime, I'm committed to the fans here in Oakland, and this Raider team coming up in 2018, so I'm just going to stay short-term goal oriented."
At least Gruden didn't tell Bolinger he was "W-r-zhhh … W-r-zhhh" — not exactly right — for asking about Las Vegas, a la The Fonz after suggesting Ralph Malph should join the Marines.
It might not have been the right place.
It might not have been the right time.
It might even be possible that Jon Gruden really wasn't thinking of moving to Las Vegas.
But after he agreed to a backloaded contract that will pay him $100 million over 10 years — a deal even more lucrative given Nevada doesn't have a state income tax and California's is the highest in the country — you know his accountant is.
More Raiders: Follow all of our Raiders coverage online at reviewjournal.com/Raiders and @NFLinVegas on Twitter.
Contact Ron Kantowski at rkantowski@reviewjournal.com or 702-383-0352. Follow @ronkantowski on Twitter.