New spring football league AAF gets an early start in Las Vegas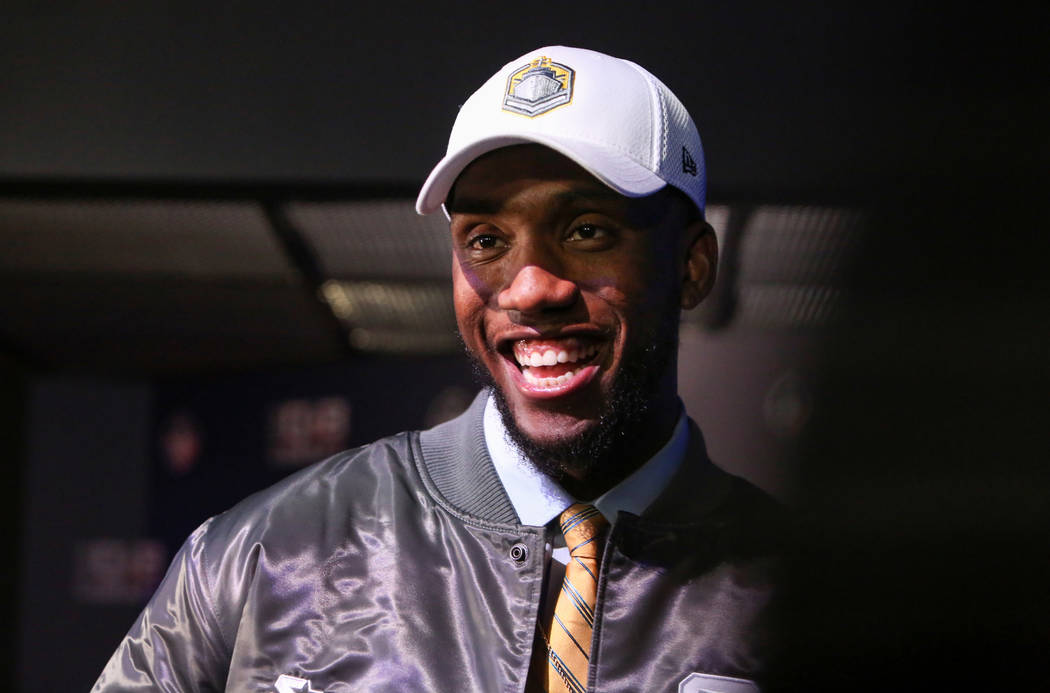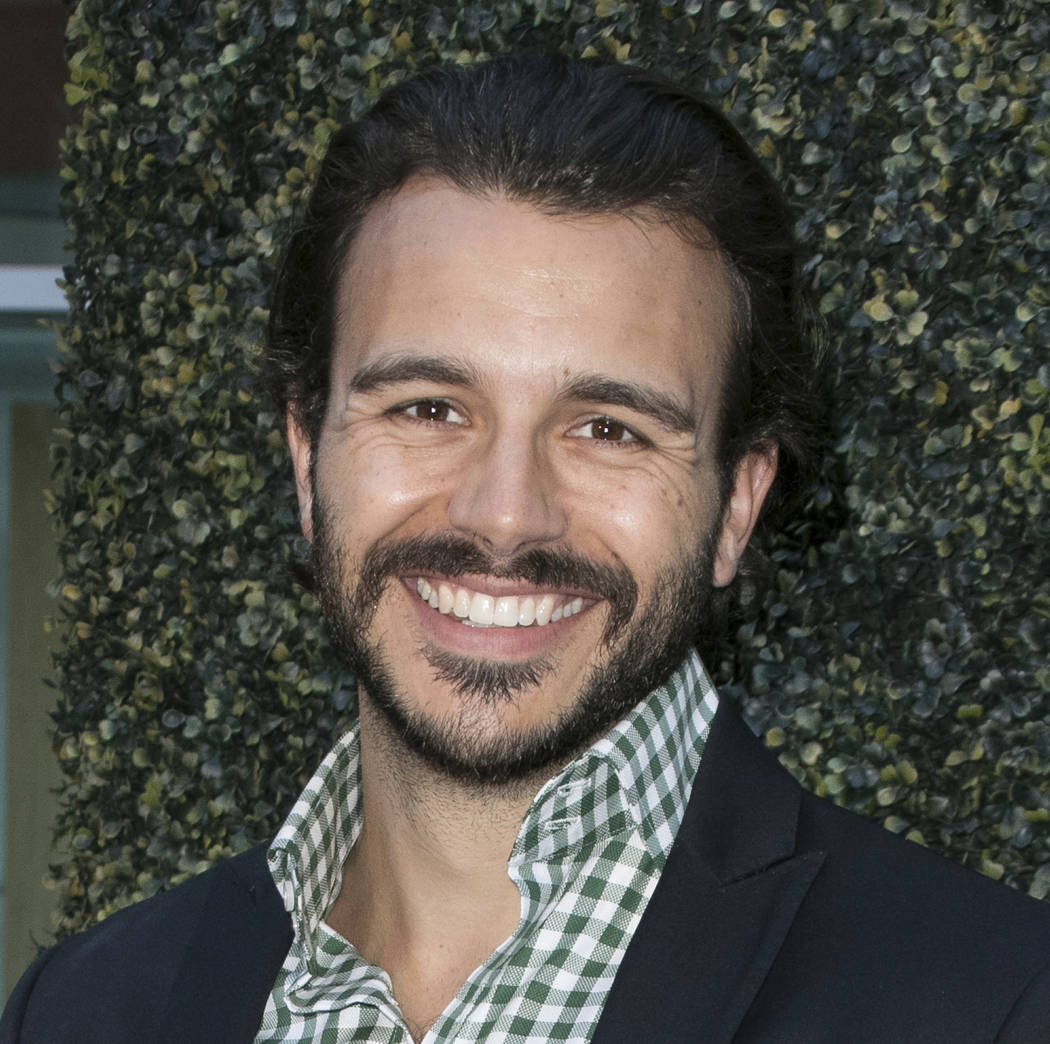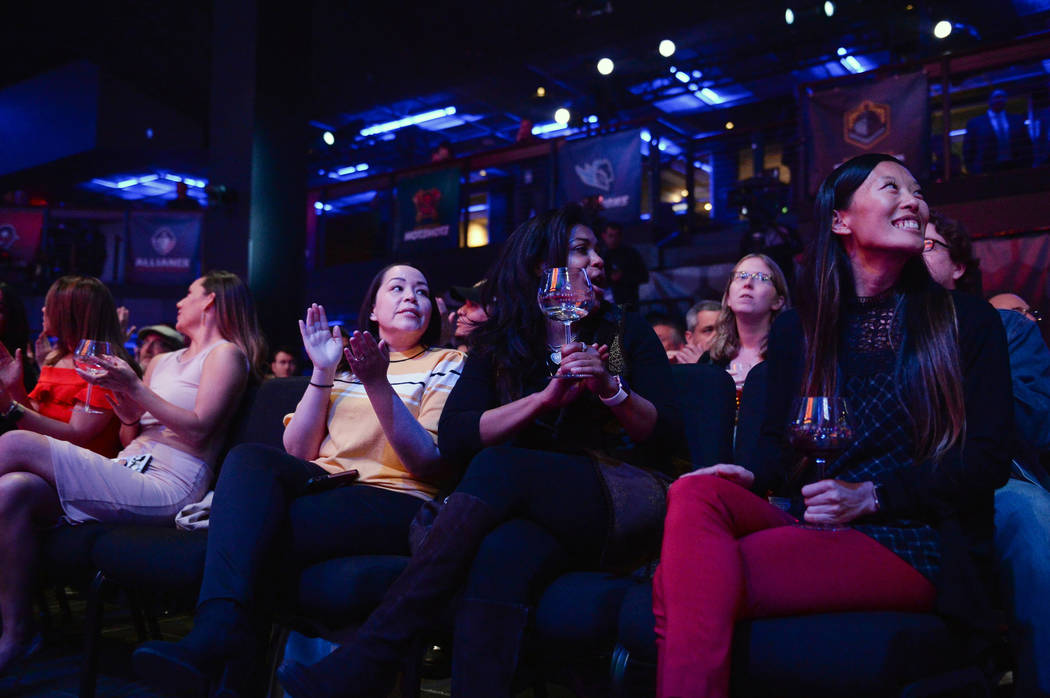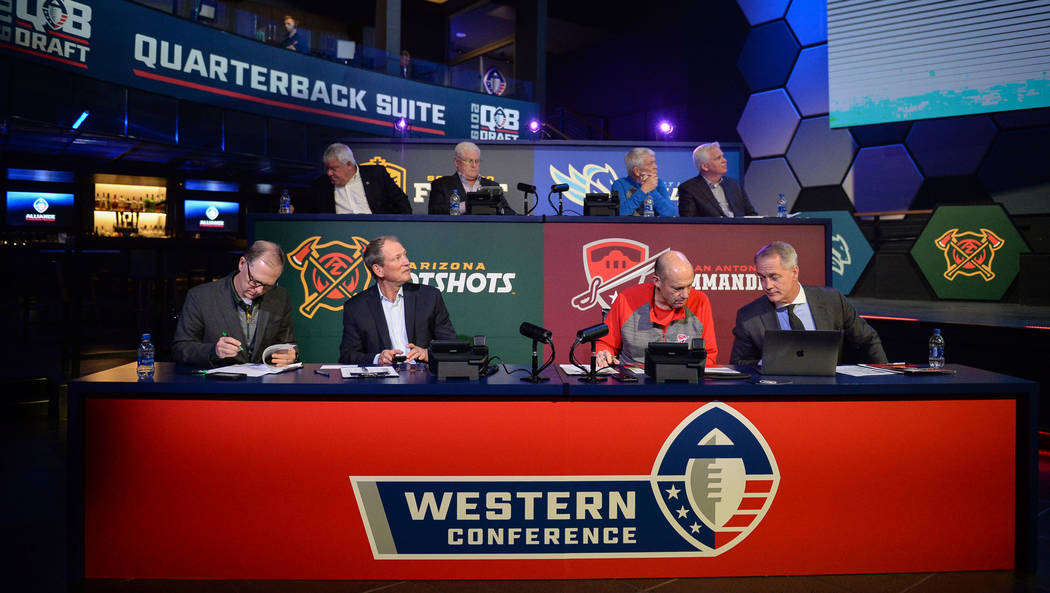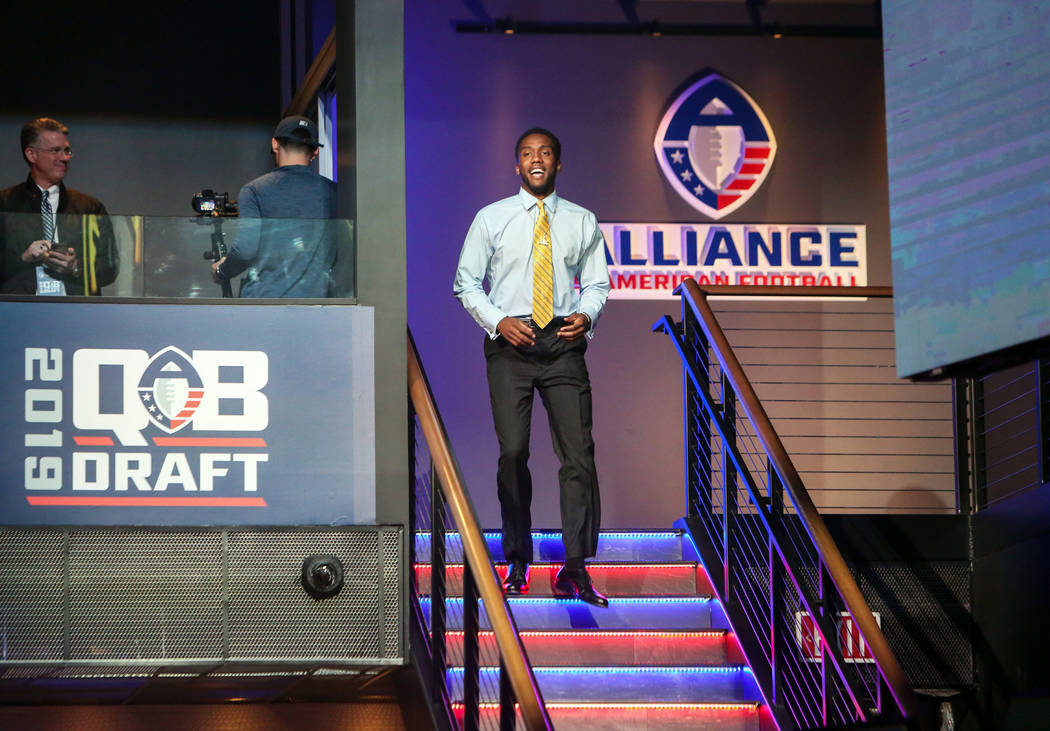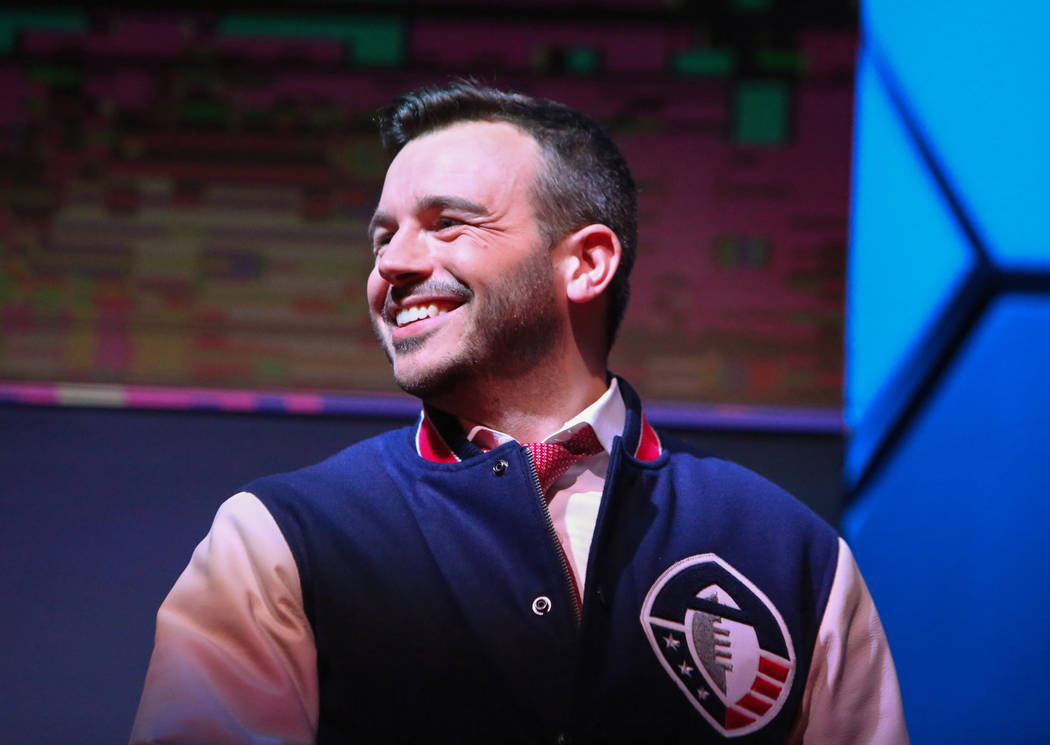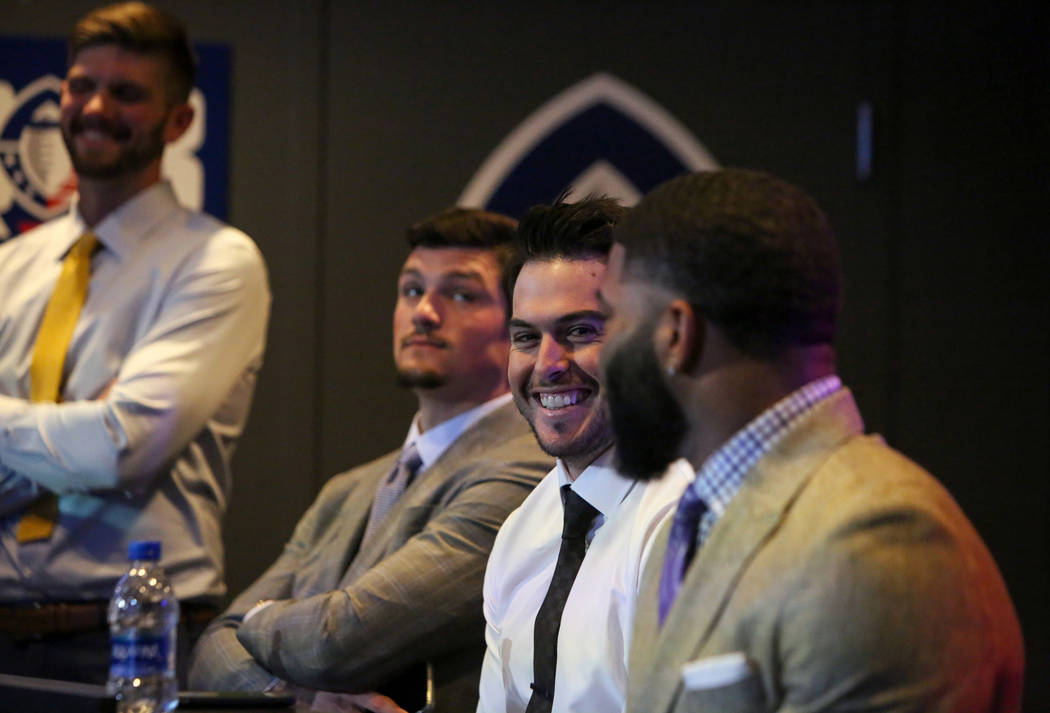 It was 8:30 a.m. Tuesday at Pyramid Cafe at Luxor, and Charlie Ebersol already had been at it for three hours.
Part of the reason was that he still was operating on East Coast time. The other part was that in about eight hours, the Alliance of American Football — a new spring pro football league he co-founded with former NFL executive and Pro Football Hall of Famer Bill Polian — would be holding its inaugural quarterback draft at the Luxor's Esports Arena.
You could tell the clock was ticking.
Ebersol ordered a western omelet and didn't touch the hash browns. He ate only one slice of toasted sourdough bread. Most of it, anyway. Marvin Gaye's "I Heard It Through the Grapevine" was playing over the casino speakers. "Too Late to Turn Back Now" by the Cornelius Brothers & Sister Rose might have been more appropriate.
"Everyone and their sister tried to talk me out of this for about three years," Ebersol said.
"I joke with a lot of people and say there's something called an ELE — an Extinction Level Event. The asteroid hitting the Earth or whatever. I've had a number of startups and have been lucky enough to sell a couple of businesses, and in every startup you have one or two ELEs — something that's going to come along and sideswipe you.
"This business has one or two ELEs a day."
Now you know why he didn't touch the hash browns.
No peeping at halftime
The track record of alternative pro football leagues is roughly equivalent to those of Eddie "The Eagle" Edwards and the Jamaican bobsled team in the Winter Olympics. But at least Ebersol has a blueprint that makes sense, which is more than pro wrestling impresario Vince McMahon and Ebersol's father, Dick, had when they founded the one and done (season) XFL in 2001.
No, the AAF does not plan to put a camera in the cheerleaders' dressing room at halftime, and let somebody like Rodney Dangerfield wander around aimlessly wearing only a towel.
Although the AAF will not have a team in Las Vegas, it will begin and end here. (The hope is not permanently.) The quarterback draft and championship game, set for April 27 at Sam Boyd Stadium, will bookend an inaugural season that will feature eight teams — all owned by the league.
The AAF already has signed 690 players to $250,000, three-year contracts — $70,000 for the first season, $80,000 for the second, $100,000 for the third.
Opt-out clauses will allow players to jump to NFL teams — and jump back to the AAF, if they wind up getting cut. Players also will receive a one-year post-education scholarship for every AAF season they complete, and will receive bonuses tied to the success of their teams and even their social media popularity.
"Every other league that has tried this before talked as if they were competitive with the NFL, which is an act of insanity," Ebersol, 35, said. "To have a healthy relationship with the NFL is extremely important."
Right-hand man
Bill Polian, who built the Buffalo Bills and Indianapolis Colts into Super Bowl contenders and winners, respectively, as general manager and president, is to Charlie Ebersol what Lorne Michaels was to Dick Ebersol when they created "Saturday Night Live."
And while AAF players may not be ready for prime time just yet, the coaches — Steve Spurrier in Orlando, Brad Childress (with Michael Vick as offensive coordinator) in Atlanta, Mike Singletary in Memphis, Tim Lewis in Birmingham, Mike Riley in San Antonio, Rick Neuheisel in Arizona, Dennis Erickson in Salt Lake City, Mike Martz in San Diego — will resonate with fans until they are.
Reasonably priced tickets and new gaming and wagering initiatives connected to in-game data collection also may help the AAF attract new fans and viewers.
Having a viable and accessible TV partner in CBS and CBS Sports Network and their online properties is another plus.
"CBS has the wild-card (playoff game), the division, the conference, they have the Super Bowl this year," Ebersol said before he slid out from the breakfast booth and the untouched hash browns.
"And then the following week they have us."
They also have "Survivor," now in its 37th season — which is 36 seasons more than Charlie Ebersol was trying to survive over breakfast on Tuesday.
Ron Kantowski at rkantowski@reviewjournal.com or 702-383-0352. Follow @ronkantowski on Twitter.
AAF QB Draft
First-round selections Tuesday in the Alliance of American Football Protect or Pick Draft at Esports Arena at Luxor:
1. San Diego Fleet (protect territorial selection): Josh Johnson, 32, University of San Diego (Tampa Bay Buccaneers, fifth-round pick, 2008).
2. Atlanta Legends (protect): Aaron Murray, 28, Georgia (Kansas City Chiefs, fifth-round pick, 2014).
3. Memphis Express (protect): Troy Cook, 23, Tennessee-Martin (transfer from Florida State).
4. San Antonio Commanders (protect): Dustin Vaughan, 27, West Texas A&M (Dallas Cowboys, undrafted free agent, 2014).
5. Birmingham Iron (pick): Luis Perez, 24, Texas A&M-Commerce (Los Angeles Rams, undrafted free agent, 2018).
6. Arizona Hotshots (pick): Trevor Knight, 25, Texas A&M (transfer from Oklahoma) (Arizona Cardinals, undrafted free agent, 2017).
7. Orlando Apollos (pick): Garrett Gilbert, 27, Southern Methodist (transfer from Texas) (St. Louis Rams, sixth-round pick, 2014).
8. Salt Lake Stallions (pick): Josh Woodrum, 26, Liberty (New York Giants, undrafted free agent, 2016).