Nicole Vaidisova hits Red Rock Open on comeback trail
September 24, 2014 - 10:59 pm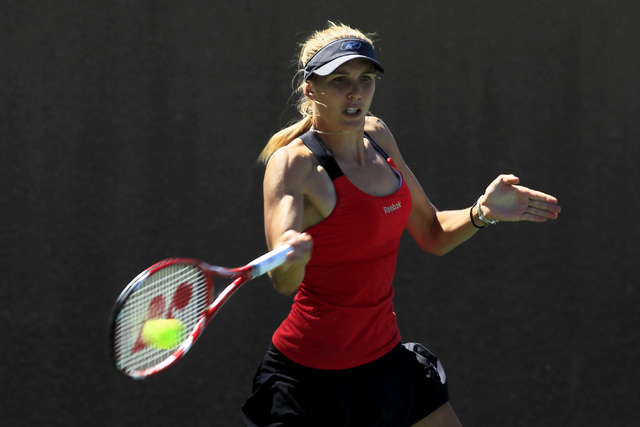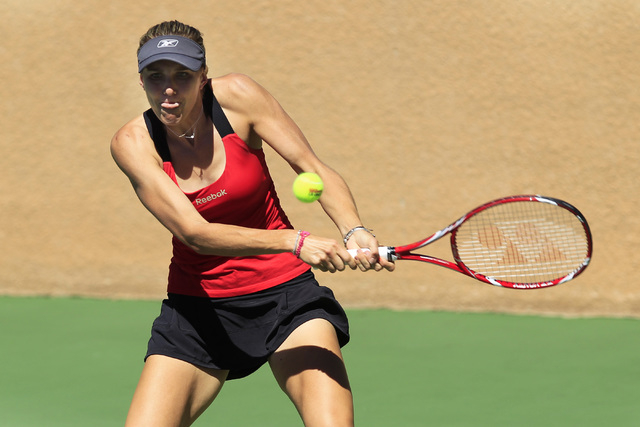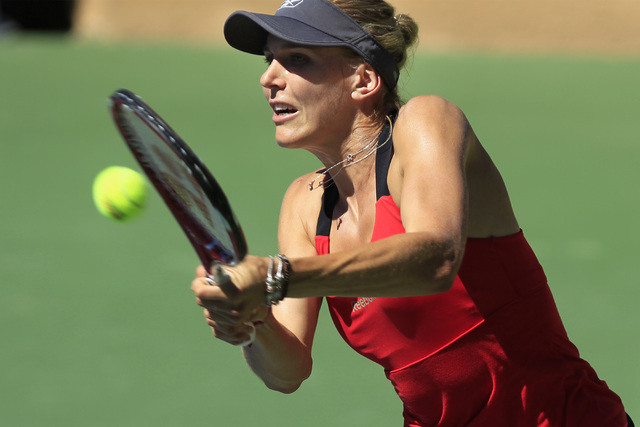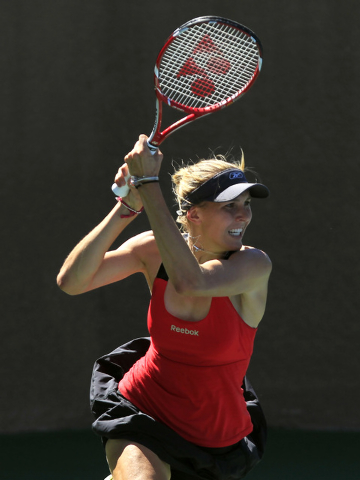 After the tennis players were introduced to the spectators at the quaint stadium court at picturesque Red Rock Country Club late Wednesday morning, it seemed a long time before the chair umpire spoke Nicole Vaidisova's name again.
Up to then, her opponent, Alexa Glatch, may as well have been hitting the fuzzy ball against a wall. Vaidisova trailed 4-0 before gaining an advantage and finally having her name mentioned.
It wasn't that long ago when tennis people mentioned Nicole Vaidisova's name all the time.
In 2006, when she was only 17, the lithesome pro from the Czech Republic broke into the top 10 of the WTA rankings. In 2007, she ranked as high as seventh. The Williams sisters, Maria Sharapova, Justine Henin, Svetlana Kuznetsova — that's the kind of tennis company Vaidisova was keeping as a teenager.
She won six WTA titles.
Armed with booming serves and thumping groundstrokes, she was an Australian Open and French Open semifinalist; she reached the quarterfinals at Wimbledon in 2007 and '08. Melbourne Park. Roland Garros. The All England Lawn Tennis and Croquet Club. These are the tennis cathedrals, where serves are boomed and groundstrokes are thumped on hallowed ground.
On Wednesday, Nicole Vaidisova served and thumped on a stadium court that seated around 300. During much of the first set, the only buzz was provided by a generator and lawn mowing equipment.
When it comes to tennis, Vaidisova had gotten burned out, injured, married and divorced, more or less in that order. In 2010, she lost to an opponent ranked No. 578, and then a little after that she retired.
Now she's trying to come back at age 25.
After falling behind 2011 Red Rock Open finalist Glatch 4-0 in the first set of her first-round match, Vaidisova rallied to win 2-6, 6-4, 6-2.
There was only a smattering of applause from the local tennis enthusiasts, but at least it seemed genuine and respectful.
This is Vaidisova's second tournament back after 4½ years away. Last week, she won once and lost once in Albuquerque, N.M., which isn't exactly a cathedral of women's pro tennis, either.
Was this a baby step forward on her way back to prominence or semi-prominence, or at least having her name mentioned by the chair umpire before the fifth game of the first set?
"It's too early, too soon to assess" she said. "After four years (away), it's so tough to go forward and playing like you used to. I'm trying to get the hang of it both ways, mentally and physically.
"Injuries, surgeries, coming back. It's been a struggle. But the fact that I'm able to play, to be on the court — and to be healthy — I think that's a good thing at this point."
Vaidisova, who was married to former world No. 8 Radek Stepanek before they separated in 2013, said her timetable on this comeback is sort of like a Greyhound timetable: The bus is finally in the terminal; now she'll see how far it takes her.
"I try not to think too far ahead," she said with the faintest of smiles. "One tournament at a time, assess it, see how it goes."
She was asked about playing tennis in the cathedrals, and if it seemed like a long time ago.
"It is a long time ago," Vaidisova said, her faint grin finally yielding to a wider one.
The cool thing about satellite tournaments such as the Red Rock Open and the one in Albuquerque is that they keep pro tennis alive in their communities, and one usually doesn't have to look far for a good story.
I recall a USTA Challenger event long ago at Spanish Trail, where one of the finalists was Vijay Amritraj. If memory serves, he retired with a back injury, and other than the odd Davis Cup match, that was the last time he was heard from.
I had not heard of the youngster who was awarded the victory by default.
His name was Michael Chang. He would win the French Open two years later as a 17-year-old by serving underhanded to Ivan Lendl.
There were no underhanded tactics but two comebacks in their infancy being played out at the quaint stadium court on Wednesday, as Glatch was playing in her first main draw since Wimbledon 2013. In 2005, Glatch was a finalist for the U.S. Open junior title, losing to future world No. 1 Victoria Azarenka.
She would turn pro, and then she would fall off a motorbike and mess up her right wrist and left elbow. Other tennis-related injuries to her hip and wrist requiring surgery would follow.
So now Alexa Glatch and Nicole Vaidisova play in these small tournaments at which generators hum, and one can hear lesser seeds grunt on other courts with a hot autumn sun beating down.
Las Vegas Review-Journal sports columnist Ron Kantowski can be reached at rkantowski@reviewjournal.com or 702-383-0352. Follow him on Twitter: @ronkantowski.