Oklahoma State probably should just take a knee next time
September 15, 2016 - 12:01 am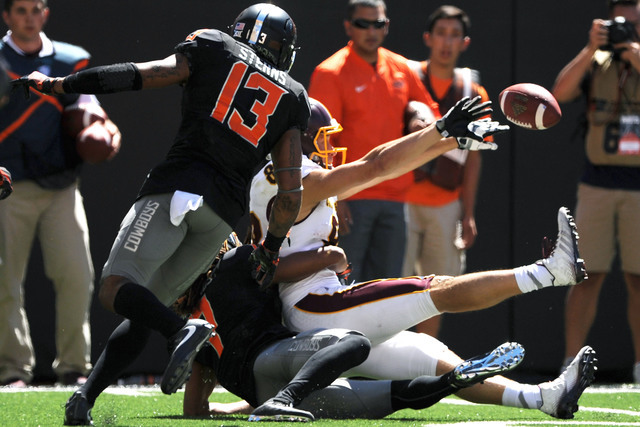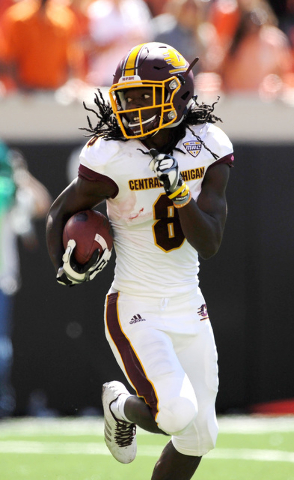 When Central Michigan beat Oklahoma State on one of those unfathomable, end-of-the-game-Hail-Mary-pass-with-a-lateral-and-desperate-lunge-into-the-end-zone-that-shouldn't-have-happened-because-the-refs-messed-up plays, my first thought was this is going to help UNLV.
The Rebels, as more incredulity would have it, will travel to Michigan on Saturday to play the miracle makers from Mount Pleasant. This is just the sort of game UNLV might have overlooked after giving a pretty good account of itself at UCLA. Shouldn't happen now.
My second thought was of astronaut Frank Borman testifying at a senate inquiry following the Apollo 1 systems test fire that killed fellow space travelers Gus Grissom, Ed White and Roger Chaffee.
"No one ever imagined it could happen on the ground," Borman said during the probe, or at least the dramatized version of it as seen on HBO. "If anyone had thought of it, the test would've been classified as hazardous. But it wasn't.
"We just didn't think of it.
"Now who's fault is that?"
Borman answered his own question.
"Well, it's (the space capsule contractor's fault). It's NASA's fault. It's the fault of every person who ever worked on Apollo. It's my fault. I didn't think the test was hazardous. No one did. I wish to God we had."
(Dramatic pause.)
"Colonel, what caused the fire?"
"A lack of imagination," Frank Borman said.
Exactly. Just like Central Michigan-Oklahoma State. Nobody could have imagined a final sequence like that, with the difference being it was only a football game and nobody got killed on the launch pad. Oklahoma State fans eventually will get over it.
A referee friend told me there's no way that Central Michigan play should have been allowed to stand because of the one that preceded it — a throwaway pass on fourth down and a wrongful interpretation of intentional grounding. That among the eight guys wearing zebra shirts on the field, and two more in the press box at the throttle of the replay machine, one or more "should have caught it."
The officiating crew from the Mid-American Conference and the replay officials from the Big 12 immediately were suspended, but only for two games.
So this is probably one time the zebras deserve the blame, or at least most of it. Had this happened in a baseball game, it can be assumed major league umpires would have known the rules. Even Joe West.
But none of this happens if Mike Gundy just takes a knee.
Mike Gundy is the Oklahoma State coach. The last I read about him was on Big 12 media day, when a reporter poked fun at his haircut, which had the makings of a mullet. The time before that was after his infamous "Come After Me! I'm a Man! I'm 40!" rant a few seasons back when he tore into a media person for writing the coaching staff had lost confidence in one of the Cowboys quarterbacks.
Which it had.
If Gundy has his quarterback kill four seconds and take a knee, instead of having him throw downfield with no eligible pass receivers in sight, it's three zeros, game over. Zebras don't forget obscure rule, don't get suspended, don't have to pack thermals for the Potato Bowl.
Football coaches always have to show they are just a little bit smarter than other football coaches — this would explain kickoff formations in which five guys bunch up on one side of the field and five guys bunch up on the other side, instead of just having 11 guys line up across the field and chase the kickoff. Which is what happens anyway.
Football egotism is what led to the final sequence in Stillwater.
Mike Gundy actually was being smart by having his quarterback throw the ball downfield with no eligible receivers in sight, resulting in a loss-of-down penalty — which by rule meant the game was over. Only Gundy didn't know he was being smart. Like the officials, he didn't know the rules.
Had he known the rules, he probably would not have been so fast to accept culpability during the postgame briefing.
It appeared then Gundy might have learned a lesson about humility and decorum and how to accept responsibility for a crushing defeat that really wasn't his fault.
He said all the right things until Monday.
On Monday, Mike Gundy compared those MAC officials to a cartoon character who is supposed to be watching a fort but falls asleep. He said only the best officials, not these wannabes from the MAC, should be assigned to Oklahoma State games or the contract shouldn't be signed.
The story didn't mention if he said anything about taking a knee next time.
Las Vegas Review-Journal sports columnist Ron Kantowski can be reached at rkantowski@reviewjournal.com or 702-383-0352. Follow him on Twitter: @ronkantowski
Visit our GameDay page for full coverage of the UNLV-Central Michigan game.