Original Capitals' season-ticket holder backs Golden Knights
Updated May 26, 2018 - 4:38 pm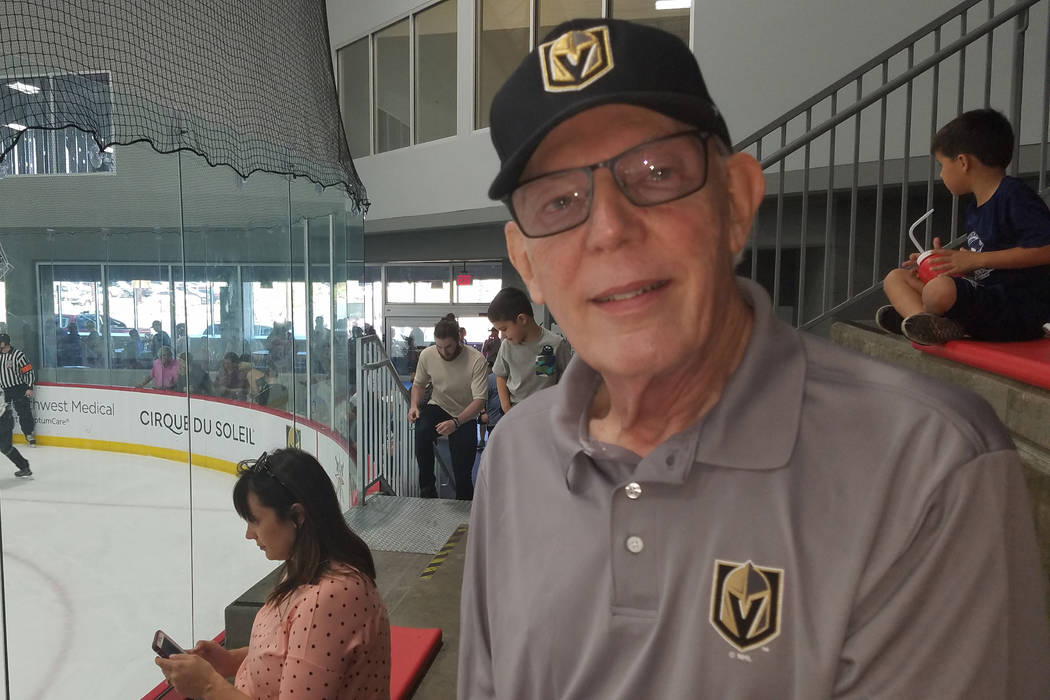 He was a season-ticket holder for the original Washington Capitals, but Las Vegas resident Arnold Schneider was sporting a Golden Knights cap and golf shirt Friday morning at City National Arena.
He swears it had nothing to do with being an original Capitals' season-ticket holder.
With a record of 8-67-5, the original Caps were the worst expansion team in NHL history.
Schneider's seats at old Capital Centre in Landover, Maryland, were in Row B, directly behind Washington goalie Ron Low's net for the first and third periods.
The red light went on so often that by Christmas, Schneider's face was as sunburned as the back of Low's neck.
"The whole year was just so discouraging," recalled the 78-year-old retired civil service criminal investigator who was living in Silver Spring, Maryland, when the Capitals joined the Kansas City Scouts as NHL neophytes for the 1974-75 season. "I wasn't hoping for a lot; I just wanted them to be competitive."
American-born Tommy Williams scored 22 goals for the fledgling Capitals. Sacrificial lamb Low survived 48 games with a goals-against average of 5.45. He quickly became the favorite player of masochists up and down the Beltway.
Schneider said if you broke down a season ticket in those days, it cost $8 per game to sit two rows behind Ron Low's net. That was probably too much to pay for the 1974-75 Caps, and pocket change to what Knights season tickets cost today.
But the cost of Vegas season tickets wasn't why Schneider opted not to purchase them.
"When they announced we would have an NHL club, my wife asked, "Are you going to be a season-ticket holder again?'
Arnold Schneider said he raised a dubious eyebrow.
"No, I am not going through that again," he said, never envisioning the expansion Knights becoming the Bizarro World Washington Capitals of 1974-75, and that his adopted team would be meeting his old one in the Stanley Cup Final.
"As the song says, who's sorry now?"
By winning our ninth game today, we officially passed the 1974-75 Washington Capitals on the all-time wins list.

WE PASSED SOMEONE🙌

— Vegas Golden Knights (@GoldenKnights) November 4, 2017
Sir Jackie deputized
"You can't hold a Grand Prix in a bloody car park."
That's what Jackie Stewart told a reporter about the demise of the Caesars Palace Grand Prix when the three-time Formula One world driving champion was doing business in Las Vegas many years ago.
Sir Jackie shared a number of stories in a suite at The Mirage. Most were about auto racing, some were not. All were told with considerable eloquence, charm and wit.
He never got around to this one, which a friend forwarded after reading Stewart's autobiography. In homage to Sunday's 102nd Indianapolis 500, I share it with you.
Jackie Stewart in his No. 43 John Mecom Bowes Seal-Fast Lola/Ford at the Indianapolis Motor Speedway. He qualified eleventh and finished sixth in the 1966 Indy 500. @IMS pic.twitter.com/9pa596h8RI

— Peter DeLorenzo (@PeterMDeLorenzo) May 26, 2018
Before competing in his debut race at Indy in 1966 (which he almost won), an Indianapolis police officer agreed to provide the wee Scot with a lift to a local Elks lodge where Stewart had a speaking engagement. The lawman noticed a car that looked suspicious.
After a chase ensued, two men bolted from the car and ran in opposite directions.
"Hey, Jackie," shouted the cop. "I'll take this one, you take that one."
Stewart did as he was told. He eventually chased "that one" into an alley. Thinking Stewart was armed, the suspect placed his hands on his head.
"Don't move," Stewart barked like Efrem Zimbalist Jr., making his hand into the shape of a service revolver.
After many anxious moments, the real police officer with the real service revolver arrived on the scene and handcuffed the man.
"A delegation of policemen came to see me in the pit lane a few days later — they wanted to make me an honorary sheriff of Indiana, and they presented me with my own badge and baton," wrote the 1973 Sports Illustrated Sportsman of the Year in "Jackie Stewart: Winning Is Not Enough."
Years later, when he appeared on "This is Your Life," his surprise guest was Sgt. Joe Harris of the Indiana State Police — Jackie Stewart's partner in preventing crime.
"There's always time for a cup of tea." – #GeorgeHarrison to Jackie Stewart, quoted in Jackie's book, "Winning Is Not Enough" ☕️ #NationalTeaDay 😉

📷 Genesis Publications pic.twitter.com/2xcl8yIA0D

— Andrea Robbins (@akrobbins83) April 21, 2018
0:01
NBC executive producer Sam Flood was speaking on a conference call with hockey writers Thursday when he suggested who needs Siegfried and Roy or David Copperfield when one has the Golden Knights' pregame show.
"I think more than technology, hockey is a game that's driven by passion and energy," Flood said, "and what you have in Vegas is one of the coolest, yet quirkiest pregame shows you'll ever see with a Knight skating on the ice, and at one point cutting a (Winnipeg) jet fighter plane in half.
"That doesn't happen anywhere else but Vegas."
it's funny now, you won't be laughing when we have the cup

the first home pregame is gonna be lit, this is the jets one if you haven't seen ithttps://t.co/vZSezjUkvV

— Yuu (@yuurusai) May 24, 2018
More Golden Knights: Follow Golden Knights coverage at reviewjournal.com/GoldenKnights and @HockeyinVegas on Twitter.
Contact Ron Kantowski at rkantowski@reviewjournal.com or 702-383-0352. Follow @ronkantowski on Twitter.
First impressions
NHL expansion teams' records since 1974:
1. Golden Knights 51-24-7, 109 pts. (2017)
2. Florida Panthers 33-34-17, 83 pts. (1993)
3. Columbus Blue Jackets 28-39-9, 71 pts. (2000)
4. Anaheim Mighty Ducks 33-46-5, 71 pts. (1993)
5. Minnesota Wild 25-39-13, 68 pts. (2000)
6. Nashville Predators 28-47-7, 63 pts. (1998)
7. Tampa Bay Lightning 23-54-7, 53 pts. (1992)
8. Atlanta Thrashers 14-61-7, 39 pts. (1999)
9. Kansas City Scouts 15-54-11, 41 pts. (1974)
10. San Jose Sharks 17-58-5, 39 pts. (1991)
11. Ottawa Senators 10-7-4, 24 pts. (1992)
12. Washington Capitals 8-67-5, 21 pts. (1974)