Passing on the inside: Auto racing now 4th most popular
January 30, 2014 - 9:57 am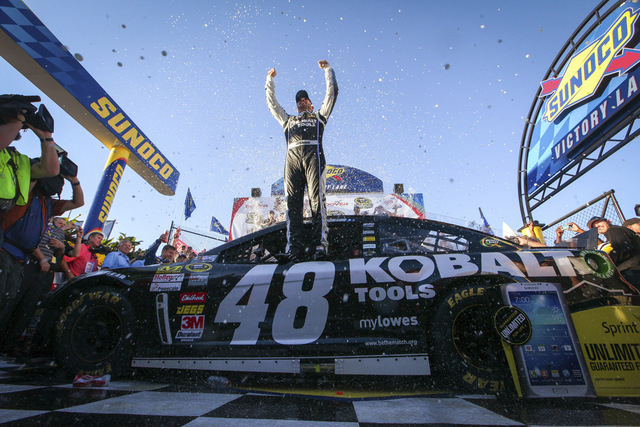 Auto racing has the shortest off-season in sports. After NASCAR Champion's Week here in December, the gentlemen shut down their engines for about six weeks, ostensibly so Las Vegas native Kurt Busch can find a new job, and so NASCAR can fiddle with the rules some more. Then I get a text from my pal Charlie, saying he's on his way to Daytona for the Rolex 24, or that he's already there.
My pal Charlie has been bitten by the auto racing bug harder than most.
There was this big wreck at the Rolex 24, and so auto racing officially is underway.
And usually right before the first big wreck of the season, the Harris people, Franco and Ed, release their annual poll about the most popular sports in the U.S.
Auto racing usually is slotted ahead of one or two sports you wouldn't think it would be ranked above.
This year it's the NBA, the NHL and college basketball.
According to the Harris people, pro football easily is the most popular sport among Americans, with 35 percent calling it their favorite. It should be noted the survey was conducted between Dec. 11 and 17 of 2013, weeks before Richard Sherman started flapping his jaw.
Baseball is a distant second at 14 percent, which surely has to torque Bob Costas. The gap in popularity between tackle football and calling in relief pitchers from the bullpen is the second widest since Franco and Ed began polling sports fans in 1985.
College football is third behind the NFL and baseball, with 11 percent of Americans proclaiming it their favorite sport. Roughly 9.5 percent of those are assumed to reside in or near Baton Rouge, La.
Next was auto racing — NASCAR, IndyCar, Formula One, NHRA, the Rolex 24, two guys racing tractors in Iowa — at 7 percent. Then the NBA at 6, the NHL at 5, and college basketball at 3 percent.
While channel flipping on Grammy night, I flipped onto Dartmouth playing basketball against Harvard. As much as I enjoy watching smart guys make their free throws, it makes you wonder whether these cable networks shouldn't put more tractor racing from Iowa on TV. According to the Harris Poll, there's a bigger market for it.
This actually is the 10th straight year that auto racing has ranked more popular than the NBA, the NHL and college basketball in the Harris Poll. The numbers say auto racing is more popular than LeBron James, or at least the game he plays.
Stunning.
So if I worked for Nike, I might ask Tony Stewart what size shoe he wears, and if I worked for ESPN, I might ask where Kurt Busch is taking his talents next season. Or I'd have that Jim Gray guy ask him on national TV.
Ratings may be down, and there are some empty seats at Daytona on the backstretch, and it's not as difficult to get Indy 500 tickets as before. But 300,000 people, most with farmer's suntans, still go to Indy. That's still a lot of people with farmer's suntans.
This is good news for Las Vegas, because whereas Las Vegas does not have a major league arena for stick-and-ball sports and Rolling Stones and One Direction concerts, we do have a major league arena for auto racing. And whereas our auto racing arena is out north of town past the truck stops and adult book stores, at least it was built with private money.
So, as I say, auto racing has carved a nice little niche for itself, and you could make the argument that is has become the fourth major sport among Americans.
Which is why NASCAR must quit fiddling with the rules.
NASCAR already has changed its qualifying format for 2014, and reportedly it will change the structure of its so-called playoffs, the Chase for the Cup, any day now. NASCAR keeps altering the Chase for the Cup because it insists on trying to manufacture drama instead of letting drama develop on its own.
NASCAR yearns for Game 7 drama, like what is possible in the World Series. It wants Bill Mazeroski running around the bases with his cap in his hand, or Joe Carter jumping up and down after taking Mitch Williams deep.
NASCAR believes manufactured drama at the end of the racing season will make auto racing more relevant when Peyton Manning is shouting "Omaha!" at the line of scrimmage and checking off to his tight end.
The reality is this: Dale Earnhardt Jr. could drive from Talladega to Omaha on two wheels, with Danica Patrick strapped to the front of his car, naked, as a hood ornament. Sports fans still aren't going to turn away from Peyton Manning shouting "Omaha!" once football season starts.
Regardless of how much fiddling is done with the rules, at the end of the day — or at the end of the last caution flag, whichever comes first — auto racing still is going to be about fast cars and the men (and Danica Patrick) who drive them, and that's enough for traditional auto racing fans.
If the Broncos' game is a blowout, and it's the late game, other people might watch because they enjoy the crashes.
It's not Maz running around the bases holding his hat in Game 7. But it's what has made auto racing popular, more popular than the NBA and the NHL, and more popular than Dartmouth and Harvard making their free throws.
Las Vegas Review-Journal sports columnist Ron Kantowski can be reached at rkantowski@reviewjournal.com or 702-383-0352. Follow him on Twitter: @ronkantowski.
AMERICA'S FAVORITE SPORTS
Pro football again was Americans most popular sport, according to a recent survey by the Harris Poll, ahead of baseball, college football and, surprise, auto racing. The Harris Poll has been asking adult fans about their favorite sport since 1985. Here are its most recent results:
Pro football: 35 percent
Baseball: 14 percent
College football: 11 percent
Auto racing: 7 percent
Pro basketball: 6 percent
Pro hockey: 5 percent
College basketball: 3 percent
Men's golf: 2 percent
Men's soccer: 2 percent
Men's tennis 2 percent
Swimming: 2 percent
Boxing: 2 percent