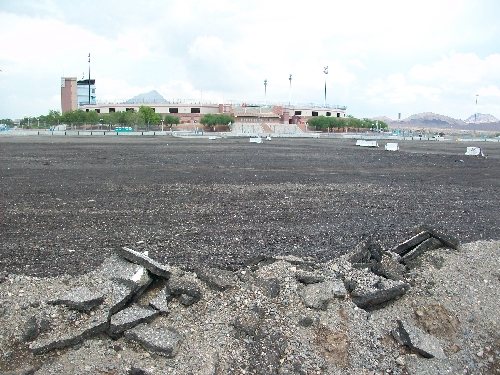 "We're going to fix this."
That's what Bobby Hauck said at his Monday news conference. UNLV's football coach was mostly talking about allowing 51 points to Wisconsin on Sept. 1 (when it could have been 100) and 59 to Washington State on Saturday (when it should have been 28).
He was not referring to paving the parking lots at Sam Boyd Stadium, dashing the hopes of many Rebels fans.
"Because UNLV got $500,000 for the Wisconsin game, does that mean they now will pave the parking lot at Sam Boyd Stadium?" one emailer wanted to know.
"Hauck should take the contract extension we just gave him and pave the parking lot with it," wrote another.
Paved parking lots are a big deal around here, at least until basketball season starts.
It's one thing to support a moribund football program that has posted just three winning seasons in the past 25. It is another to have one's devotion rewarded with a ding in the Ford Country Squire's faux wood paneling.
I have been receiving angry missives about the dusty, boulder-strewn parking lots surrounding the House that Robinson (Sort of) Built for years. I probably will receive a few more after Saturday's home opener against Hawaii, especially if Hauck's defense diligently yields another eight touchdowns, thereby mathematically eliminating the Rebels from Argyle Sock Bowl contention in September.
How difficult can it be to pave those parking lots? How much can it cost?
It is difficult, and it costs a lot when you do the arithmetic.
Asphalt, I'm told, goes for about $2.50 per square foot. There is a lot of square footage in those parking lots — about 64 acres, says Daren Libonati, who used to run Sam Boyd Stadium for UNLV. At 43,560 square feet per acre, that's 2,787,840 square feet of dusty (or muddy, when it rains) parking lot.
I was never good at figuring how many pecks are in a bushel and whatnot, but Libonati already has done the math: In 1998, when UNLV gave serious thought to paving over the Sam Boyd lots, it was going to cost about $3 million. It was decided instead to spend money on a press box tower and widening the concourse and planting grass on the field and making the stadium look like a stadium, before John Robinson and his golf cart arrived.
Eventually, old asphalt was ground up and added to the dirt, making the parking lots fairly level. Boulders were removed and struts on Country Squires didn't break as much, though cars still got dirty and people still complained. And Mike Sanford, who followed Robinson as coach, still went for it on fourth-and-long and fussed about the locker rooms.
Today, Libonati said it would cost $7.5 million to $9 million to pave those parking lots.
Better to punt. Just ask Sanford.
If UNLV dropped every sport except football and men's basketball, it could save about $8 million in operating expenses — and would have enough to pave the Sam Boyd parking lots, using the conservative $2.50 per-square-foot formula, multiplied by 2,787,840 square feet, which comes to $6.9 million American dollars. Or about $1.98 Canadian.
Perhaps we could learn to live without the college tennis season. But paving those parking lots just isn't realistic in today's economy.
Neither is waiting for a bazillion dollars to fall from the sky for a domed stadium on campus.
I'm afraid the only recourse for the exasperated who drive Country Squires to Rebels football games is to pardon Hauck's dust as he tries to build a program (cough) where so many have failed.
Should he succeed (cough, cough), hosannas will be sung and pigskins will fly and Boise State may be forced to play its starters until halftime. Then Hauck will bolt for the Pac-22. But the football program then might make money instead of lose a ton, which is why you have one. Then it can pay to pave its own parking lots.
Presto! No more tailgate dust in the potato salad.
Until then, the Exterior Express, featuring foam bath, spot-free rinse and air dry, is available for $5 at Terrible Herbst.
Las Vegas Review-Journal columnist Ron Kantowski can be reached at rkantowski@reviewjournal.com or 702-383-0352. Follow him on Twitter: @ronkantowski.