"Pawn Stars:" 500 episodes and a Super Bowl ring to boot
January 27, 2018 - 3:57 pm
Updated January 27, 2018 - 4:59 pm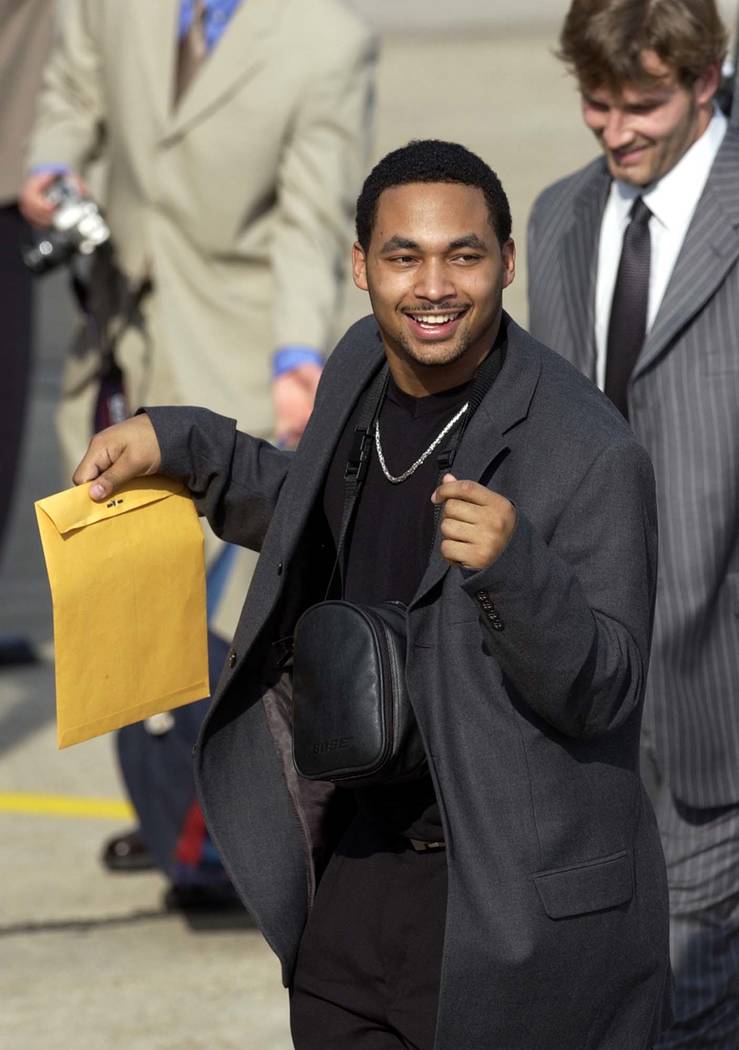 This week "Pawn Stars" marked its 500th TV episode, and so a lot of people told "Pawn Stars" stories, and one or two told Chumlee stories.
I have only one "Pawn Stars" story. Before it was "Pawn Stars."
Somebody called the newspaper and said they had a Super Bowl ring at the Gold & Silver Pawn Shop on Las Vegas Boulevard and thought there might be a story.
When I arrived, there wasn't a long line of people waiting to get inside to catch a glimpse of Chumlee or "Big Hoss," as this was 2006. It was only me and proprietor Rick Harrison and a couple from Iowa, I think, who were perusing an antique sword.
Harrison showed me the Super Bowl ring. It had been pawned by No. 28 on the Patriots.
Williams. Brock Williams.
Brock Williams was a defensive back from Notre Dame who spent the 2001 and 2002 seasons with New England but never got into a game. The ring was from Super Bowl XXXVI, Pats over the Rams. Williams would later play for the Bears and Raiders. He would get into 12 games and make nine tackles.
"He came in and needed money," said Harrison, adding that the only reason he was breaking the sacred trust between pawnshop lender and pawnshop customer was that Williams never reclaimed the ring.
An older man dressed in all black, a la Johnny Cash, was eavesdropping and introduced himself. Richard Harrison Sr. smiled and said I should come back when I could buy something.
As I was leaving, his son tried to bend my ear about a project he was working on, a TV reality show based on the pawn shop business. I remember feigning interest and thinking: "Yeah, good luck with that."
A few years after the Super Bowl ring story, I turned on TV to see Rick Harrison sitting alongside David Letterman for not one but two segments. Like he was Tom Hanks or somebody.
This is why people should refrain from asking a sports writer whom he thinks is going to win the Super Bowl.
"I walked out of the first episode that we filmed and said, 'Oh, my God, what a waste of (expletive) time,'" @pawnstars Corey Harrison said. "'No one's ever going to watch this'"https://t.co/hxhftsAFLH

— Las Vegas RJ (@reviewjournal) January 21, 2018
0:03
— Tasha Schwikert apparently was one of the fortunate ones. The decorated Team USA gymnast from Las Vegas has had little to say about disgraced team doctor Larry Nassar, who last week was sentenced to 40 to 175 years in prison after more than 150 women and girls said in court he sexually abused them over the past two decades.
She gave a statement to FloGymnastics after a "60 Minutes" story last February:
"My experiences are my own and not intended to negate the experiences of the victims. Some of these women are my close teammates and friends. I was completely and utterly shocked when I first learned about the allegations only months ago. My heart goes out to the gymnasts who were impacted by Dr. Nassar's actions."
Schwikert, 33, was a member of the American bronze medal-winning team at the 2000 Sydney Games and was an alternate in 2004 in Athens. She is married to former UNLV and Oregon basketball player Mike Moser, who plays professionally in Qatar.
Pac 12 championship game with my family. #GoDucks pic.twitter.com/VfUgTQIgAT

— Tasha Schwikert (@TashaSchwikert) March 13, 2016
— Former UNLV basketball player Kendall Smith hit an off-balance 3-pointer to force overtime, helping his Oklahoma State team knock off then No. 4 Oklahoma, coached by former UNLV head man Lon Kruger, on Jan. 20.
Smith played one season and two games of a second one at UNLV before transferring to Cal State Northridge, where he starred for Rebels legend Reggie Theus. Smith is averaging 25.7 minutes and 10.8 points at Oklahoma State.
— Tim Grgurich was dismissed as a Milwaukee assistant after Bucks coach Jason Kidd was fired Monday. Grgurich, 75, was a head coach at Pittsburgh before becoming Jerry Tarkanian's right-hand man during the Rebels' glory days and is considered a basketball guru, despite keeping a low profile.
Wrote Matt Velazquez of the Milwaukee Journal Sentinel: "Grgurich does not appear in the team's media guide and is known for operating quietly behind the scenes, but his love of and knowledge about the game have endeared him to many players throughout the years."
Rick Carlisle on Cavs consultant Tim Grgurich: 'He's the godfather of modern player development' http://t.co/EYbPBzH6QN

— NAU Coaches Clinic (@NAUCoachClinic) May 8, 2014
Contact Ron Kantowski at rkantowski@reviewjournal.com or 702-383-0352. Follow @ronkantowski on Twitter.
Addicted to Pawn
"Pawn Stars" marked its 500th episode as a TV series last week. Here are a few of the iconic TV shows it has surpassed for longevity:
"Alfred Hitchcock Presents," 456 episodes
"The Adventures of Ozzie and Harriett," 435
"Bonanza," 430
"Dancing with the Stars," 422
"The Joy of Painting," 403