Puck finally drops on Oscar Goodman's Las Vegas dream
October 9, 2017 - 1:31 pm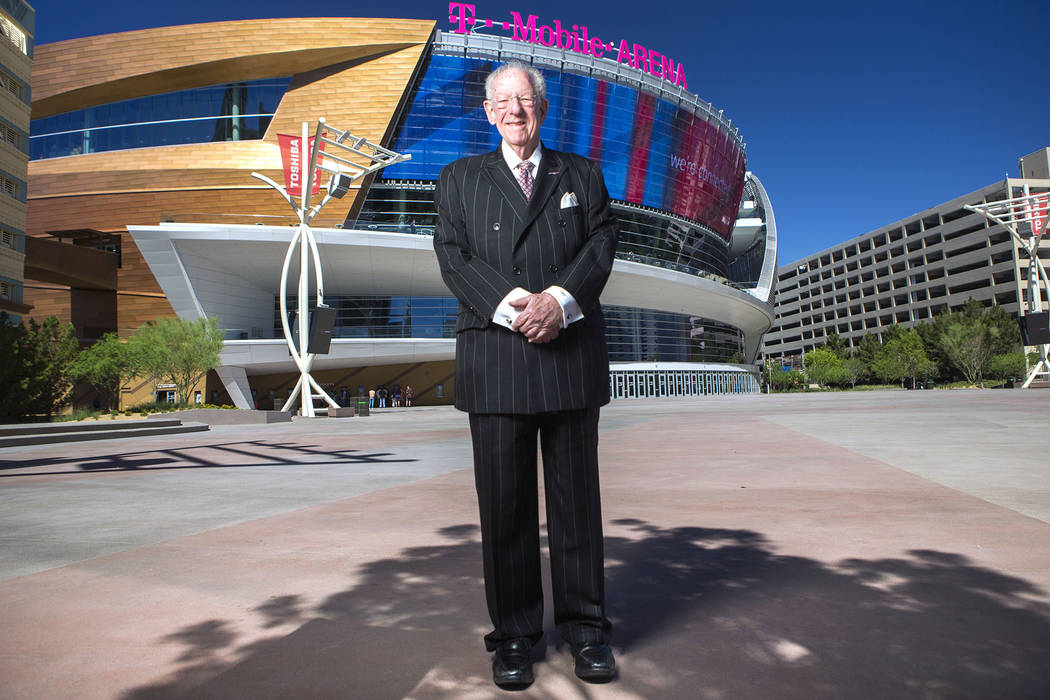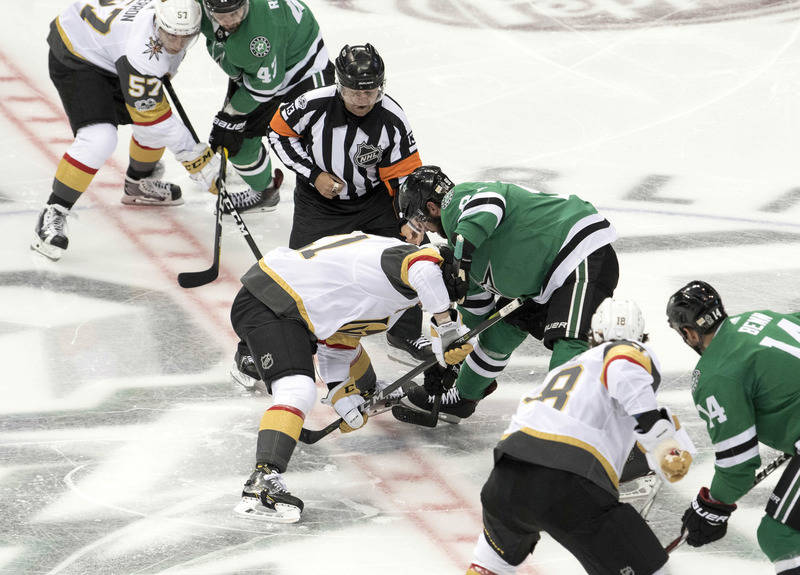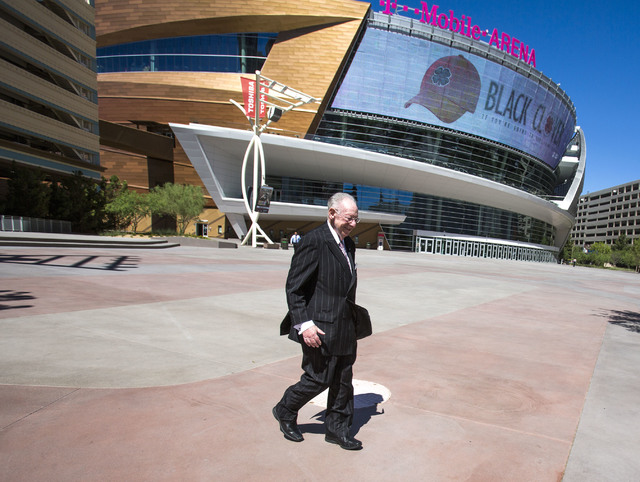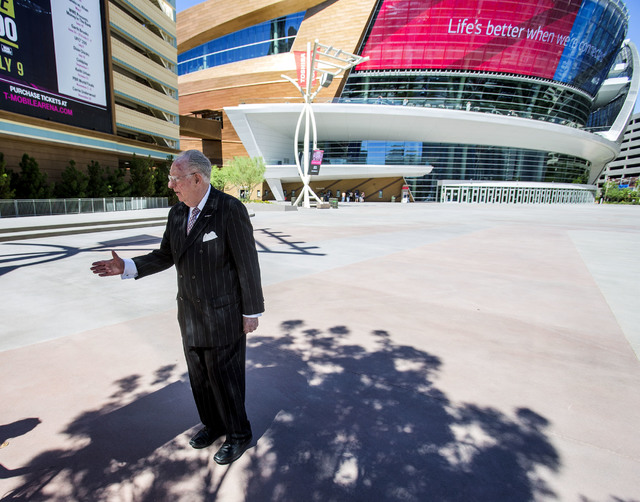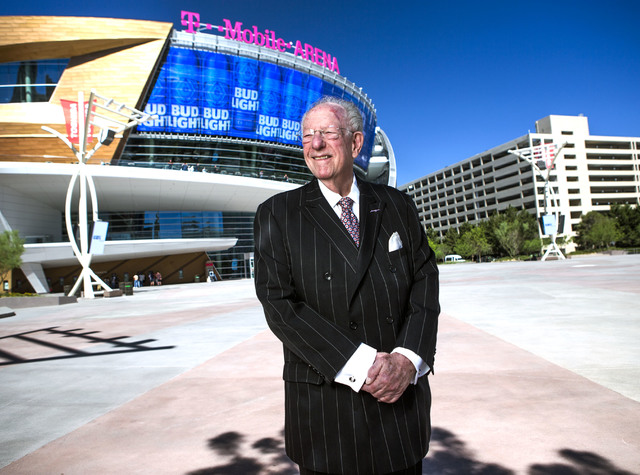 All bets on the Golden Knights aren't off, but one is.
That is my message to former Las Vegas Mayor Oscar Goodman as the puck stops here for the first time in a regular-season NHL game. It happens Tuesday night at magnificent T-Mobile Arena, when the expansion — and first place — Knights skate against the Arizona Coyotes.
It always was going to be an exciting evening. In the aftermath of the Route 91 Harvest festival mass shooting, now it's going to be an emotional one, too. Poignant tributes are expected to pour in from both ends of the ice, honoring the 58 who lost their lives and the nearly 500 who were injured.
Heavy checks and heavy hearts.
It's enough to even make a man once known as the "World's Happiest Mayor" set his martini glass on the blue line and bow his head in silent reflection. "We can't bring those poor souls back and we'll always remember them. But we'll overcome this," the original Mayor Goodman said on pro hockey eve in Las Vegas.
Oscar Goodman admittedly isn't much of a hockey fan, but he was the one who first envisioned major league hockey happening here. His wife, Carolyn — Mayor Goodman II — helped see it through. Think of them as an entry like at Churchill Downs, the first Mayor Goodman said, 1 and 1A on your racing form.
Mayor Goodman I had been talking about bringing major league sports to town since 1999.
He went to New York City during his first week on the job to discuss with NHL commissioner Gary Bettman the possibility of Las Vegas hosting an NHL team one day. Some day. When hell, or Henderson, froze over. But some day. It was only a meet and greet to chat about what seemed like a far-fetched possibility at the time.
The mayor may or may not have been accompanied by showgirls.
My money was on 'may.'
A few years later it was on 'may not.'
Betting on the pros
By then, rumors of the NHL coming to Las Vegas were building a little steam, but not in the manner of Bobby Orr gathering steam behind the net before rushing up ice on the Bruins' power play of yesteryear. This was more like Dennis "Pee Wee" Maruk of the defunct Cleveland Barons gathering steam behind his net.
It was only wisps of steam.
Commissioner Bettman wasn't as uptight as some of the other pro sports prexies on legal sports betting. But without a first-class arena, what chance was there of the puck stopping here?
I wrote something to that effect.
The next day Mayor Oscar Goodman called the office to ask if I were a betting man. Not really, I said. I usually played the change machines, and mostly broke even. He gave odds that Las Vegas would have a first-class arena within four years — and major league sports right after that. To which I said: 'You're on.'
I agreed to put up the usual fifth of Bombay Sapphire. The mayor put up a case of Yuengling, brewed near his hometown of Philadelphia.
"How many beers in a case?" Hizzoner asked.
This was in 2007.
In 2011, we still didn't have a first-class arena. Not even close.
Oscar's worthy performance
This was something of which I reminded Mayor Goodman when he threw out the first pitch on Big League Weekend that season. He said I should come down to city hall to collect. He was starting to clean out his office but there were three bottles of Yuengling Traditional Lager in his refrigerator.
Let the record show that in 2011, the first Mayor Goodman still didn't know how many beers are in a case.
But now one bet is off.
We finally have a first-class arena — better late than never — and it didn't cost taxpayers a dime (except to park). In honor of the Knights dropping the puck on Tuesday, I hereby rescind our wager and collecting on that case of Yuengling, or at least the 21 bottles that still are owed by the original Mayor Goodman.
He was the one who had the vision of major league sports coming to Las Vegas.
He was the one who planted the seed, and beat the drum.
He was the one behind the net, gathering steam like Bobby Orr on the power play.
Contact Ron Kantowski at rkantowski@reviewjournal.com or 702-383-0352. Follow @ronkantowski on Twitter.
Oscar Goodman to miss home opener
When asked about seeing his vision of pro sports in Las Vegas being realized, Oscar Goodman still sounded like the "World's Happiest Mayor."
"I'm delighted, of course, to see this dream of mine come true," he said Monday. "When I was elected mayor, I said to be a world-class city we needed culture, and we wind up with the Smith Center; we needed medicine, and now we have the Ruvo brain institute from Cleveland; and we needed pro sports, and now we have the Golden Knights."
The former mayor said he will not be attending Tuesday's game. He said he has friends in town and needed extra tickets, and he didn't want to sit in the nosebleed section.
"You know me," he said. "I only sit at the 50-yard line."
— Ron Kantowski/Las Vegas Review-Journal