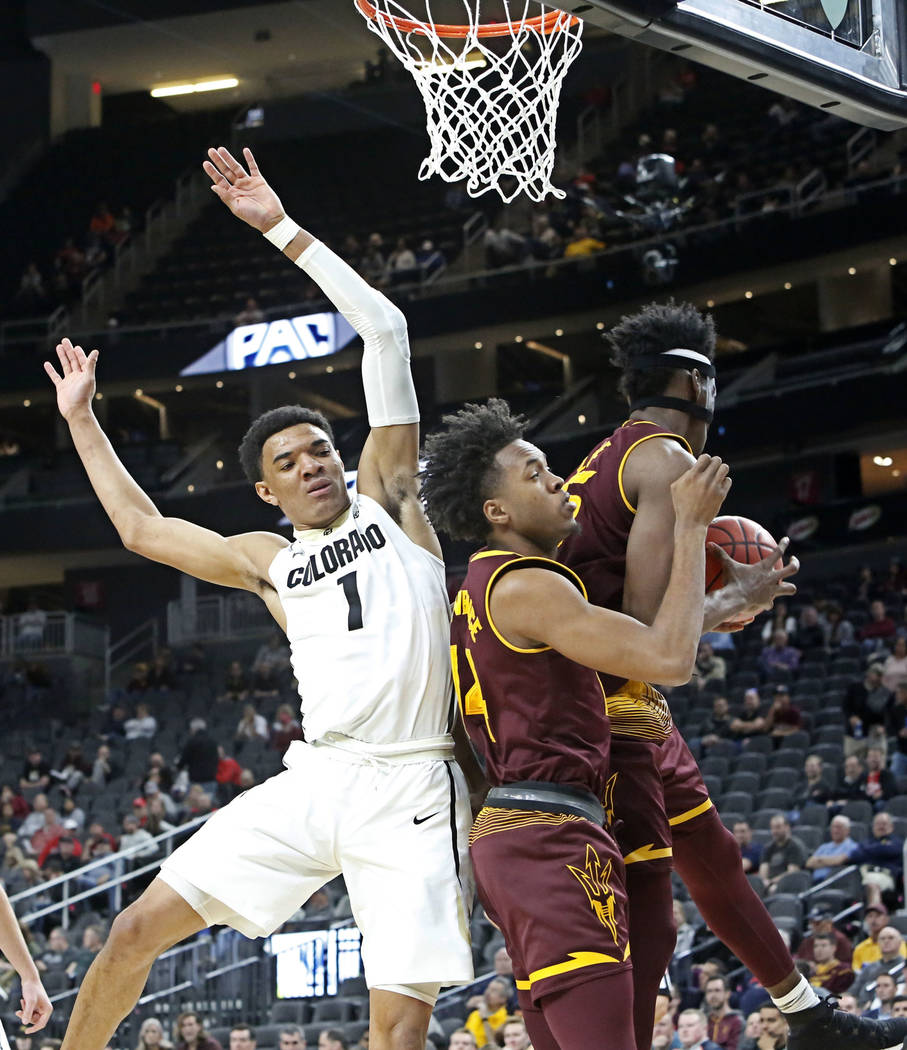 Vegas Madness was just getting started on the men's side when a hometown kid was introduced to a hometown crowd at T-Mobile Arena at high noon Wednesday.
Former Las Vegas High standout Tyler Bey was the first Colorado player introduced at the Pac-12 tournament. After shaking hands with Arizona State's Mickey Mitchell, he trotted to the Buffaloes' bench. One of the assistants steered him back onto the court to stand with teammates after their names were called.
The freshman with springs on the bottom of his soles insisted afterward he wasn't nervous.
Best take him at his word based on these homecoming statistics: 14 points, 10 rebounds, one assist, one blocked shot, zero turnovers. Two pushes to the chest in the waning seconds of a 97-85 Buffaloes' victory, one of which put him on his keister.
Those 14 points equaled the former Wildcat's career high.
The 10 rebounds topped his previous best (but also were sort of typical).
The pushing and shoving at the end was sort of uncalled for.
Push comes to shove
With Colorado milking the clock as time was running out and assorted Sun Devils standing idly by, Bey applied the exclamation point to the Buffs' victory by throwing down another of the alley-oop dunks that are his specialty. ASU's Tra Holder took exception, got in Bey's grill and shoved him to the floor. Sun Devil De' Quon Lake also got in a parting shot.
Tad Boyle, the Colorado coach, was injured running onto the court to break up the skirmish. Boyle returned to the Buffs' bench in the manner of Willis Reed limping onto the court for Game 7 against the Lakers many moons ago, or of Walter Brennan in "The Real McCoys," also many moons ago.
"I was surprised," Bey said of the shenanigans that led to a long video replay delay, three technical fouls, one ejection, six free throws and one apparent calf injury to a well-meaning coach.
Arizona State coach Bobby Hurley said he would have to look at the replay. Perhaps Bey said something.
"Oh no, no, no," the Las Vegan said after setting aside a sub sandwich in the winner's dressing room to chat about a homecoming that otherwise was spectacular.
"I wanted to play for the seniors, it's their last go-round. We all just wanted to play for each other. But it felt good out there today, being in my city."
The 6-foot-7-inch small forward had been speaking in a barely audible monotone until he mentioned this being his hometown.
Then he broke into a big grin and spoke a little louder.
Rocky Mountain High
Two years ago, Bey was hooping it up against the likes of Eldorado and Rancho and Desert Pines in high school gymnasiums that seated a few hundred spectators. He put off college a year to attend Middlebrooks Academy in downtown Los Angeles, where he worked on his game and studies. Then he signed with Colorado, which mostly is known as a football school and the home of TV's "Mork &Mindy."
If the city of Boulder and the University of Colorado were responsible for launching Robin Williams' career in some small way, the two are playing a much more significant role in the basketball development of Tyler Bey.
That he started all 18 of the Buffaloes' Pac-12 games as a freshman speaks volumes of his future at a Power Five school, albeit one that hasn't been to the Sweet 16 since 1969. It probably won't happen this year, either, as Colorado, which plays top-seeded Arizona on Thursday in the quarterfinals, has struggled to a 17-14 record.
But perhaps it could happen soon.
Bey was one of four freshman starters for the Buffs on Wednesday, playing second fiddle to McKinley Wright's first violin. The Colorado point guard flirted with a triple-double, finishing with 20 points, 11 assists and eight rebounds. The former Mr. Minnesota Basketball was spectacular.
Mork from Ork is no longer with us. But if he still were climbing the goalposts at Folsom Field during the opening credits, this is what he might have said about Tyler Bey and McKinley Wright and the other young Buffs who put Bobby Hurley and Arizona State onto a precarious NCAA Tournament bubble Wednesday:
Nanu Nanu. See ya' in the quarterfinals.
Contact Ron Kantowski at rkantowski@reviewjournal.com or 702-383-0352. Follow @ronkantowski on Twitter.