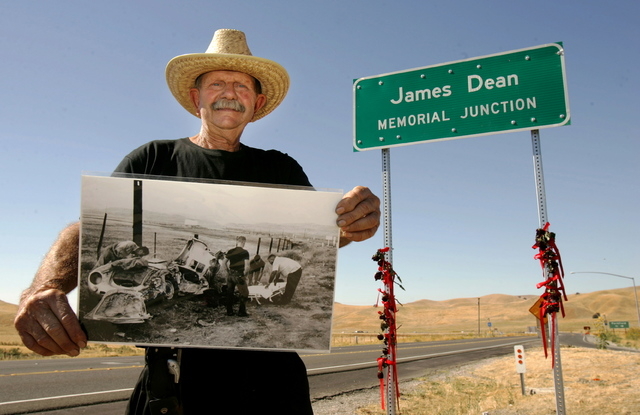 "Along came a Spyder and picked up a rider
"And took him down the road to eternity …"
— The Eagles, from "James Dean"
On Wednesday, it will have been 59 years since they buried James Dean in his boyhood home of Fairmount, Ind.
On Sept. 30, 1955, the Hollywood legend was killed when his tiny sports car — a silver Porsche 550 Spyder that would become as iconic as its driver — rammed into a 1950 Ford Tudor driven by a 23-year-old California college student named Donald Turnupseed in a Y-shaped intersection on Route 466 (now State Route 46) in central California.
James Dean was 24 when the Highway Patrolmen loaded him into the ambulance.
Many people do not recall that Dean was driving to an automobile race in Salinas, Calif., when fate intervened on a late Friday afternoon.
The man riding with him, Rolf Wutheric, was Dean's racing crew chief. Wutheric survived the wreck. But he, too, would die behind the wheel when his car crashed into a residence in Germany in 1981. Wutheric had been drinking. They said he had never gotten over the death of his friend James Dean.
After coming across a notice that said it had been almost 60 years since Dean had died, I came across a cool photo of the Spyder 550 — not the original one, because the original one was smashed like a beer can in the accident. The photo was taken in the Spaghetti Bowl amid ominous gray clouds that were digitally enhanced.
"I knew he had died in (a similar) car; I did not know he was on his way to an auto race," said John Afravi, who owns a local studio called Digital Macdaddy Photographers and shot those images of the Spyder.
Afravi said the replica of Dean's racer is owned, or least was owned, by Celebrity Cars Las Vegas, which has a showroom in the Palazzo Hotel. It looks identical to Dean's car, save for the big black No. 130 — Dean's racing number — on the hoods and doors, and another smaller decal on back that said "Little Bastard." That was the nickname movie stuntman and Dean's pal Bill Hickman had bestowed upon the actor.
James Dean may not have been the greatest actor-turned-racecar driver; if he was, maybe he could have avoided that crash. He still was learning his way around the track but he was pretty quick, having won his class in regional races at Palm Springs and Bakersfield in 1954.
The automotive website Jalopnik in 2012 named Dean the fourth-greatest celebrity racer of all time, with only Paul Newman, Steve McQueen and James Garner slotted ahead of him.
Warner Brothers would not allow Dean to race during the filming of "Giant," the 1956 movie that was released after his death.
He had traded in his Porsche Speedster for the Spyder as soon as "Giant" was in the can. Dean had planned to tow the racecar on a trailer behind his station wagon before it was suggested that driving the nimble little 550 up to Salinas would give him more "seat time" behind the wheel.
James Dean might have been a badass. But he drove a Ford Country Squire, like your old man.
At 3:30 p.m. on Sept. 30, 1955, Dean was stopped by California Highway Patrolman O.V. Hunter for driving 65 mph in a 55-mph zone just south of Bakersfield. Dean decided to bypass Bakersfield — always a prudent choice — before meeting up with other racers who were headed to the races in Salinas.
They agreed to have dinner in Paso Robles.
It was about 5:45 p.m. that Donald Turnupseed's black-and-white Ford crossed the center line, headed for Fresno, at a high rate of speed.
They said James Dean's car was traveling at a high rate of speed, too, about 85 mph, though I have seen re-creations that estimate he might have been traveling only a few mph above the speed limit, based on the distance his car traveled after impact and other factors.
But if James Dean had to die, people almost wanted him to be speeding, or doing something else rebellious.
As the Eagles sang, he was a "low-down bad refrigerator who was just too cool for school." Guys like him are not supposed to go out while driving the speed limit, looking both ways and making hand signals.
There's this YouTube video showing actor Gig Young, dressed like your high school guidance counselor, interviewing Dean about his auto racing career, and about driving responsibility. During most of their two-minute conversation, Dean sits slumped in a chair smoking a cigarette, fiddling with a lariat and smirking.
He looks like a total badass even while filming a public service announcement.
He says he "showed well" at Palm Springs and Bakersfield but now he "drives on the highway extra cautious, because no one knows what they're doing half the time."
"I find myself being very, very cautious on the highway. I don't have the urge to speed on the highway," says the low-down bad refrigerator.
Gig Young calls him "Jimmy" as if they are pals, and then James Dean says he's gotta go back to the set. His last bit of advice to youngsters: "Take it easy driving; the life you save might be mine."
Las Vegas Review-Journal sports columnist Ron Kantowski can be reached at rkantowski@reviewjournal.com or 702-383-0352. Follow him on Twitter: @ronkantowski.