Remembering when Muhammad Ali fought Superman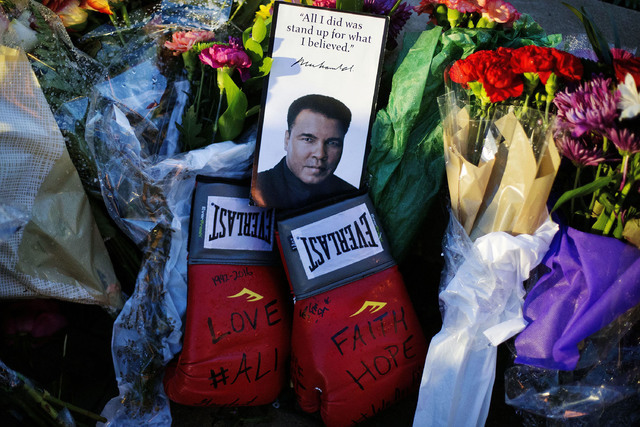 "Lawdy, Lawdy He's Great."
That was the title of Mark Kram's fantastic and absorbing story about the "Thrilla in Manila." When I heard Muhammad Ali had died Friday night, I reread the electronic version on my Kindle before going to sleep. It seemed like the thing to do.
"Lawdy, Lawdy He's Great" is what Joe Frazier said about Ali after their epic third fight, in the Philippines. The lights were dark in the villa, to hide the pulpy mess, when Smokin' Joe said that. Wrote Mark Kram: "Then he put his head back on the pillow, and soon there was only the heavy breathing of a deep sleep slapping like big waves against the silence."
I remember reading that story in Sports Illustrated. I was a big Ali fan, and I sort of admired Smokin' Joe, too.
But I was a bigger Ali fan.
I was such a big fan that I was purchased a Super 8 film via mail order of his fight against Jimmy Ellis — despite not having access to a Super 8 projector, or knowing anybody who did. As I recall, this match with Ellis was not among Ali's more memorable fights. Ellis was his former sparring partner, and he had this big Afro and longish sideburns that made him appear to be a coalescence of Sly Stone and the lead singer for the pop band Mungo Jerry.
I would take the reel out of the box, unravel it a bit and hold it up to the light to see if I could make out the minuscule images of Ali and Jimmy Ellis.
I remembered that the night Ali died.
I remembered this record called "Black Superman (Muhammad Ali)" that came out in 1975, after Ali had beaten Big George Foreman in Zaire with the rope-a-dope. I was a freshman in college. I would play it on the turntable in my dorm room.
"Sing, Muhammad, Muhammad Ali
He floats like a butterfly and stings like a bee
Muhammad, the Black Superman
Who calls to the other guy I'm A-A-Li, catch me if you can."
The song had an infectious reggae beat. Sometimes when I would play it and leave my door open, the black football players who lived on my floor would come in. We'd talk about Ali and boxing and other things, and we found we had things in common, and we became friends.
I remembered that the night Ali died.
I remembered when the Black Superman fought the original Superman.
It happened in 1978, in the DC comic books. By the time it came out, Ali no longer was champion. He had lost to Leon Spinks, of all people. So unless you were into the comics, or Jerry Seinfeld, who was a fervent admirer of Superman on TV — or possibly Bill Walton — you may not recall Ali's fight against Superman, the way you recall him fighting Joe Frazier or George Foreman or Sonny Liston.
Before the Best of Nevada Preps banquet Saturday at Red Rock Resort, Bill Walton spoke to the R-J's Ed Graney about Ali's influence on him. Walton said Ali "stood up for truth and justice and the American way."
That's exactly what they said about the black-and-white Superman on TV.
So I'm thinking the big redhead might have collected comic books, too.
The premise of "Superman vs. Muhammad Ali" is that Earth is being invaded by aliens, and the alien Don King demands the best fighter on Earth be matched against the best fighter on the alien world, a literal monstrosity called Hun'Ya. Or the alien Don King will destroy the planet. Superman and Ali argue about who should fight the giant alien, so they wage an elimination bout under a red sun (to nullify Superman's super powers and to make it a fair fight).
The bout is broadcast on intergalactic TV (at the time, bigger than pay per view). A mechanical red-eyed pod on wheels serves as referee. Jimmy Olsen calls it from ringside.
Superman takes a brutal beating but refuses to go down. He is carried from the ring looking like Jerry Quarry.
Ali wins by TKO.
So it's on to the big fight against the giant alien to save the planet.
Pallas Athene, the Greek Goddess of Wisdom, is the referee. Dozens of celebrities are seated at ringside: The Jackson 5, Ron Howard, Plastic Man, Andy Warhol, President Jimmy Carter, Alfred E. Neuman, Joe Namath, Frank Sinatra, Batman, Raquel Welch, Lex Luthor, Jim Bouton (!?), Sonny Bono, Cher, Liberace, Wolfman Jack, Donny and Marie Osmond (and how about the longevity of those two).
Ali predicts a fourth-round knockout. He gets it, thanks in large part to the Man of Steel imitating Ali's cornerman, Bundini Brown, and sneaking into the alien command ship to scuttle the takeover of Earth while Ali is getting his second wind against the monster.
Earth is saved. There will be no rematch.
I remembered that comic book the night Ali died.
As the tributes and remembrances of Muhammad Ali began to pour in, I recalled the time he fought Superman — and won. It happened in the comics, in 1978, and it was only make-believe, having been brought to life with great joy and exhilaration by the imagination of the writer (Denny O'Neil) and the skilled pencil of the illustrator (Neal Adams).
It also might be the perfect metaphor for the legend that was Ali.
Las Vegas Review-Journal sports columnist Ron Kantowski can be reached at rkantowski@reviewjournal.com or 702-383-0352. Follow him on Twitter: @ronkantowski