Reno is tired of playing second fiddle to Las Vegas
September 30, 2010 - 11:00 pm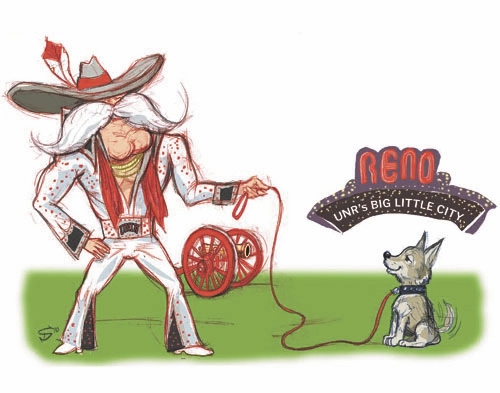 Editor's note: Las Vegas Review-Journal columnist Ron Kantowski and Reno Gazette-Journal columnist Dan Hinxman examine the UNLV-UNR rivalry by making the argument that the city and team each one covers is superior to its counterpart.
OK, Reno, I've gotta admit I dig the cool zephyrs during summertime, falling asleep to the mournful whistles and clickety-clack, clickety-clack of the Union Pacific and the fact I can break out a bowling shirt and an old pair of Wranglers with holes in the knees and back pockets and blend right in on Virginia Street.
But let's be honest: The real reason you've been kicking our butts on the football field, the real reason you put 63 points on Mike Sanford last year after having just 35 after the first three quarters, is that you are tired of playing second fiddle to our first violin. We're Hertz and you're Avis, and you find that annoying.
You had the Comstock Lode in the 1860s, Ben and Hoss and Little Joe (and whatever Cartwright brother Pernell Roberts portrayed) in the 1960s, and in the 100 intervening years you managed to become "The Biggest Little City in the World." Which is nice and all, but sort of proves my point that Bakersfield, Calif., has been mired in a nasty slump from which there might be no getting out of.
Yes, I am aware the very first place Johnny Cash mentioned in "I've Been Everywhere" was Reno. But before that, in "Folsom Prison Blues," he said he shot a man in Reno, just to watch him die. Let's see the chamber of commerce put that on a brochure.
Here in Las Vegas, we've got a bright-light city that's gonna set your soul on fire (provided the economy ever comes back around). Like Elvis said, there's a thousand pretty women waitin' out here, and that was before the plastic surgery boon of the late 1990s.
No slight on Dawn Wells, who grew up in Reno and went on to become Miss Nevada 1959 and Mary Ann on TV's "Gilligan's Island." But had Jenna Jameson been swabbing the deck on the S.S. Minnow, she would have made the heads of the Skipper and his Little Buddy spin for the entire three-hour tour. (The Professor, it goes without saying, would have been defenseless against Ms. Jameson's most abundant female charms.)
That's what this is really all about, isn't it? We've still got an hourglass figure, and you're still on a Slim Fast diet. We'll always be the Joneses, and you'll always be trying to keep up with us.
We've got "CSI," the original Crime Scene Investigation, the hippest show on TV, with Marg Helgenberger as Catherine Willows. You've got the cop in the short-shorts from "Reno 911!".
You've got air races. We've got Flying Elvi.
We've got five-star hotels and resorts. You've got one-star warehouses.
You've got Doug Clifford, the drummer for Credence Clearwater Revival. We've got Wayne Newton, but we're willing to talk trade.
We're the Fight Capital of the World. You had former heavyweight contender Oscar Bonavena. Until somebody shot him dead.
People used to go to Reno to get a divorce. People still come to Las Vegas to have an affair.
What happens in Las Vegas, stays in Las Vegas. You've got bingo at the Peppermill.
We've got Hoover Dam. You've got the National Bowling Stadium.
You've got a Triple-A ballpark with all the amenities. We're sorta thinking about building one.
You've got the Truckee River. We've got Lake Mead.
We've got Mayor Oscar Goodman. You've got Mayor Janet Reno.
You edged out Bakersfield, Calif., to become "The Biggest Little City in the World." We're the undisputed, pound-for-pound "Entertainment Capital of the World."
You've got a Hall of Fame coach, a quarterback who can run and pass and the No. 25 ranking in this week's Associated Press poll. We've got basketball season.
You've got the Fremont Cannon. Our day will come.
And when it does, you'll still have the cop in the short-shorts from "Reno 911!".
Las Vegas Review-Journal columnist Ron Kantowski can be reached at rkantowski@reviewjournal.com or 702-383-0352.
DAN HINXMAN: Las Vegas a nice place to visit, but …