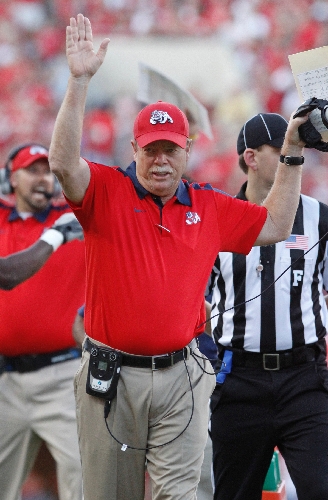 If the Mountain West is serious about adding Utah State and San Jose State to stay in business, then somebody needs to call Jake and Elwood and Matt "Guitar" Murphy and Donald "Duck" Dunn and "Blue" Lou Marini and the rest of the Blues Brothers.
It would appear the Big West is putting the band back together, only under an assumed name. Sort of like when Jefferson Airplane became Jefferson Starship.
Utah State, San Jose State, Fresno State, UNR, UNLV … perhaps Pacific and Cal State Fullerton should take their helmets and shoulder pads out of the storage shed, too.
UNLV left the Big West in 1996, but I remember clearly those unseasonably warm Saturday afternoons in November, when New Mexico State came to town and you could soak up the sun and take a nap on the aluminum bleachers at Sam Boyd Stadium, because you'd have an entire section to yourself.
Yes, there was a certain charm to Big West football.
And starting in 2013, it would appear we are going to start experiencing it all over again. Pass the Coppertone.
It was just the summer before last that the Big 12 was falling apart and the Mountain West was talking about adding Kansas and Kansas State and Missouri. This would have been turning the lemon of Utah's departure to the Pac-12 into some serious lemonade.
But in keeping with the Blues Brothers analogy, the Mountain West is no longer on a mission from God to become a major football player.
Remember when Elwood told Jake it was 106 miles to Chicago, they had a full tank of gas, a half pack of cigarettes, it was dark and they were wearing sunglasses?
Well, it's 1,370 miles from MWC headquarters in Colorado Springs, Colo., to San Jose, Calif., and 597 miles to Logan, Utah, and the Mountain West is running on fumes and picking around the ashtray for half-smoked butts. It has been forced to remove its sunglasses to – get this – find new members that offer baseball and cross country teams.
But it's still dark.
It is supposed to be all about football in college sports, but the Mountain West is in the predicament of having to add schools that play baseball and offer men's cross country to meet the NCAA requirement of maintaining eight women's sports and six men's sports with at least six members competing in each.
So, in the Mountain West, it's all about cross country and baseball. Because that merger with Conference USA that supposedly was a done deal in February appears to be off now, too.
This is fast becoming a cluster-fiasco to end all cluster-fiascos.
If there is any solace to be taken from all of this wheeling and dealing, all of this moving and shaking, all of this huffing and puffing and blowing midmajor houses down, it's that it wasn't that long ago that Fresno State was the football equivalent of Boise State, and now Fresno State is (sort of) happy to be in the Mountain West.
In 2001, the Bulldogs opened the season with stunning victories at Colorado, Sports Illustrated preseason No. 1 Oregon State and Wisconsin, and climbed to No. 8 in the national rankings. It was Boise State that ended Fresno's hopes of playing in a BCS game, and at the time, it was considered a significant upset.
But it is hard to keep beating the college football Rockefellers on a city councilman's budget. And so, by last season, Bulldogs fans were demanding the Fu Manchu of coach and former San Joaquin Valley deity Pat Hill on a silver platter.
"We won some big games on the road," Hill said after he was fired in December. "I feel for some schools that don't play that kind of schedule, that lose one game and get sent to the Las Vegas Bowl, or something like that."
Last season, it was Boise State that lost one game and got sent to the MAACO Bowl Las Vegas, or something like that.
So what goes around often comes around at the midmajor level, and then what comes around often comes back with its helmet in hand.
And there's also this: The Orlando Sentinel on Wednesday released No. 103 in its annual summertime college football countdown and it wasn't a Mountain West team. (It has New Mexico last at 120, UNLV second to last at 118, Fresno State at 109 and Colorado State at 105.)
Plus, I hear the San Jose State men's cross country team is having a heck of a recruiting year.
Las Vegas Review-Journal sports columnist Ron Kantowski can be reached at rkantowski@reviewjournal.com or 702-383-0352. Follow him on Twitter: @ronkantowski.