Ron Hornaday Jr. keeps on trucking
September 25, 2014 - 10:41 am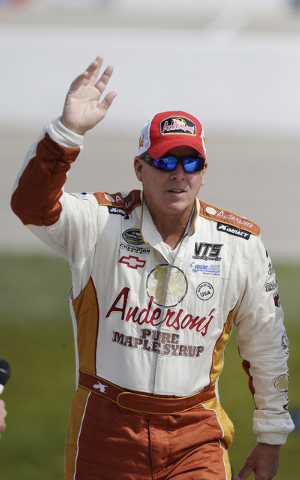 Before Las Vegas Motor Speedway was built, when there was only the little paved bullring that now sits in its hulking shadow, the closest thing to a big stock car race around here was something they called Open Comp. They'd hold it at the end of the year, and sometimes it would be cold in the paddock where they worked on the cars.
Still, a lot of the top regional stock car racers on the West Coast would come. Sometimes even NASCAR veteran Ken Schrader would come, when Open Comp aligned with the SEMA show at the Convention Center and he had to make a sponsor appearance. The West Coast guys would drive awfully hard to try to beat Schrader, and sometimes one or two did.
I recall sitting in an old trailer that served as the Bullring office — before it was called the Bullring — and chatting with Ron Hornaday Jr., one of those West Coast guys, from Palmdale, Calif.
Hornaday had a heavy right foot and his dad had been a racer, too. But he said he was getting ready to quit running around in circles and just start building cars for other West Coast guys, because there were so few opportunities for them to break into NASCAR then.
This had to be 20 years ago, because that office at the old bullring still had wood paneling.
"That's probably the road we were headed down," Hornaday remembers about thoughts of hanging up his driving suit with the small sponsorship patches from his local chiropractic service.
Then, because people in the Southern states couldn't get enough stock car racing, they started the Winter Heat series on TV. The races were in Tucson, because Arizona is one of the few places warm enough to hold stock car races during winter.
A guy can drive from Palmdale to Tucson on a tank of gas and stopping only once for cigarettes or coffee. So Hornaday drove in those races, and he won two of the first three, and then, as he puts it, he "got the call from Mr. Earnhardt."
Mr. Earnhardt would be Mr. Dale Earnhardt. The NASCAR legend was watching those Winter Heat races, too, because a guy can't spend his entire off-season hunting pheasants, and Mr. Dale Earnhardt saw that Ron Hornaday Jr. had a heavy right foot, too.
This was when NASCAR was starting a full-time series for pickup trucks, and so Earnhardt and Hornaday would join forces, as Benny Parsons might have said on TV.
Hornaday would win four truck series championships, including two for Earnhardt. He would also drive in the Nationwide Series, winning three times, and in the Cup series for A.J. Foyt.
This weekend, he returns to the place where it all began — er, almost ended.
Hornaday will drive the No. 9 Chevy for his former truck owner Bob Newberry after the team he was driving for at the start of the season up and quit with Hornaday running fourth in points. He had three top fives in his past four starts before "one of them racin' deals" put him out for three races.
This summer, Ron Hornaday turned 56. He'll be one of the oldest guys on the track during Saturday's Rhino Linings 350 at LVMS, but don't expect to leave his turn signal on when he starts passing guys.
The kid who won last week's race in New Hampshire, Cole Custer, is 16 if that tells you anything about how NASCAR truck racing has changed since Hornaday first put pedal to metal. Custer, who is running only a feet-wetting schedule in the trucks, won't be racing here Saturday because he has to wash his dad's car or something.
Last week, the whippersnapper charged through the pack after late stops and restarts to become the youngest-ever winner of a NASCAR touring series race. He showed the older drivers little respect in snapping the whip.
"That's what they used to say about me and Bill Schmitt," Hornaday said about a former rival, one of the fastest of the West Coast guys until Hornaday started charging through packs and snapping whips on his way up.
That may not seem like such a long time ago, but it was, because now Hornaday has a son, Ronnie, who has been racing a while, and a 12-year-old grandson, Slater Blickensderfer, just starting out.
They call him Slater Bug; he calls Hornaday "Pappy."
Ron Hornaday Jr. said he never really felt old, or at least older, until the other night when Slater Bug climbed out of his modified and his helmet smacked Pappy right on the kneecap.
Las Vegas Review-Journal sports columnist Ron Kantowski can be reached at rkantowski@reviewjournal.com or 702-383-0352. Follow him on Twitter: @ronkantowski
NASCAR CAMPING WORLD TRUCK SERIES
What: Rhino Linings 350,
When: 7 p.m. Saturday; practice begins at 9 a.m.
Where: Las Vegas Motor Speedway
Tickets: $29-$44 adults (702-644-4444 or www.lvms.com)