Royal Purple Las Vegas Bowl saves youth football clinic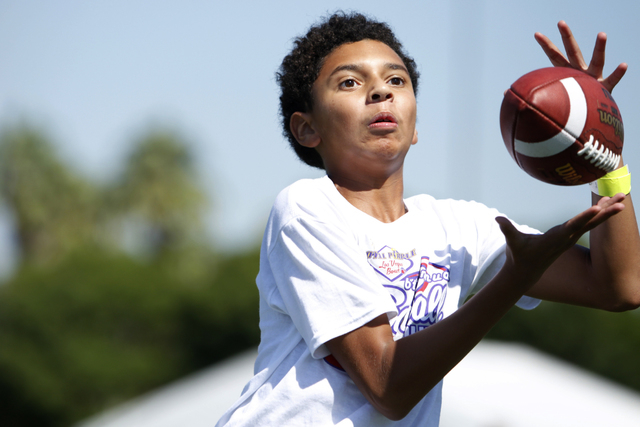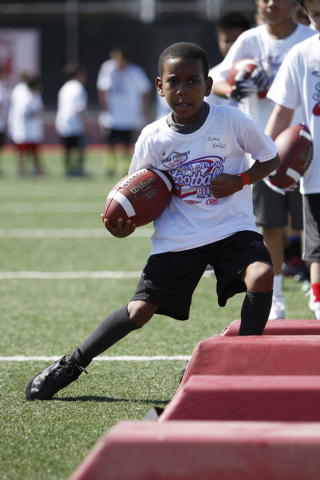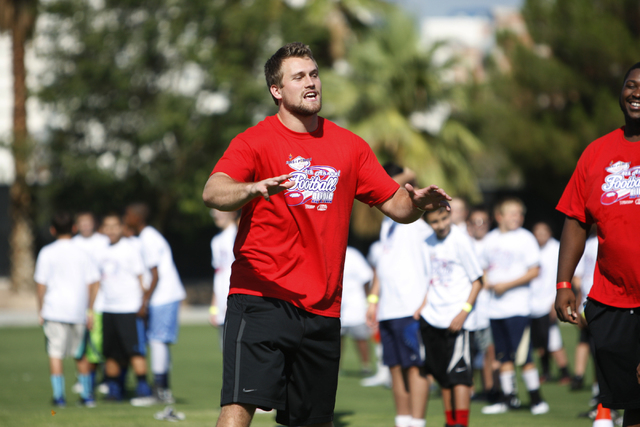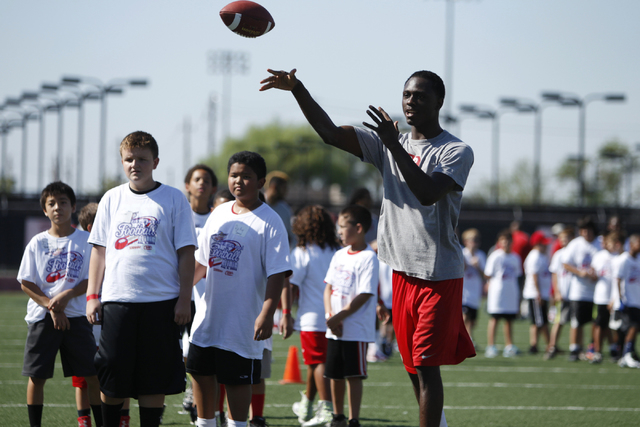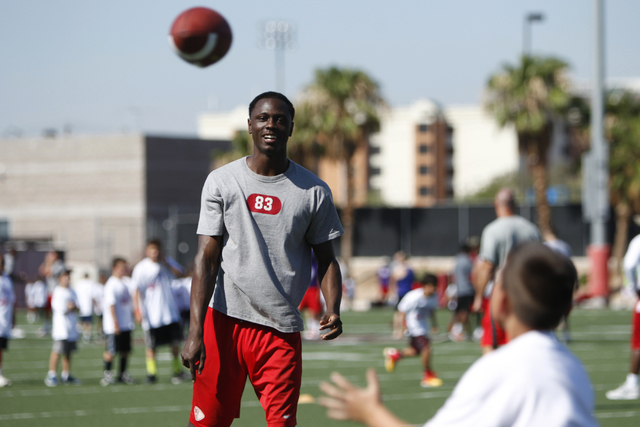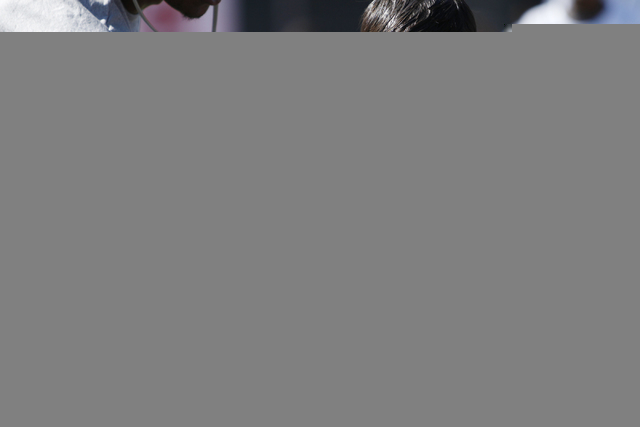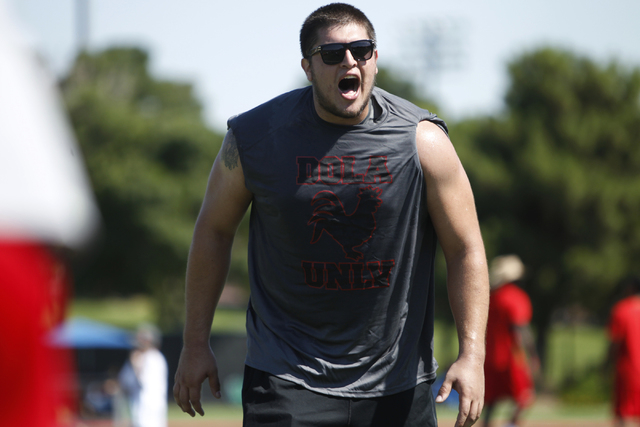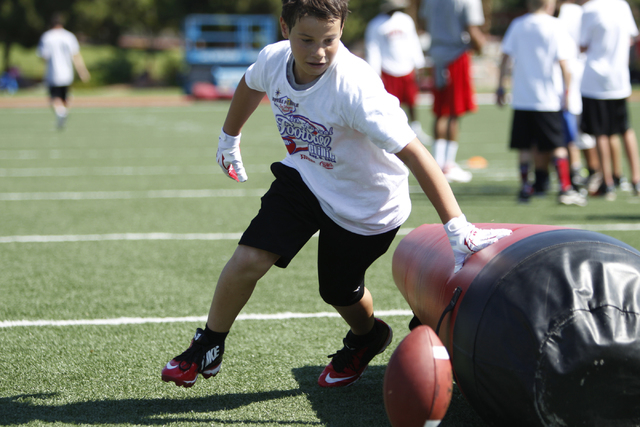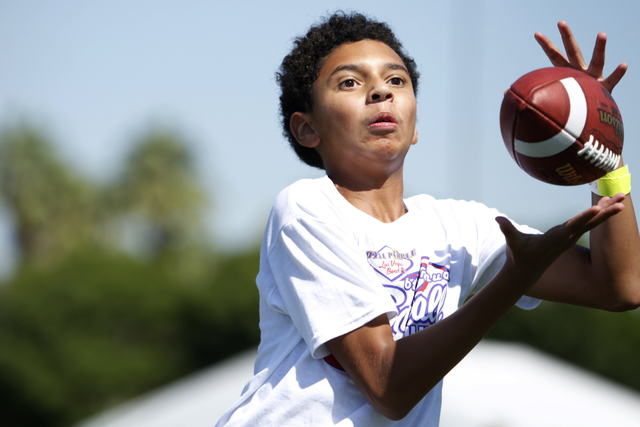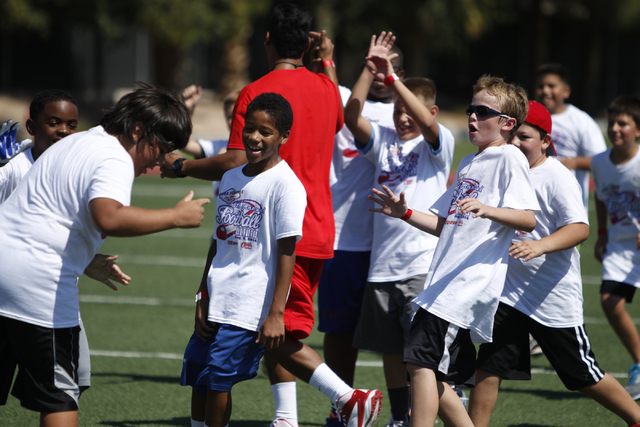 One of the fundamental differences between the Manning Passing Academy and the Royal Purple Las Vegas Bowl Youth Football Clinic, which for the sixth year was held at Rebel Park Tuesday morning, is that at the MPA kids can have their picture taken with one of the Mannings. Of course, there's also a 1-in-4 chance the Manning in their photo could be Cooper.
Whereas his old man and siblings are best known for throwing touchdowns in the pros and making amusing ESPN commercials, this is what it says about Cooper Manning, a former wide receiver at Ole Miss, on the MPA website: "Cooper remains the most handsome Manning and has no plans of losing that title."
Another distinction between the MPA and the Las Vegas Bowl clinic is that it costs $440 to attend the Manning Passing Academy, $585 if you want to spend the night. Plus airfare to New Orleans and a shuttle to Thibodaux.
The Royal Purple Las Vegas Bowl Youth Football Clinic is free.
You can't beat free, even with a corner blitz.
Until this year, the reason the clinic was free was that the NCAA paid for it, through its youth football initiative. But in April the bowl committees learned the NCAA was pulling its support, $10,000 per bowl game. This is probably because the NCAA is being sued by Ed O'Bannon for using his image in an old video game without permission, and it appears that O'Bannon might have a good argument.
Plus, I have read where the former Fiesta Bowl director ran up a heck of a tab at the strip joints down there, and somebody's gotta pay for it.
The Youth Football Initiative began after Hurricane Katrina struck with fury and a vengeance in 2007. The NCAA committed $1.5 million to develop a national youth program consisting of clinics, apparel grants and legacy gifts. But now the money is gone or will be spent elsewhere, and ixnay on the legacy gifts.
John Saccenti, the new Las Vegas Bowl director, said he was telling his committee the free clinic was in jeopardy when one of the board members, Julian Dugas, raised his hand.
Dugas said the clinic was such a good deal for local kids that the committee shouldn't let it die.
Then Tim Herbst of the Terrible Herbst empire raised his hand, and then Joe Micatrotto Jr. of Raising Cane's raised his.
They wrote checks that paid for T-shirts; they fried chicken fingers — a lot of chicken fingers — to feed the 565 kids ages 6 through 14 who signed up to learn how to block and tackle from the UNLV football team, which, for the first time in a long time, showed it was up to performing those tasks last season.
Every spot in the parking lots around Rebel Park and Wilson Stadium contained a car, a truck or a sawhorse that said you couldn't park there.
After the first 500 kids signed up, a sold-out sign went up on the Las Vegas Bowl website. When savvy computer users discovered a backdoor into the registration site, another 65 signed up anyway.
Saccenti said extra T-shirts were ordered; additional chicken fingers were dropped into the deep fryer at Raising Cane's.
"For us it's about being a better community partner," said Saccenti, who was wearing a Royal Purple polo shirt, black pants and a big smile.
For the kids, it was a little about the blocking and tackling but mostly about the chicken fingers afterward.
At 9 a.m., 563 Devante Davis wannabes, and maybe one or two Brett Boykos, did calisthenics in unison while Bobby Hauck's other players loosened up at the business end of the field, the one with the goalposts. Grown-ups watched and took pictures with cellphones and little James Bond-style cameras.
It really was a tremendous scene.
Joe Micatrotto Jr., a former tight end at Western Kentucky whose jobs at the Raising Cane's on South Apache Road, according to his business card, are chief executive officer, fry cook and cashier, was among the battery of grown-ups watching from the sidelines.
We briefly spoke about Western Kentucky's funky mascot, which is a hand waving a towel. We spoke a lot more about the value of the clinic. About how his parents paid upwards of $1,000 for him to attend football camp at Kentucky when Bill Curry was coach and Micatrotto was learning to block and tackle.
In the distance, little football kids were running pass patterns. You could hear laughter, even when the football went sailing over their heads.
"I promise you that when these kids are 25, 30, 40 years old, they'll never forget today," Joe Micatrotto Jr. said, though none would have his picture taken with Cooper Manning, the best-looking one.
Las Vegas Review-Journal sports columnist Ron Kantowski can be reached at rkantowski@reviewjournal.com or 702-383-0352. Follow him on Twitter: @ronkantowski