'Sad' trophy most meaningful of all of NHL's shiny hardware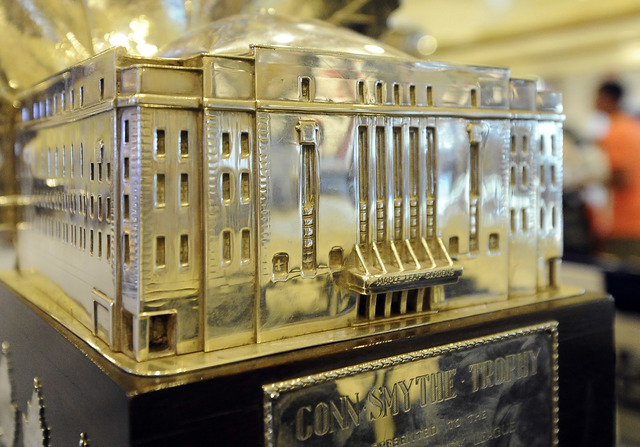 If we can agree the Stanley Cup is the granddaddy of all sports trophies, then the other hockey trophies are its cool cousins. They're like The Fonz, if he was your cousin.
I speak of the Art Ross Trophy (scoring champion), Calder Memorial Trophy (top rookie), Clarence S. Campbell Bowl (Western Conference champ), Conn Smythe Trophy (playoff Most Valuable Player), Frank J. Selke Trophy (top defensive forward), Hart Memorial Trophy (MVP), Jack Adams Award (top coach), James Norris Memorial Trophy (top defenseman), Mark Messier Leadership Award.
And of the King Clancy Memorial Trophy (humanitarian), Lady Byng Memorial Trophy (skill and sportsmanship), Maurice "Rocket" Richard Trophy (most goals), Presidents' Trophy (best regular-season record), Prince of Wales Trophy (Eastern Conference champ), NHL General Manager of the Year Award, Ted Lindsay Award (players association outstanding player), Vezina Trophy (top goalie), William M. Jennings Trophy (best goals-against average).
They are singular awards with singular shapes and names. Except, perhaps, for the General Manager of the Year Award, which sounds like a trophy to which the guy who runs the service department at Pep Boys would aspire.
Isn't there an old Zamboni driver from Saskatchewan who deserves to be recognized?
The revered hockey hardware was on display in the MGM lobby Sunday. Today, the trophies will be moved to the Encore Theater at Wynn Las Vegas. This is where the greats of the game will have their pictures taken with them Tuesday, after they are presented by Cuba Gooding Jr. and people like that at the 2014 NHL Awards ceremony.
By my count, there are 19 hockey trophies. I'd say 18 are pretty darn cool. Especially the Conn Smythe, which is modeled after old Maple Leaf Gardens.
One is just a sad trophy.
The Bill Masterton Memorial Trophy will be presented to the NHL player who best displays perseverance and dedication to hockey. These are qualities the guy for whom it is named personified.
William John Masterton played just 38 games in the NHL. Four goals, eight assists, 12 points, four penalty minutes. These were his career statistics.
He wore No. 19 on his green-and-yellow sweater. Nobody from the North Stars of Minnesota wore that number after him. Nobody from the Stars of Dallas will, either, and it's not because Bill Masterton scored the first goal in franchise history. Or that he personified perseverance and dedication to hockey.
On Jan. 13, 1968, Masterton was skating for the expansion North Stars against the expansion Oakland Seals at the Met Center in Bloomington, Minn. He was on a rush, carrying the puck. Just before Larry Cahan and Ron Harris bodychecked him at the Oakland blue line, Masterton passed to another guy with a big "N" on his shirt.
The check was delivered; Masterton was knocked over backward; he cracked his helmetless head on the ice.
He died 30 hours later.
He was 29 years old.
Though hockey is a violent game, Bill Masterton is the only NHL player to be fatally injured on the ice.
In researching this column, I found a photo showing Masterton being taken from the ice on a stretcher, escorted by six North Stars. Only one, No. 15, Andre Boudrias, was wearing a helmet. You were soft if you wore a helmet in those days.
It took 11 years after Bill Masterson died for the NHL to make helmets mandatory.
I also learned that on the fateful night, Masterton may have been playing with a previous concussion or hemorrhage. Minnesota goalie Cesare Maniago and others said Masterton had been complaining about migraine headaches.
In 2011, after reviewing the autopsy report, a Toronto neurosurgeon said Masterton probably died from "second-impact syndrome" — a second concussion on top of an existing one.
Perhaps that brought Ron Harris some solace. Although Masterton's wife and family did not blame Cahan or Harris for the fatal hit, Harris reportedly had been haunted by it for years.
Today, Bill Masterton is mostly forgotten.
Mostly.
I was 11 when it happened. My birthday was the day before.
I remember being upset; I remember playing street hockey in a helmet after Bill Masterton died. It was cheap and it looked cheap — not quite as cheap as the helmet former Las Vegas Thunder coach Butch Goring wore with the Islanders — and it was blue. It didn't match my Blackhawks jersey.
On Sunday morning, I went to the MGM lobby to check out Bill Masterton's trophy, and the other hockey trophies. A lot of Electric Daisies were checking out or checking in, it was hard to tell.
Bill Masterton's trophy — three silver-and-gold torches on a maple base — was set up between the Mark Messier Award and the Art Ross Trophy. As I strained to read the placard from outside the ropes, a slight Asian woman wearing black tights and toting a camera grew impatient.
"Shoot the puck!" she called out good-naturedly.
I think Bill Masterton would have approved.
Las Vegas Review-Journal sports columnist Ron Kantowski can be reached at rkantowski@reviewjournal.com or 702-383-0352. Follow him on Twitter: @ronkantowski.