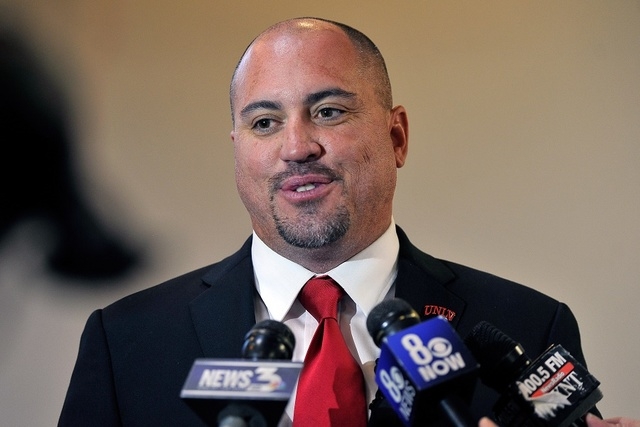 They played the last of the 38 bowl games (discounting the College Football Playoff National Championship Presented by AT&T, No. 2 Oregon vs. No. 4 Ohio State, Jan. 12) on Sunday night. Toledo vs. Arkansas State in the GoDaddy Bowl. It must have felt like watching two guys from Puerto Rico box a four-rounder as people were walking out after the main event.
Did you watch all 38? Probably not. Thirty-eight bowl games is a lot, especially when one considers that in 1960 there were only eight bowl games. It apparently then was decided that one could make a decent wage — and play a lot of free golf — by becoming a bowl game director.
A few years after that, it was decided to Eat Mor Chikin.
But if Tony Sanchez, the new UNLV football coach straight out of high school, wasn't watching all of the bowl games, one hopes he was watching some of them, or that he has a DVR with extra storage capacity. A guy could learn a lot from watching some of these bowl games.
I hope he was watching the Rose Bowl Game Presented by Northwestern Mutual — Oregon 59, Florida State 20 — and got a gander at Oregon's apple-green uniforms. Before Oregon became a national powerhouse and a scourge on the retinas, it wore crazy football uniforms. All yellow at first. Bright yellow.
Recruits love crazy football uniforms. They do not care for Penn State's uniforms when Joe Paterno was coach. Jo Pa must have had an apparel deal with Dickies.
Crazy uniforms are the cheapest way to create a buzz. They are way cheaper than a blue carpet.
UNLV should start building/saving its program by wearing crazy football uniforms. And it should steal Maryland's helmet design, too. I'm told 2½-star recruits really dig those Maryland helmets.
I also hope Tony Sanchez was watching the TicketCity Cactus Bowl — Oklahoma State 30, Washington 22. This was the game where No. 91 on Okie State (6-foot-2-inch, 295-pound James Castleman of Amarillo, Texas) scored a touchdown on a short run and caught a pass for 48 yards during which he ran over two Huskies and made paint chips fly off helmets.
Having big guys who wear No. 91 run and catch the football — or throw it, which is what Kentucky had No. 22, 285-pound Jared Lorenzen, do a few years back — is another way for a struggling program to create a buzz on Bleacher Report. Especially if he is big enough to make paint chips fly off helmets.
If one if talking about success over a longer haul, however, then I hope Tony S. didn't start ringing in the New Year until after the Capital One Orange Bowl — Georgia Tech 49, Mississippi State 35. The Yellow Jackets rushed for 452 yards against a team ranked No. 1 earlier this year by — get this — running the triple-option offense.
Teams don't run the triple option anymore, mostly because the pros don't run it. But running the triple option gives moribund programs a chance to become less moribund, at least after the quarterback learns how to read what the defensive end is doing, and when to pitch the ball and when to keep it.
This is why the service academies run the triple option, and why Air Force and Navy are almost always competitive against Notre Dame.
The Georgia Tech quarterback was recruited by Alabama to play defensive back. He wanted to keep playing quarterback. I'll bet Tony Sanchez probably can find one of those guys, too, especially if he knows people in Texas.
I hope the new coach was watching the Goodyear Cotton Bowl Classic — Michigan State 42, Baylor 41 — when the Baylor coach shouted for one of his injured players to get up so the Spartans wouldn't have time to huddle. This is something Bobby Hauck, the former UNLV coach, never would have done.
Hauck also would encourage players when they threw interceptions or missed short field goals with a tap on the helmet or the rear end. Keep your chin strap up, son. Rarely, if ever, did Hauck get in their face mask the way Jimbo Fisher got in Jameis Winston's during the Rose Bowl.
Also, Hauck always would shake the other coach's hand after the game. He did not disrespect the other coach the way Jim Mora dissed the avuncular Bill Snyder in the Valero Alamo Bowl — UCLA 40, Kansas State 35.
Bobby Hauck didn't win a lot of football games, but he didn't get in a lot of people's face masks, either, and afterward he was a good sport. There's something to be said for that, though most people don't say it until after you get fired.
And, finally, I hope UNLV's young and eager and fiery new coach was watching the Lockheed Martin Armed Forces Bowl, during which Houston spotted Pitt a 31-6 lead in the fourth quarter before scoring 29 points to win 35-34.
There are times when the Rebels are going to be trailing 31-6 in the fourth quarter, probably starting in September against Michigan, because Jim Harbaugh will be trying to impress people during his first month on the new job.
When it happens, Tony Sanchez will be able to gather his team around him and tell his players not to give up, to remember the Alamo Bowl — er, the Lockheed Martin Armed Forces Bowl.
If that doesn't work, he can always have the Rebels Eat Mor Chikin.
Las Vegas Review-Journal sports columnist Ron Kantowski can be reached at rkantowski@reviewjournal.com or 702-383-0352. Follow him on Twitter: @ronkantowski.