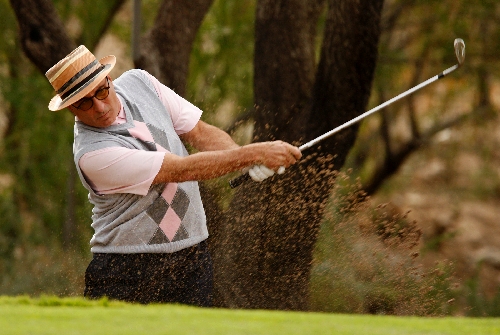 I was watching Jerry Rice, Emmitt Smith and Doug Flutie putt out on the eighth green Wednesday at TPC Summerlin, outlined against a blue-gray October sky. Check that. The sky was ominous gray and darker ominous gray. Jagged lighting bolts were flashing in the distance. Thor, god of Thunder, wanted to play through.
It suddenly became clear how the Justin Timberlake Shriners Hospitals for Children Open could improve its stature among locals: Courtesy umbrellas and rain slickers. And a shuttle ark, to transport fans to and from the Suncoast.
"No. 1 tee box. And step on it, Noah. I heard John Daly got bit by a water moccasin during his practice round."
As if competing against TV football on the weekend wasn't a tough enough lie. Now tournament director Adam Sperling finds himself at the mercy of nimbus clouds with lousy attitudes.
"Wednesday has been one of our most successful days, and this weather is going to hurt us," Sperling said as a bunch of Lacey Underall-types and one guy with blue hair begin sidling up to the ninth green to watch N. Watney's group — as it was listed on the giant scoreboard — finish its nine holes during a weather-shortened pro-am.
Nothing against Nick Watney, who won one of the Buick Opens/Invitationals when Buick still was selling a lot of LeSabres and sponsoring opens and invitationals. But this was J. Timberlake and A. Garcia's group. Justin Timberlake, Mr. SexyBack himself, and Andy Garcia, the actor, mostly were responsible for the gallery of around 200 that, trust me, would have been exponentially larger on a sunny day.
"Nine holes means we're probably going to have some of the lowest scores in history," Sperling said. I wasn't falling for it, but give him credit for trying to turn that observation into a silver lining on a day belonging to gray clouds.
Attendance always has been an issue at our PGA Tour stop, at least since Tiger Woods and Phil Mickelson stopped playing here. The PGA's fall schedule has become the domain of whippersnappers and mostly anonymous big hitters trying to fatten their wallets and hang onto their Tour cards. So attendance is an even bigger issue now, especially with myriad tournaments losing title sponsors, creating opportunities for others to take their spots on the spring FedExCup schedule, the domain of players such as Tiger and Phil.
One widely held opinion is if the gallery consisted only of John Daly's Hooters buddies, a Tour event always will be in Las Vegas, for the same reason a Triple-A baseball team always will be in Las Vegas and a minor league hockey team in Las Vegas and a little gambling parlor like O'Sheas on the Strip, standing firm among the hotel-casino behemoths.
These leagues and tours like coming to Las Vegas, and when they get here, sometimes they want a beer that costs less than $6 and to hang out with leprechauns.
"I don't look at it that way at all," Sperling said. "It's up to the tournament and the community to tell the Tour we want a FedExCup event. We hope we can build enough of an event to be worthy of that spot."
A meeting with Tour officials was held to discuss that possibility Tuesday, and Sperling said he will continue to go for the green to increase the turnstile count. It explains $15 ticket vouchers for bargain hunters, valet parking for those who drive Range Rovers and the presence of celebrities such as A. Garcia, J. Rice and E. Smith, which is the route I would take in building an identity and appetite for pro golf among locals.
No, you don't want D. Flutie getting in the way of the guys trying to hang onto their Tour cards on the weekend. But what if the celebrities were to play their own mini-event before or after the pros teed off?
"It has been discussed," Sperling said, adding that advance ticket sales are up, volunteers are up and sponsorship is up, even without B. Murray or K. Costner or J. Bieber's hair mucking up the fairways.
Then someone brought in the clouds.
While seeking shelter from the impending storm, I noticed one of those Air Force drones sitting near the practice tee with a couple of giant rockets attached. Maybe Col. Pete Gersten, whose name was on the side, could blast those clouds right out of the gray October sky via remote control before the weekend gets here and do everyone a favor.
Las Vegas Review-Journal sports columnist Ron Kantowski can be reached at rkantowski@reviewjournal.com or 702-383-0352.