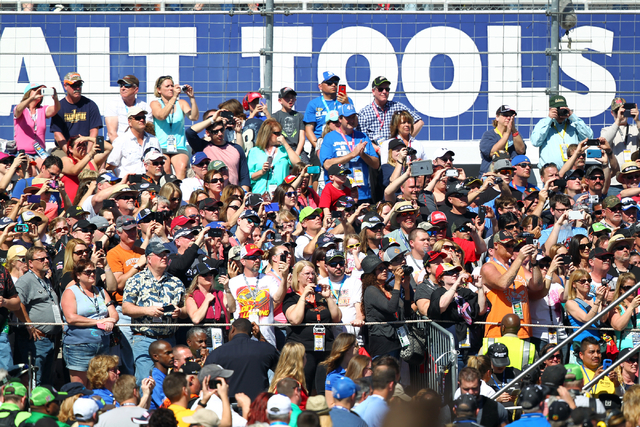 It was 8:45 on a beautiful NASCAR race day morning, and I was feeling pressure, the way Rusty Wallace, former driver of the No. 2 Miller Genuine Draft Ford, used to feel it.
"I feel like I got a pile of cattle chasing my ass, and I'm pedaling as hard as I can to say in front of 'em, and I'm looking behind me, driving like hell."
That's what ol' Rusty said before a race at Pocono in Pennsylvania, one year when he was trying to hang on to the top 10 in points.
It's what I was thinking when I scrambled behind the wheel of the Car of Today — my silver 2014 Toyota Prius — at exactly a quarter of nine.
Did I forget to spring forward for daylight saving time? Yes, I did. So I got a late start. Sort of like local Brendan Gaughan in Sunday's race.
I was familiar with the traffic horror stories when one gets started late on race day morning, and one lives in Henderson, and the destination is Las Vegas Motor Speedway for the Kobalt 400.
So I felt the pile of cattle on my rear spoiler.
But when the Car of Today rolled into space No. 92 in the media parking lot, it was only 9:30. The 30.1-mile drive, which is supposed to take 31 minutes, according to Google Maps, took a reasonable 45.
It went even smoother after the race.
I watched Kevin Harvick take the checkered flag; I did not stay to watch him perform doughnuts. I pushed the start button in the Prius at 3:34 p.m.
I sat down to write this from the home office in Henderson at 4:30.
Not once did I feel the pile of cattle on my real spoiler.
The official box score said Denny Hamlin drove the highest-finishing Toyota on Sunday. I honestly think I could have passed him for fifth place before Boulder Highway.
As they say on those TV commercials, your mileage may vary. But traffic turned out to be a breeze.
Part of it probably was because not as many people go to NASCAR races as before.
But I read where there were 25 message-board traffic signs, six traffic-control trucks, two solar-arrow boards, 200 traffic drums, 24 sawhorse barricades, 100 triton markers and 1,700 42-inch traffic cones, only one of which was run over by the Car of Today when the cops weren't looking.
These things were intended to get people in and out of the track faster than Harvick got around it Sunday.
With no competition yellow flags or pickups with mud flaps and big No. 3 decals on back to slow me down, I was able to spend 6 hours, 4 minutes taking in the sights and sounds of NASCAR race day.
Which certainly beats being scolded by Tony Stewart for asking silly questions.
■ I saw lots of women walking around with too-tall shoes who probably will require the service of an average-sized podiatrist today. But thanks for making the effort, ladies.
■ I saw lots of unkempt beards and/or guys trying to pass themselves off as former bass players for Molly Hatchet.
■ I saw a guy sitting by himself in Victory Circle. He was eating something deep fried with powdered sugar on top and wearing a Kevin Harvick T-shirt, which seems like foreshadowing now, but then just seemed like a guy eating something deep fried with powdered sugar on top.
■ I saw 43 signs that said "Do Not Touch the Glass," and then I saw about 43 race fans touching the glass to take pictures of Jeff Gordon's race car that was shielded by it.
■ I saw a giant American flag and military banners covering the sprawling grandstand between Turns 3 and 4, which used to be packed on race day before Danica Patrick jumped to NASCAR, though I'm not saying she's the reason for the empty seats.
■ I saw Vince Neil and Carrot Top walking near the Neon Garage — or maybe it was Vince Neil and Carrot Top impersonators. No, when Carrot Top came a little closer, you could smell exhaust fumes and testosterone. So that had to be him.
■ I saw crewmen wearing unadorned black hoodies push Josh Wise's unadorned No. 98 race car to tech inspection. That car would have looked really cool with a Vegas Wants Hockey decal on the hood and a telephone number where one could put down a deposit on season tickets.
■ Honest truth: I saw a guy hoist and inspect his giant can of Bud Light as if it, too, were subject to tech inspection, determine that it was half empty and tell his pal: "I'm good right now; I don't need another beer."
■ I walked the 121 steps instead of taking the escalator in the infield tunnel. I didn't get tired until around step 95. But I didn't let on.
■ I saw the following foods on sale on the midway that could be eaten on a stick: corn dog, hot dog, sausage, shish kabob, chocolate-covered strawberries, turkey legs. But not caramel corn.
■ I saw a booth where you could get Loaded Nachos, and a guy named Nacho standing in line who appeared to be loaded. But then his buddy said Loaded Nacho's real name was Jose, and that they were just messing with me.
■ Behind the Earnhardt Terrace was parked a lime green food truck with SausagefestLV decals. All eight people standing in line were men.
■ I saw the drop of the green flag from this tiny fenced-in area between the sprawling covered-over grandstand in Turns 3 and 4 and the Earnhardt Terrace while chatting with a nice man from Germany named Gunter, which probably doesn't happen all that often on NASCAR race day.
Especially at Talladega.
Gunter Schnorr told me that he was born in 1942 and that he doesn't remember much about World War II.
But with all respect due Ol' Darrell Waltrip and "boogity, boogity, boogity" and Rusty Wallace for the pile-of-cattle-chasing-his-ass remark at Pocono, I thought my new pal Gunter had the best line of the day as the 43-car field rolled by with an ominous rumble toward the green flag.
"The Russians are coming!" he said. "The Russians are coming!"
Las Vegas Review-Journal sports columnist Ron Kantowski can be reached at rkantowski@reviewjournal.com or 702-383-0352. Follow him on Twitter: @ronkantowski.